Possibly outdated application: As of July 2022, Komorebi's last release was in 2018. Since it has not seen any development in the last four years, it is better to avoid using Komorebi.
Brief: Komorebi is a new application that lets you use live wallpapers in Ubuntu Linux. You can also create your own wallpapers with parallax effect with this tool.
I have always been fascinated with live wallpapers. I use it on my smartphone and though I hardly see my desktop screen these days, I like it on the Linux desktop as well.
Considering that so many people still visit those old articles about live wallpapers on Ubuntu, I can say that I am not the only one to have the likeness for live wallpapers in Linux.
Today, I am going to tell you about an open source wallpaper application that lets you use live wallpaper on Ubuntu and other Linux distributions. Basically, it' more of adding a parallax background.
A parallax effect is achieved by superimposed image layers where one of the layers stays still while the other one moves and thus creating illusion of an animated wallpaper.
Use live wallpaper in Ubuntu with Komorebi
Komorebi is an application, under active development, that provides you a set of wallpaper with parallax effect. You can change these wallpapers from the graphical user interface. When you move the mouse, you can see the animated effects.
Apart from the live wallpapers, you can also display basic system stats such as RAM and CPU usage as well as system date and time.
Here is an example of a live wallpaper in Ubuntu 16.04:
Let's see how can you install and use it.
Komorebi provides .deb packages for both 32 bit and 64 bit systems. Which means that you can install it on Debian and Ubuntu based systems such as Linux Mint, Kali Linux, elementary OS, Linux Lite etc. The source code is also available on the same download page:
Download the .deb file and just double click on it to install it. Once installed, you can start it the same way you search and start for other applications in your system. For Ubuntu Unity users, you can search for it in the Unity Dash:

Once you start it, it will start displaying a live wallpaper by default. To change the wallpapers and access the settings, just right click on the desktop and you'll find the GUI to access the settings: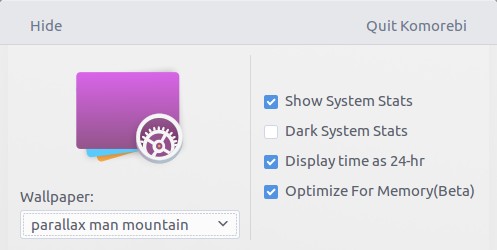 As you can see here, there are a few settings you can access. You can choose to show the system statistics, time and optimize for memory. You can also select a different wallpaper from this system menu.
You can see more live wallpapers in action in this video uploaded by the developer himself:
Caveats of using Komorebi
A few things I noted while using Komorebi. First was the CPU and RAM usage statistics. I found it to be inconsistent with the System Monitor (task manager equivalent in Linux).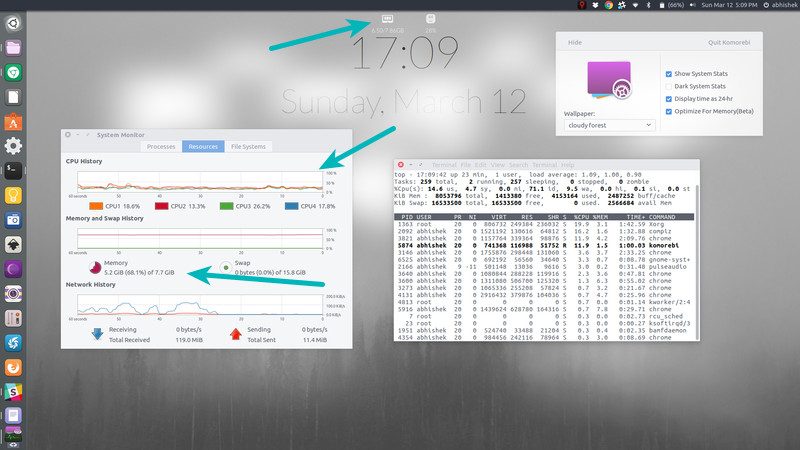 Second thing is that while Komorebi is running you can't access shortcuts, files and folders on the desktop. You won't get the right-click menu, as well.
While Komorebi is not that resource heavy, it will still take more resources than the usual background. So if you want to speed up Ubuntu system, perhaps you should avoid using it.
If you quit Komorebi, you'll end up with a static wallpaper that you were using with Komorebi. If you reboot, you'll have the same situation (because it won't auto start).
For now, there is no easy way to start it automatically at boot time. If you want to do that, read this guide to manage startup applications in Ubuntu.
If you want to use your own animated wallpaper, you can do that. Though it's not that easy, it's not that difficult either. You can read the steps in details here.
Your experience with live wallpaper in Ubuntu?
I find Komorebi interesting. It's somewhat like using Conky in Ubuntu. There is a huge scope for improvement here but it's good enough for a start.
Try Komorebi and share your experience with live wallpapers in Ubuntu.