LibreOffice 7.0 will be released soon and you may have noticed it labelled as Personal Edition. Recently, this labelling and its tagline created a sort of controversy.
But, after all the negative backlash from the community, The Document Foundation has decided to revert the changes to its planned "Personal edition" branding for LibreOffice 7.x series.
They still intend to go ahead with their marketing plan for 2020-2025 to highlight a separate enterprise edition but instead of labelling the current lineup as "Personal edition", they will have to re-evaluate on how to make it happen.
As per their announcement post, here's what they mention:
As such, the 7.0 release of LibreOffice will not see any of the tagline/flavor text proposed inside the release candidate (RC) versions, the Marketing/Communication Plan for 2020-2025 or any of the alternatives proposed during the discussion, specifically inside the splash-screen, the start center and the about box; to explain it with other words, the modifications put in the RC versions with the regards of branding will be reverted to a previous state, so there will be seamless continuity from the 6.4 version to the 7.0.
LibreOffice Personal Edition? What was the issue?
LibreOffice is working on the major release of version 7.0. An alert beta user noticed that LibreOffice 7.0 was labelled as Personal Edition and the user opened a bug report seeking clarification on the 'Personal Edition' term.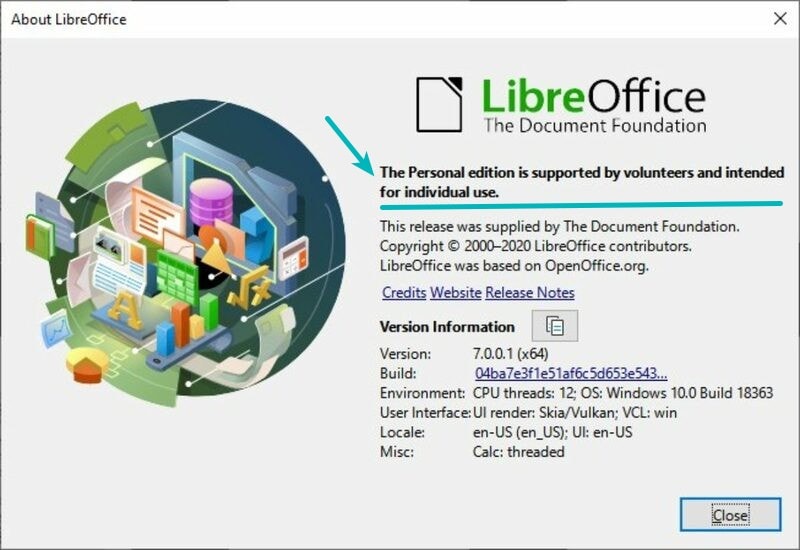 This created some sort of controversy as some people pointed out that terms like "personal edition" and "intended for individual use" could hamper the growth and use of LibreOffice.
You can read in the bug report that many users were confused over the term "intended for individual use". One user wrote:
I'm clearly against any of "personal use", "individual use" or "private use" or similar. With such terms LibreOffice cannot be used in education and non-profit organization.
Another LibreOffice user a wrote a blog post expressing his displeasure over this.
LibreOffice clarification on "Personal Edition" label
The outrage forced the LibreOffice board to release an official statement.
The board had to assure that LibreOffice was not opting for a new license and users won't lose any functionality.
None of the changes being evaluated will affect the license, the availability, the permitted uses and/or the functionality. LibreOffice will always be free software and nothing is changing for end users, developers and Community members.
They further clarify that this Personal Edition tagline was part of their upcoming marketing plan. They wanted to differentiate between "the current, free and community-supported LibreOffice from a LibreOffice Enterprise set of products and services provided by the members of our ecosystem".
What is this LibreOffice Enterprise edition?
Today, LibreOffice is developed by volunteers and ecosystem companies (companies that use or sell product/services based on LibreOffice). Out of that, 68% of the contribution to source code if from the ecosystem companies, 28% from volunteers and only 4% from actual The Document Foundation (LibreOffice's governing organization) developers.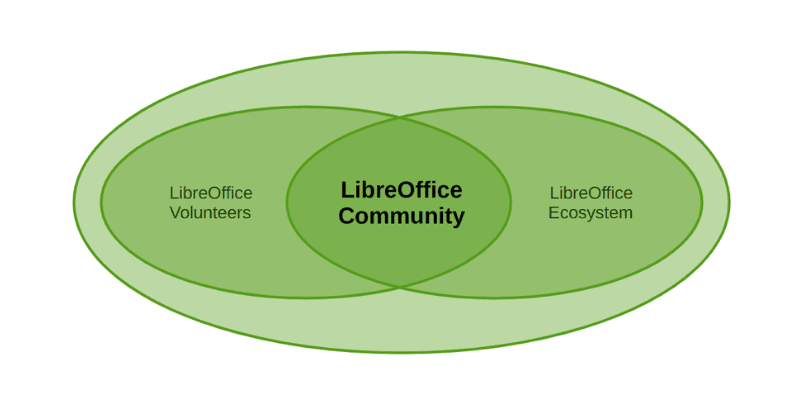 As per TDF marketing person Italo Vignoli's presentation, the proposal (not confirmed yet) is to "to reduce the perception that The Document Foundation (TDF) is a software vendor, providing support and other services."
So, he proposed using the term LibreOffice Engine for the core LibreOffice. LibreOffice Personal Edition becomes the community supported version.
The LibreOffice Enterprise is basically LibreOffice with premium support offered by the ecosystem.
At the same time, effort is put to improve LibreOffice the ecosystem of members. These members may have "certified by LibreOffice" kind of stamp, and they could provide the "Libreoffice Enterprise" to their business customers.
The proposal is to let ecosystem brand their own product based on LibreOffice Enterprise. So let's say an XYZ ecosystem member starts offering "XYZ Office Suite" based on "LibreOffice Enterprise edition" to its customers.
LibreOffice Personal and Enterprise segregation
The long-term plan to have an enterprise ecosystem model is a good thinking. However, using a tagline like "volunteers supported, not suggested for production environments or strategic documents" gives a negative impression.
It could be perceived as if LibreOffice Personal is an unstable product not safe for important works. This tagline needed a change.
Now that they've dropped the idea of a "Personal edition", we'd have to keep an eye on what they plan on next.
What do you think of the entire episode? How do you think they should proceed introducing (or differentiating) an Enterprise edition?