PokerTH is an Open Source Poker game for Linux, Mac and Windows. Texas Hold' em Poker is probably the most popular Poker game variant around the world. While there are various browser based Poker games available, its good to see a Poker game for Linux desktop.
PokerTH (TH stands for Texas hold' em) is written in C++/QT and you can play single as well as multiplayer game on the internet using this application. Of course, you need to register to PokerTH network to play online game.
To install PokerTH in Ubuntu and Ubuntu based Linux distributions such as Linux Mint. elementary OS, Linux Lite etc, open a terminal (Ctrl+Alt+T) and use the following commands to install it:
sudo apt-get install pokerth
And here is what the interface of PokerTH looks like. As you can see, I have the winning hand here :):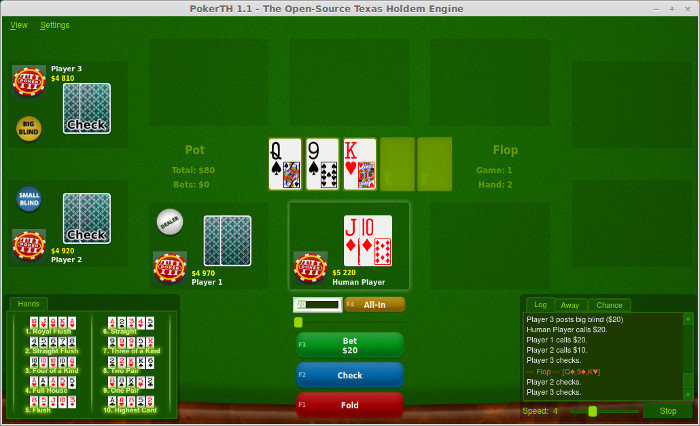 I am not a big fan of desktop gaming (I prefer PS3) and especially card games but it is nice to see that there are more applications being developed for Linux as we saw XnRetro, an app to apply Instagram like effect in Linux. Small apps like these mmakethe Linux desktop experience better, isn't it?