It appears that Ikey Doherty, the founder and lead dev of Solus, has left the project.
But don't worry Solus is in good hands.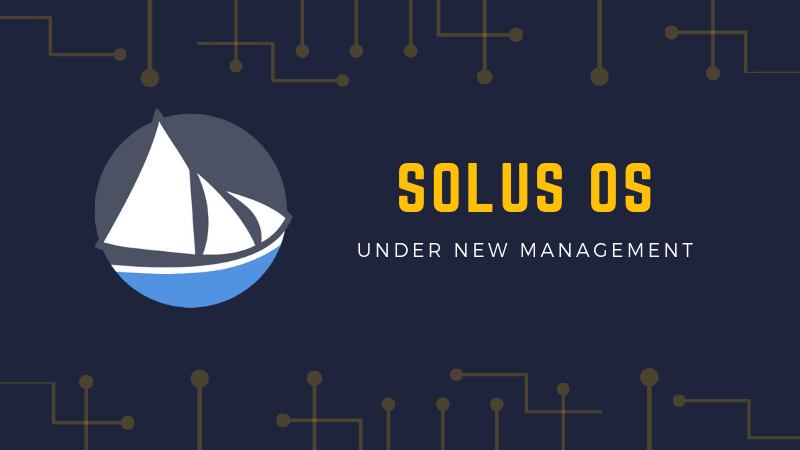 Some Background
If you have never heard of Ikey before, no worries. I'll provide some background information about him.
Ikey made his marks on Linux over the years by contributing to a variety of projects (not limited to the Brisk Menu and Linux Steam Integration). He worked on Linux Mint for while before starting his own Ubuntu based distro. After running into development limitations, Ikey created his own Linux distro from scratch. He did this all while working for Intel on their Linux distro. Last June, Ikey took the huge step of leaving his job at Intel to work full time on Solus.
Besides being involved with Solus full-time, Ikey joined the Late Night Linux podcast. In August of 17, the show covered a news story about the Krita project running into problems with the tax man. In that episode, Ikey revealed that he intended to make sure that Solus would not suffer a similar situation. In fact, he wanted to make sure that if something happened to him, the project would survive. Kinda prophetic.
[irp posts=28633]
The Current Situation
In July of this year, Ikey had to move from Ireland to England for personal reasons. During this time, he began making sure that the other Solus devs (Joshua and Bryan) had access to the Solus infrastructure. The plan was to continue the following day, but scheduling conflicts delayed it. Matters were complicated further when Ikey discovered his new location had a poor internet connection and he was unable to contribute much to Solus. On top of that, he got sick with the flu.
Towards the end of August, the Solus servers encountered several outages. The Solus team was unable to contact Ikey, partly because he had either deleted or withdrawn from his social media accounts. The hosting company was initially evasive, but later revealed that the service had not been paid. Without access to the server control panel or the PayPal account, Joshua and Bryan decided to move the whole thing to a new URL (getsol.us), which Joshua had purchased for direct downloads. During the mammoth task of moving all the required services to new hosting, Ikey contacted the team on September 7th: "and i am very very sick atm. all will be paid up for the next 30 days and gives me time to get back out and transfer to you. ill speak with you tomorrow afternoon/evening". Ikey never followed up on this message.
In the wake of the server outages, the Solus team decided to check to see what services they had access to. The list looks something like this:
Dediserve provided the Solus domain name and DNS. They refused to hand over control to the Solus team.
Fastly is a CDN service that made the Solus packages available worldwide. They provided the Solus team with the necessary access.
Google Apps for Business was used to provide email and document collaboration. Google did not respond.
OVH hosted the Solus build, repo, and web servers. The team only had partial access via SSH. OVH did not hand over control but kept the servers up so the Solus team could migrate to a new hosting service.
Patreon was used to raise money to pay Ikey to work on Solus full-time. At first, Patreon refused to hand control of the account over to the Solus team. However, that has since changed. Currently, the Solus Patreon campaign is frozen. The Solus team has decided to stop accepting donations for the time being.
Money withdrawn from Patreon was stored in PayPal. They are still working to "recover this account". Until they do, they won't know how much money is actually available to the project.
SendGrid was used as the mail delivery service for Phabricator and the Forums. SendGrid did not respond to the Solus team, but they created a new account.
As I mentioned above, the Solus team is no longer accepting donations. It appears that even though Ikey intended to put some legal protections in place for the project, he never got around to it. The Solus team is planning to fix that:
"Going forward, we will continue to not accept any monetary donations until decided otherwise, or we have a legal entity such as the Software Freedom Conservancy handling legal and financial matters for Solus. I want to thank everyone that has continued to offer their support for Solus, whether that be financial or otherwise. We look forward to providing more means of donating to the project in the future once we've returned to more normal development operations and have a legal entity working on behalf of the project."
The Future
The current Solus Devs (Joshua, Bryan, Peter) plan to continue the Solus project. They are already planning the next release of Solus: Solus 4. Solus 4 will focus on finalizing Budgie 10.5. The Software Center will also receive work in the 4.x branch. They will also be working to improve "build tooling, including continued improvements and updates to cuppa and eopkg-deps". They also plan to make other changes that may include "sol, a new Installer, a power management replacement for TLP, and yes even a GTK4-based Budgie 11".
Even though Ikey is no longer at the head, the team is very much led by his vision:
"Ikey's vision for Solus is one that all of us on the Core Team share. Solus is a selfish, pragmatic obsession with building a technically excellent linux distribution. This vision is what attracted us all to the project in the first place. We each bring our own unique experiences and expertise to the table, with Ikey's phenomenal mentoring over the years giving us an incredible foundation to build on."
Ikey Speaks
The same day that the Solus team posted their second message about the transition, Phoronix published a message from Ikey. Right off the bat, he wants to set the record straight, "I'd like to start out by thanking the Solus team for all their hard work and passion over the years. By way of response to their recent blog post, I in no way see what they've done as a "hostile takeover", rather, a natural evolution of the project."
In fact, he seems to hand over all ownership of the Solus Project. "If one is to look at the timeline analysis from the Solus team, it is crystal clear that they are more passionate about the project than anyone, and will survive anything. For this reason I happily condone their leadership in the project, and assign any and all intellectual, naming and branding rights relating to the ownership of Solus to their collective with immediate and permanent effect, acknowledging them as the official owners and leadership of the project. "
Ikey does not come out and say what happened to him while he was out of touch with everyone else. Nor does he explain what made him disappear from social media, though this might point in the right direction, "I ask that they stay strong to their cause, and rise above the toxicity and politics that plague the Linux desktop world".
It does appear that Ikey has started a family. "it's unlikely I'll be seeking personal project involvement of any description – as a new parent I must plan to father my child and support my family through work, instead of fathering my work and rely on my family supporting me."
Final Thoughts
I was drawn to Solus in part by Ikey. He always seemed to look at some part of current computing wisdom and say, "Why are we doing that when this would work so much better? Why didn't we do this before?" I also liked the fact that Solus was the little distro that wanted to succeed in a field full of almost carbon copies. On the other hand, Ikey always made sure that his innovations helped all Linux not just Solus.
I wish the team at Solus well. They have big shoes to fill, but they sound like they are cut from the same cloth as Ikey. I will keep Solus as one of my main distros for the foreseeable future.
I would like to address my final comment to Ikey (though I doubt he will ever see it). Ikey, my prayers are with you and your new family. I pray that you find happiness and peace on your new path. You may have encountered toxicity in the Linux community, but remember that you also helped a great number of people through your efforts. Always remember, the time that you spent working on Solus was not wasted.
Have you ever used Solus? What do you think of these recent events? Let us know in the comments below.
If you found this article interesting, please take a minute to share it on social media, Hacker News or Reddit.