Linux Foundation, the official organization behind Linux, is running a limited time deal on its Hyperledger training and certification courses. This will help in boosting your career as blockchain skills are in high demand.
Blockchain is the latest buzzword in the tech world. Blockchain is redefining the finance industry and the FinTech startups are getting huge funding easily. Put blockchain on your resume and you'll start getting high-paying job offers.
Despite the demand in the industry, there are not enough skilled people in this field.
Linux Foundation started the Hyperledger project to advance cross-industry blockchain technologies. Apart from bringing the tech giants together, they have also created some training programs and certification exams to prepare Hyperledger skilled techies.
Linux Foundation also runs limited time sales to make their courses and exams affordable to people. Their latest offer is for people looking to learn blockchain technologies.
If you have knowledge of Linux system administration, containerization and Docker, you should be able to take it to the next level.
Linux Foundation Hyperledger training and certification exam bundle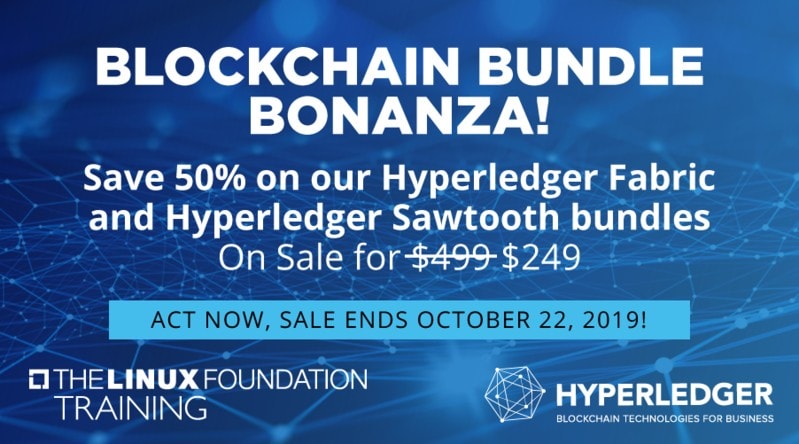 There are three bundles in this offer:
Hyperledger Fabric Administration Bundle (costs $249 instead of $499)
Hyperledger Sawtooth Administration Bundle (costs $249 instead of $499)
Hyperledger Super Bundle is the combination of the above two bundles (costs $329 instead of $499)
Hyperledger Fabric is an enterprise-grade permissioned distributed ledger framework for developing solutions and applications. It enables performance at scale while preserving privacy.
Hyperledger Sawtooth is a modular platform for building, deploying, and running distributed ledgers. With this, digital records are maintained without a central authority or implementation.
Now that you know a little about both Hyperledger Fabric and Sawtooth, let's see what this bundle offers to you:
With the help of ITSFOSS15 coupon, you'll get 15% additional discount and further reduce the prices of these course bundles.
A few things you should know about these training and certification bundles:
You'll get one year access to the online video courses and downloadable reading material (if any).
You'll get two attempts at the exam within one year.
You can take the course and exams from your home.
You should read the prerequisite of the courses because these are advanced courses and may require knowledge on certain topics.
If you are buying it for your company's employees, you can get it for a group of no more than five people.
The offer ends on October 22, 2019 23:59 UTC
It's FOSS is an affiliate partner with Linux Foundation. Please read our affiliate policy.