Humble Bundle is a digital e-store that provides limited-time massive discount deals on games, eBooks and audiobooks. Things that would normally cost you hundreds of dollars are made available in under $20. That's not it. Part of each sale goes to a charity. In fact, they have raised over $155 million in charities so far.
So you get awesome stuff at unbelievable prices and at the same time you support a charity organization. Humble Bundle deals are ethically satisfying for this reason.
Humble Bundle has offered awesome eBooks bundles on a wide variety of topics in the past. Android app development, Python, Ruby, Cyber Security, Raspberry Pi are a few examples. I usually share relevant Humble Bundle deals in It's FOSS weekly newsletter and they are loved by many of our subscribers.
Last year, I requested them for a Linux Bundle deal and they happily obliged it by creating a bundle offer of No Starch Press Linux books. It was a huge success for both Humble Bundle and No Starch Press with over 30,000 bundles sold.
Humble Bundle and No Starch Press have partnered again to bring another Linux (and BSD) book bundle. They have added new books to the offering this year.
Linux & BSD Bookshelf by Humble Bundle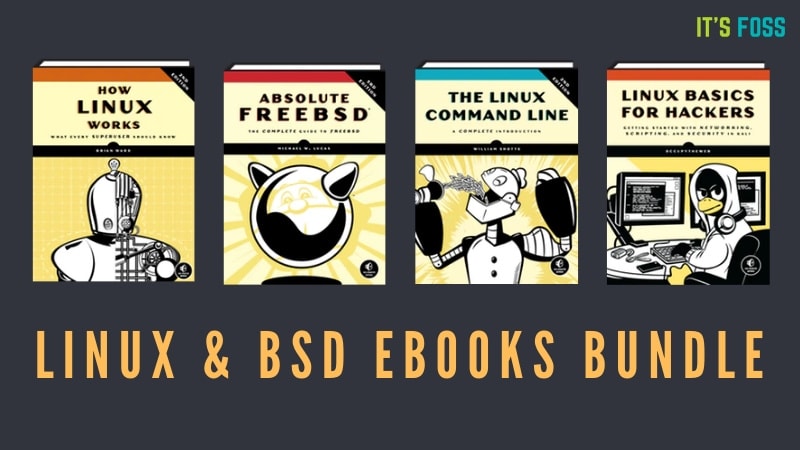 The Linux & BSD Bookshelf bundle consists of eBooks from No Starch Press. No Starch Press is a publishing house specializing in technical literature focused on geek, hacker, and DIY subcultures. They have some really good books like How Linux Works, The Linux Command Line etc.
The Linux and BSD book bundle has books worth $723. All of the eBooks can be downloaded in PDF, ePUB and MOBI format. Once purchased, you can download the books any time in the future from your Humble Bundle account. Books are DRM-free which means you own the book and can transfer it to any device you own.
Part of your purchase will be donated to either No Starch Press Foundation or Electronic Frontier Foundation (EFF), an international non-profit fighting for privacy, transparency and net neutrality. You can also choose to donate part of the purchase to It's FOSS as we are partners with Humble Bundle.
[irp posts="9993″ name="25 Free Books To Learn Linux For Free"]
What do you get in the Linux Geek Bundle
The book bundle is divided into four section and it's up to you to pay what you want.
If you pay $1(or more), you get all these eBooks: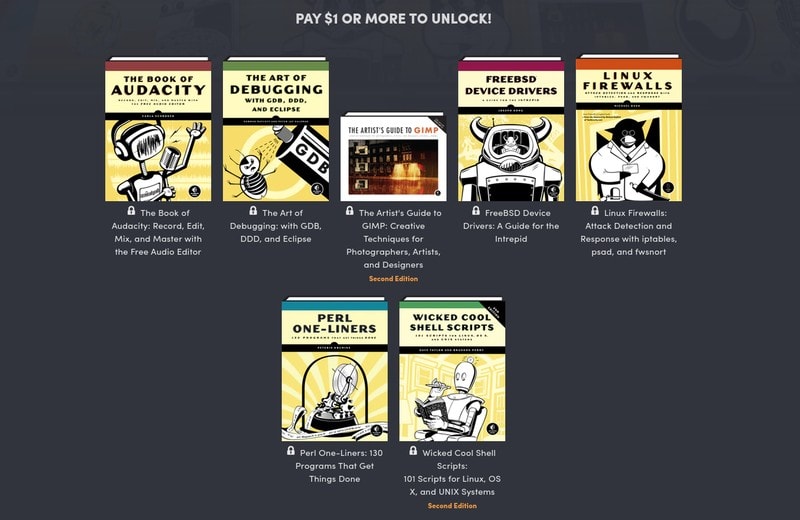 The Book of Audacity: Record, Edit, Mix, and Master with the Free Audio Editor
The Art of Debugging with GDB, DDD, and Eclipse (Recommended for C/C++ software developers)
The Artist's Guide to GIMP: Creative Techniques for Photographers, Artists, and Designers
FreeBSD Device Drivers: A Guide for the Intrepid
Linux Firewalls: Attack Detection and Response with iptables, psad, and fwsnort
Perl One-Liners: 130 Programs That Get Things Done (Recommended for Perl developers/sysadmins)
Wicked Cool Shell Scripts: 101 Scripts for Linux, OS X, and UNIX Systems (Highly recommended for advanced Linux users and sysadmins)
If you pay $8 (or more), you will get the following books in addition to the previous ones:
The GNU Make Book
The Book of PF: A No-Nonsense Guide to the OpenBSD Firewall
The Book of Inkscape: The Definitive Guide to the Free Graphics Editor
The Book of GIMP: A Complete Guide to Nearly Everything
Blender Master Class: A Hands-On Guide to Modeling, Sculpting, Materials, and Rendering
Absolute OpenBSD: Unix for the Practical Paranoid
And if you pay $15 (or more), you'll get all of the above books and the following additional ones: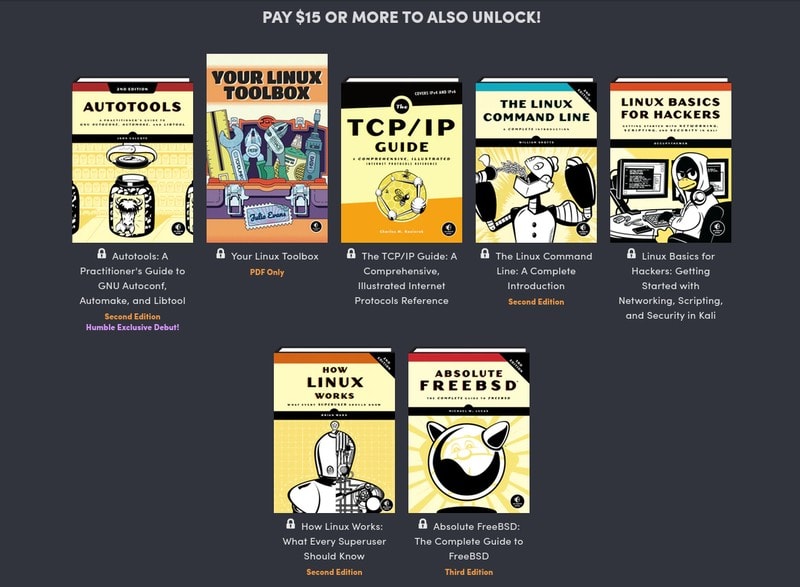 Autotools: A Practitioner's Guide to GNU Autoconf, Automake, and Libtool
Your Linux Toolbox
The TCP/IP Guide: A Comprehensive, Illustrated Internet Protocols Reference
The Linux Command Line: A Complete Introduction
Linux Basics for Hackers: Getting Started with Networking, Scripting, and Security in Kali
How Linux Works (Must for every Linux user)
Absolute FreeBSD: The Complete Guide to FreeBSD
You can also buy the Linux & BSD book bundle as a gift for someone else.
Don't miss the deal
It's not every day that I write about deals unless it's something really awesome and useful for Linux users like you. This is one of those rare deals that I highly recommend. The deal is a win-win for a number of reasons.
DRM-free Linux and programming eBooks in PDF, MOBI and ePub formats
Books can be downloaded any time in future
You can gift the book bundle to a friend, colleague or family member
Indirectly contribute to EFF in fighting for Net Neutrality
You may not need all the books in the bundle but a few books like How Linux Works itself are good enough for buying the entire bundle. Go and buy it. You won't get such an awesome deal anytime soon.
Note: It's FOSS is an affiliate partner with Humble Bundle. As mentioned earlier, part of the sale may be shared with us with no additional cost to you. Please read our affiliate policy for more info.