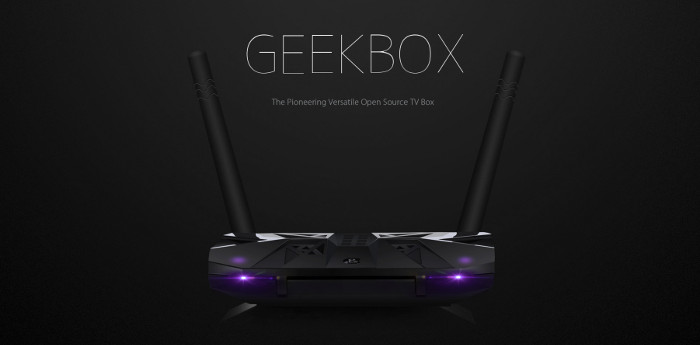 The world is going miniature. We have the gadget market filled with mini PCs, Android TV boxes, Stick PCs, Micro Computers and what not.
It is difficult to choose between a micro computer like Raspberry Pi, a stick PC like Magic Stick, an Android TV box like Roku and a Linux based mini-PC. Each of the devices serves a specific purpose and targets a niche userbase.
Raspberry Pi is a powerful micro-computer and the first choice of DIY hobbyists. But it is not a plug and play device and requires a lot of tinkering, which is not everyone's cup of tea. Android TV boxes are limited to their use as a device to surf internet and stream content on your TV. Stick PC are more like Android TV boxes with a little more than just using Android for streaming contents. Mini PCs are the replacement of the traditional desktop but lack the development capability of Raspberry Pi.
GeekBox: A hybrid device
What if you have a device that could be used as a replacement of all the above devices? Chinese internet retailer GeekBuying thries the same with its open source device, GeekBox.
GeekBox is mini-PC like device which is compact in size and comes pre-loaded with Android in dual boot with Ubuntu.
Like Android TV boxes, you can use it via remote for your simple streaming needs. You can use it via keyboard and mouse as mini-PC/stick PC. You won't have to restrict yourself with that because it is also a development kit that you can use in your own projects, like Raspberry Pi.
Intrigued? Let's see in details about GeekBox.
GeekBox specifications
GeekBox boasts of a very impressive specification for such a tiny device. Yes, it's a compact device, even smaller that a Raspberry Pi. We'll see about its physic later on. Let's first see the specification:
Operating System Android & Ubuntu Dual OS
CPU Rockchip RK3368 ARM 64Bits Octa-core [email protected]
GPU PowerVR SGX6110 GPU; Support OpenGL 3.1, OpenGL ES 1.1/2.0/3.0, OpenCL, DirectX9.3
RAM 2GB LPDDR3@1600Mbps
ROM 16GB Samsung eMMC v5.0
Wifi Connectivity IEEE802.11a/b/g/n/ac 2×2 MIMO@867Mbps AP6354
Ethernet 100/1000M LAN
Bluetooth 4.1
Video support: HD MPEG1/2/4,H.265,4K-HD, HD AVC/VC-1,RM/RMVB,Xvid/DivX3/4/5/6 ,RealVideo8/9/10 Avi/Rm/Rmvb/Ts/Vob/Mkv/Mov/ISO/wmv/asf/flv/dat/mpg/mpeg 4K@60 Hz video decoding 10-bit HEVC and AVS+ codec support; H.264 up to 4K 30 Hz
3D Hardward 3D graphics acceleration
Audio Support: MP3/WMA/AAC/WAV/OGG/AC3/DDP/TrueHD/DTS/DTS/HD/FLAC/APE
Picture Support: JPEG/BMP/GIF/PNG/TIFF
Resolution HDMI2.0 up to 4K@60Hz
1 HDMI 2.0 port
2 x USB Host
1 x OTG
1 x TF Card Slot
1 x RJ45
1 x DC Jack
2 x Antena
1 x MXMIII
Security HW Security system, support popular DRM and HDCP 1.4/2.x
IR Remote Controller
LED x 2
MXM MXM3 Edge-fingers
Build-in eDP Display and TP Build-in Touch Panel
3 Pins Uart Port for developers
2 Pins Control Port for Cooling Fan
2 Pins Port for RTC Battery
Reboot and Update buttons
Power Supply DC 5V/2A
Size 90 x 69 x 21 mm
Weight 0.5kg
Sounds like a solid specification, isn't it? Are you wondering how does it actually feel like to use it? I'll share my first experience with GeekBox.
Experience with GeekBox
I received the GeekBox in the first week of January. In fact, this is my first gadget of the year 2016. Package looks decent but I did find it a tad bit difficult to open the outer box. Trust me, I am not the only one who had such experience as you can see other people struggling to open it.
Once you manage to open the box, you'll see a robust looking GeekBox device on the top. GeekBox has a real rugged look that makes its appearance cooler.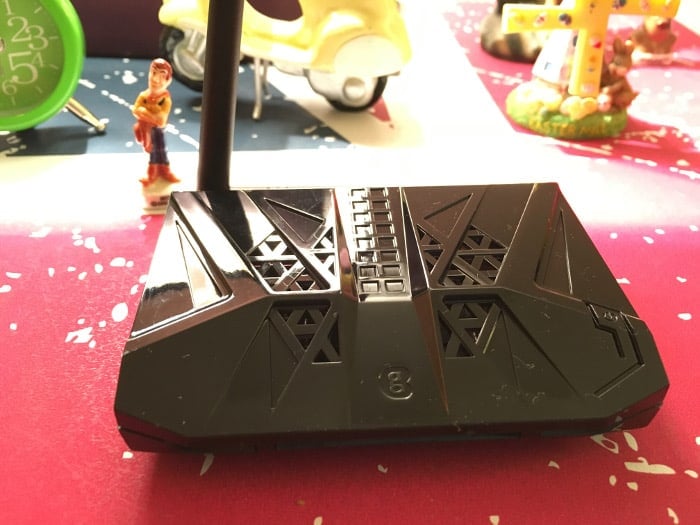 The kit consists of most of the things you would need to get started. Along with the GeekBox, you get a charger with USB cable, an HDMI cable and a remote control.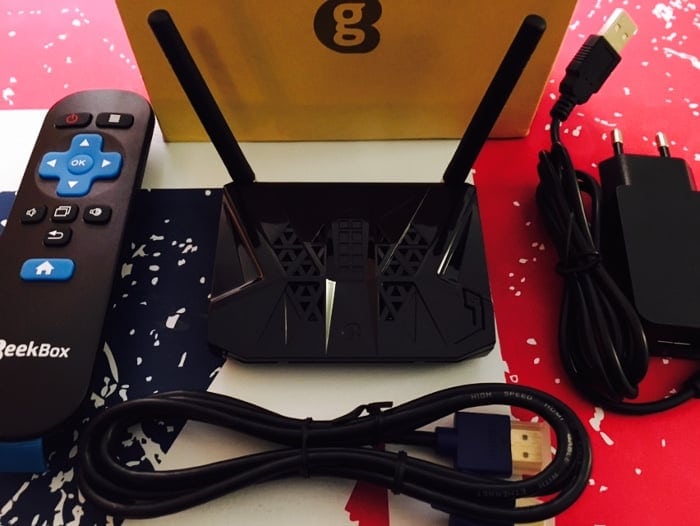 Attaching it to TV and turning it on is a child's play. It first boots into Android Lolipop. You'll see a familiar interface if you have ever used any Android device.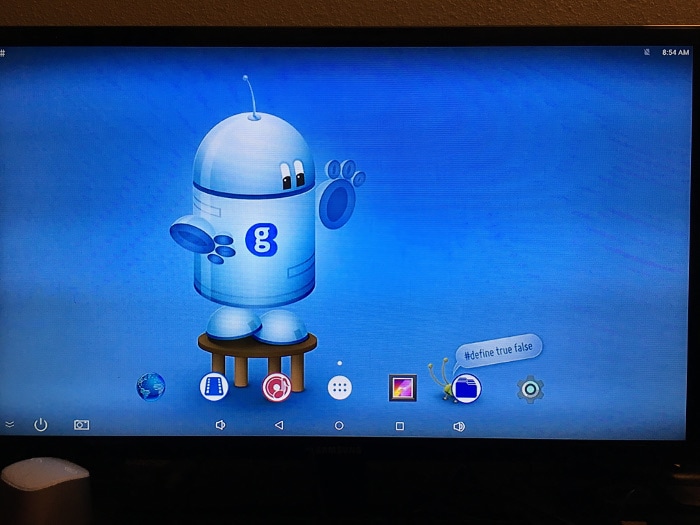 You can use the remote that came with it to navigate. Remote control can be used in two modes, TV remote and Mouse mode. Mouse mode gives you the (limited) option of moving the cursor pointer. Remote mode gives you even more limited option where you'll have a difficult time, especially if you need to type things:
Honestly, I advise you to use a proper keyboard and mouse, if you are going to do lots of typing. If using Netflix and Kodi is your priority, the remote should be sufficient. Talking of Netflix and Kodi, these are installed by default, along with some other apps.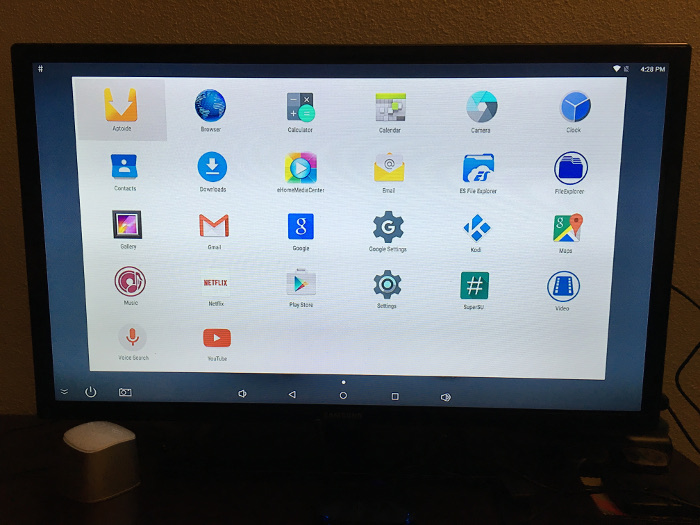 To install new apps, you can use Aptoide, an Android market place.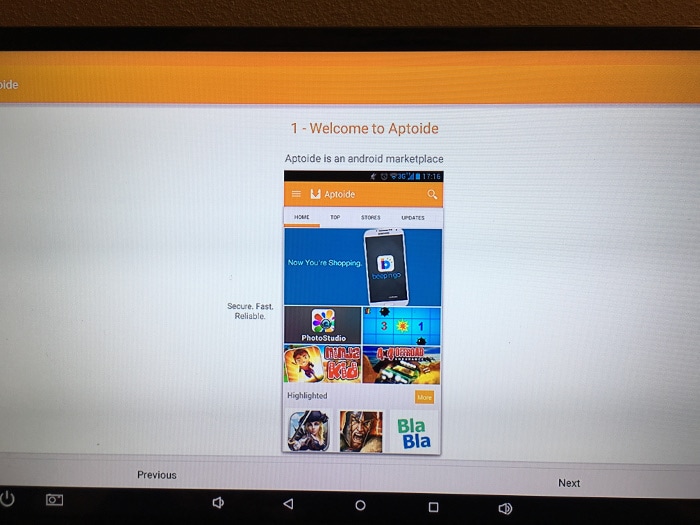 To boot into Linux, you can click on shutdown icon and it will give you the options to shutdown, reboot and reboot into Linux.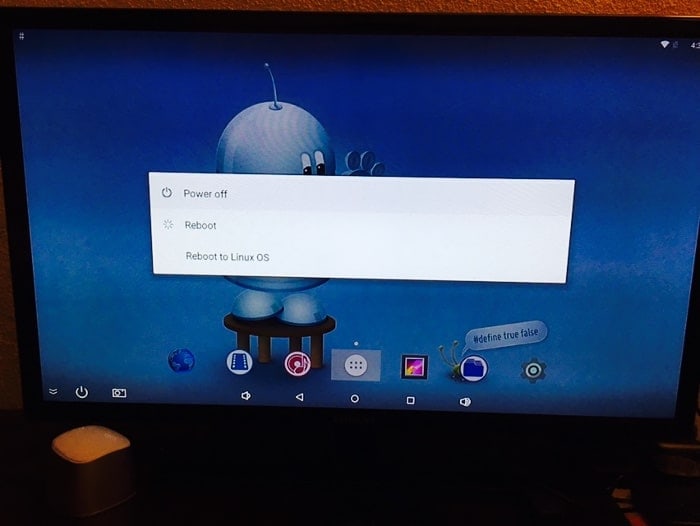 The Linux OS we are talking here is a customized version of Lubuntu. The remote control becomes pretty much useless in the Linux system. You must have a keyboard at this time, else you'll have a real hard time. Here is what it looks like: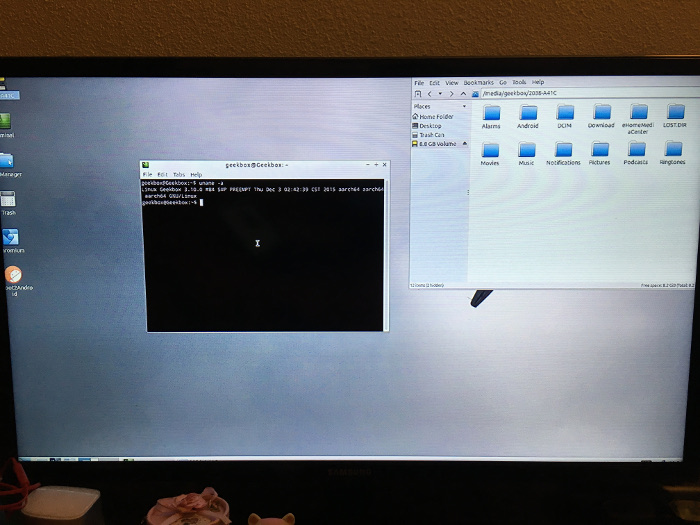 There is a 'Boot2Android' shortcut on the desktop that lets you reboot into Android. As you may see in the picture above, there is clearly a resolution issue with the Linux version. It just doesn't match with the display resolution of my Samsung TV. I had to manually change it.
GeekBox as development kit
I haven't had time to do some DIY projects on GeekBox yet. But I am still going to list a few features of GeekBox as development kit that might interest you. A barebone GeekBox has the following ports: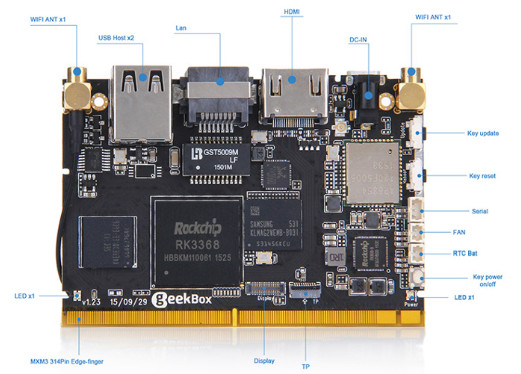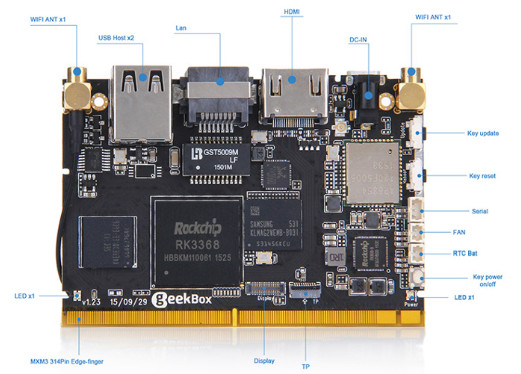 GeekBuying has several accessories such as cooling fan, heat sink and a 7.9 inches Retina display, that you can use with it. The full potential of GeekBox as a development kit is unlocked with GeekBox Landingship which is also sold separately.
You can visit GeekBox forum for any helps, tutorials and discussion. If you are interested, you can also download source code for GeekBox:
Verdict
GeekBox is a device that intends to provide something for everyone. This open source device can be a perfect choice if you are looking to buy an Android TV box. It is ready-to-use as a media center and it can be easily used as a development kit to build projects. Forum supports and sample projects lists, though not as huge as Raspberry Pi, are there and should be increasing in near future as the device is being well appreciated by its users.
To summarize its pro and cons:
Pros:
Open source device
Tiny size but robust look
Excellent specification
Plug and play
Development ready
Plenty of accessories available
Cons:
Could seem a little pricey when compared to Raspberry Pi
Will need keyboard and mouse for Linux (like any other micro computer or mini PC)
Need more tutorials and videos to help build a community around it
At $109, it is placed in the same price group as many other Android TV boxes. It is an excellent device for this price range and certainly worth buying it. 
If you decide to buy it now, you can use coupon code 15GEEKBOX to get additional $15 off.