Brief: If you find right click on touchpad not working on Ubuntu, here is an easy fix for that.
So you installed the brand-new Ubuntu system and are enjoying the shiny GNOME desktop when you suddenly realize that right click on your touchpad doesn't work.
You might think that something is broken on your Ubuntu desktop but that's not the case here. Nothing is broken here. In fact, it's not a bug, it's a feature.
If you read my article listing Ubuntu 18.04 features, you might have noticed that I wrote about new touchpad behavior on Ubuntu 18.04. If your laptop's touchpad doesn't have 'physical buttons' for left and right click, the right click is achieved with two fingers tap.
This means that clicking in the bottom right area of your touchpad won't work in Ubuntu 18.04 by default.
Don't worry! You can easily change this behavior and enable right-click on Ubuntu. Let me show you how to do that.
Fix Right Click Touchpad not working on Ubuntu
You need to install GNOME Tweaks tool first. It is available in Ubuntu Software Center.

Alternatively, you can install it using the command below:
sudo apt install gnome-tweaks
Once installed, press Super/Windows key to open the Application menu and search for 'tweaks'. Click on Tweaks to start the program.

In the GNOME Tweaks, go to Keyboard & Mouse in the left sidebar and under Mouse Click Emulation section, select Area.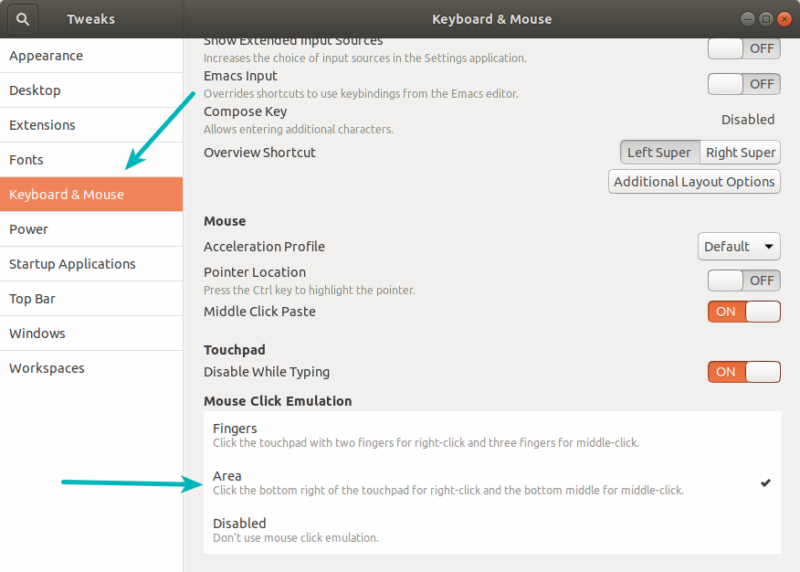 That's it. I didn't need to log out or restart here. You can immediately test it by clicking on the bottom right area and see that the right click is working fine again. If it doesn't work immediately, you should restart your system.
The best thing here is that you can still use two fingers click for right click. You have both ways to do right-click now.
Note: As some readers have mentioned, if it doesn't work immediately, first update and then restart your system.
Did it work for you?
I wonder why Ubuntu changed this behavior. Perhaps they think that two fingers tap is the correct way for right-click. In fact, even I haven't used the bottom-right area of my touchpad for a long time. I am used to of two finger tap. Is it the new natural way of the 'right click' without the 'right click button'? Maybe you could answer to that.
Anyway, I hope this quick tip fixed the right click issue with the touchpad on Ubuntu 18.04. If you have any questions or suggestions, please feel free to use the comment section below.