One of the irritating bugs in Ubuntu is the missing date time from the top panel. Normally, there is a date time indicator displayed on the top right corner of screen but for some users this is disabled by default.
What is more frustrating is that if you try to enable it or configure it by going to System Settings->Time & Date->Clock section, you'll find that the option has been grayed out. You simply cannot change it.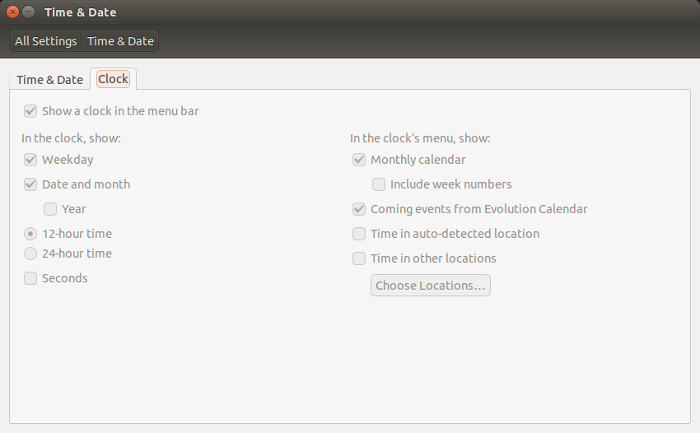 In this quick post we shall see how to ix the issue of time and date settings greyed out in Ubuntu.
Fix date time missing in the menu bar in Ubuntu 14.04 & 16.04:
To fix this issue, there are few solutions. We shall see them one by one.
Solution 1:
Open a terminal and use the command given below. This is optional and just to make sure that you have the indicator installed already.
sudo apt-get install indicator-datetime
Once we have made sure that the indicator is installed, next step is to reconfigure it:
sudo dpkg-reconfigure --frontend noninteractive tzdata
And the last step is to restart Unity:
sudo killall unity-panel-service
That should be it. Now the date time should be appearing in the top panel.
Solution 2:
Second solution is to restart lightdm. This will log you out of the current session:
sudo restart lightdm
I hope these solutions help you to fix the missing date time indicator from the top panel in Ubuntu 16.04. Do let me know if it worked for you or not. Ciao :)