Fedora 24 has been released with some pretty new features. So I decided to go ahead and review Fedora 24.
I am not really an expert reviewer. In fact, this Fedora 24 review is the first I ever did. Actually, I am just sharing my experience of few days spent with the Fedora 24 workstation.
[irp posts="27525″ name="Fedora 28 Released! Here are the New Features"]
Installation
You can download Fedora 24 from its website. We have already described in detail how to create Fedora live USB in Ubuntu. You can use the same method in Windows as well because the same tool is available in Windows as well.
When you have created the live USB, plug it in and boot into a live session. Select the install to hard drive option to launch the good ol' Anaconda installer.
Now feed in your preferences and user data and let it install. We will cover detailed installation instructions later. Once you have it installed, reboot the computer.
Desktop
The beautiful GNOME 3.20.2 welcomes you to the newest Fedora.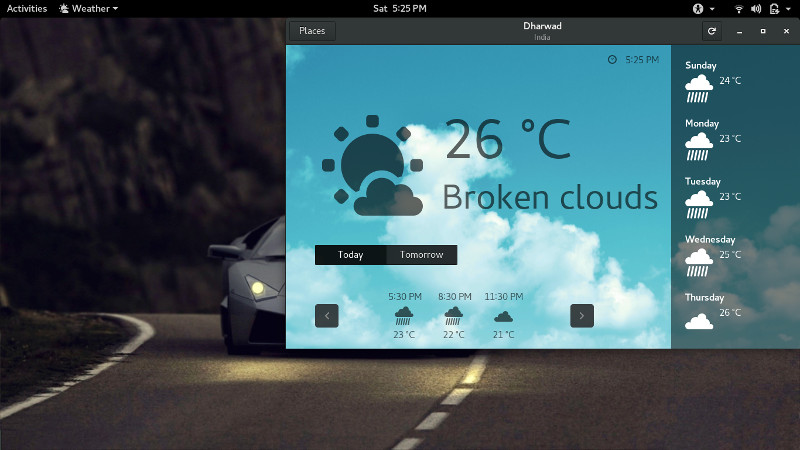 For someone who lives online, the Facebook and google account integration with the desktop environment is something of a delight. Within minutes, your calendar is synced with all your friends' birthdays from your Facebook.
With stable google drive integration, cloud management on Linux becomes a piece of cake. And you also get all the usual GNOME goodies.
Tune up Fedora 24
Updating the system is the first thing that you need to do in any fresh Linux install. In Fedora, just use the command below:
sudo dnf update
No need for driver hunting as most of the drivers are installed by default. You might have troubles with Nvidia graphics because we all know the love-hate relationship of Nvidia with Linux systems.
Their open source graphics drivers perform on par with the hardware makers' proprietary ones. The smooth animations and the rendering will really make you question the need for such proprietary drivers. I guess Fedora is showing the world the effectiveness of open sourced nature of programming and software. And do they take the game ball home? Absolutely.
[irp posts="28556″ name="How to Upgrade From Fedora 27 to Fedora 28″]
Getting more software
Now here's the part that won't be a smooth ride. Gnome Software Center is the default graphical gateway for software management. And most of the time I tried installing something, the software center failed.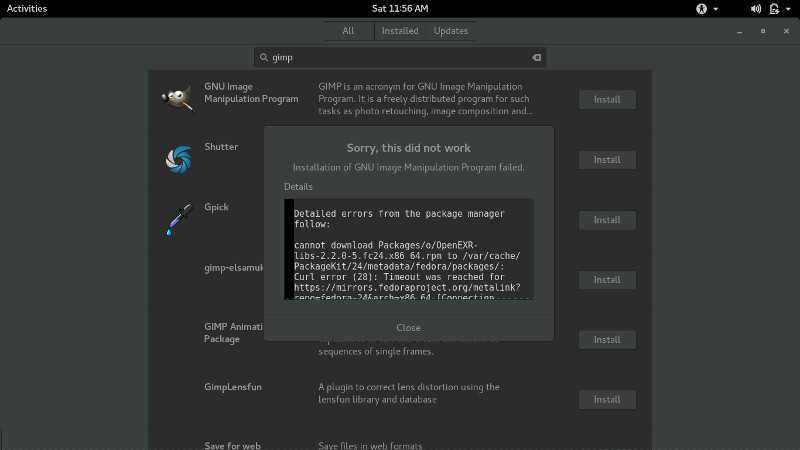 Mind you, the software center was responsive, just failed to install the software even after a long time of displaying the "installing" message. I made sure I had the software repository cache updated and still the problem persisted. I couldn't even install the Chrome browser using rpm package. Here's how to install it properly.
So I quickly turned to using the dnf command line tool and all was well. I'm sure they'll look up and solve the problem soon. Till then use the command line utility, dnf.
I also recommend these few other things to do after installing Fedora 24 for a smoother experience.
Wayland Display Manager
Fedora is leading the Linux World into adopting the Wayland Display Manager. Along with X11 an option to use the Wayland display server is provided at the login screen.
Except for a few broken windows and images every now and then, I must accept Wayland does a good job at both the Animation quality and graphics rendering. But that's for another day. Fedora 25 maybe.
Experience with Fedora 24
Fedora 24 updates to the Linux Kernel 4.6 to give you a power packed experience. Snappy app launches, seamless performance, the effective performance and superiority of open source software is displayed here.
The new Fedora does make us believe in the future of absolute open source systems. Among the latest releases like Linux Mint 18 Rosa, Manjaro Linux Gaming OS and also some great distributions rolling out fresh, Fedora 24 does stand out there.
Fedora 24 is a powerful beast of an operating system with the beauty and elegance that outmatches its contemporary eye candy operating systems.
Give us your say on the topic and also share your experience with the brand new Fedora 24 down below. Cheers :)