Have a look at Escuelas Linux, a Spanish educational distribution based on Bodhi Linux that recently released its English version!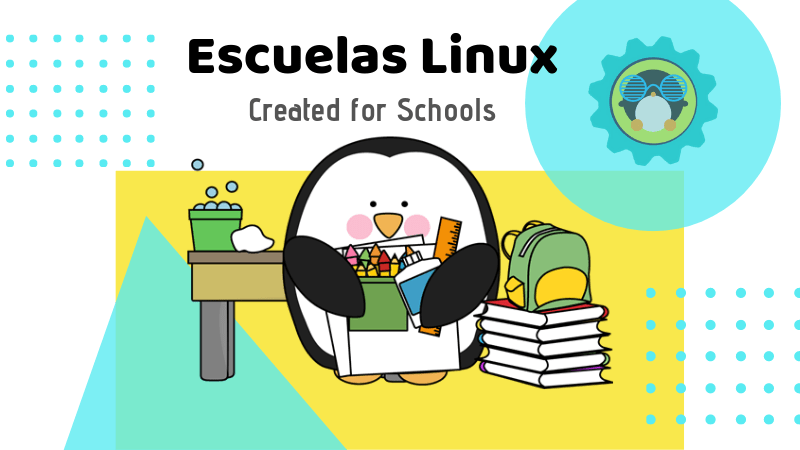 Escuelas Linux is an educational Linux Distribution based on Bodhi Linux. Escuelas (Escuela is Spanish for "School") includes a host of educational software.
It is used by more than 180,000 students and teachers in schools. So what makes Escuelas Linux a preferred choice for educational institutes? Well, apart from a vast selection of educational softwares, Escuelas Linux completely configured user accounts and thus it can be immediately used by a new user (student) without any configuration changes.
It also includes a command to easily restore all the programs to a default setting. When needed, with one single command a teacher can clean an account by deleting all files created by a user.
So far, Escuelas Linux only targeted Spanish-speaking users. This has changed in since the release of version 6. Escuelas Linux is now available with full support for the English language.
Trivia: Escuelas Linux is one of the oldest educational Linux distributions. It has been in existence for 20 years now.
Escuelas Linux: An Educational Linux Distribution
In this article, we have briefly looked into the distro features, especially the range of bundled educational apps you can access right after installation.
Let's highlight some other important points of Escuelas Linux:
Available in both 32-bit and 64-bit
Escuelas Linux has a very minimum set of system requirements allowing installation in almost any system and is available in both 32 and 64-bit versions.
Low system requirements
512 MB of RAM
50 GB of hard disk space
Its desktop environment is Enlightenment based Moksha desktop.
Its worth noting that these minimum requirements make it very cost-effective to deploy the distro in educational institutions and labs with ease.
Now let's look into why the distro is so interesting as an Educational Linux distribution.
Notable educational software included in Escuelas Linux
Epoptes is an Open Source tool ideal for use inside computer labs that can be used for both management and monitoring student resources. Some of its features are:
Screen Broadcasting and Monitoring
Remote Command Execution
Message Sending
Imposing restrictions:

Screen Locking
Sound muting clients
Complementing an Epoptes server/client, it also has NCopy, which is very ideal for distributing educational files and resources within a campus-wide network.
It reduces network load by relying on the server only and not waiting for a client workstation for critical tasks. So, teachers can very conveniently distribute a file/directory within a local network.
Escuelas also has its own apps specifically for managing student data:
RestoreUser
RestoreUser allows teachers and administrators to restore all included apps to their default post-installed state within seconds. It's like a quick factory reset.
ReinstateUser
With ReinstateUser, teachers can easily erase student data in labs, making user accounts much more manageable.
RestoreUser and ReinstateUser can be very helpful while conducting lab exams.
Escuelas gives you lot of options for office work and has three different office suites bundled:
The same goes for Internet browsing. You have four different browsers installed to choose from and navigate the web:
Let us now discuss some of the bundled Educational Apps:
GCompris is an educational software suite designed for children from ages 2-10. Its useful for teaching them:
Basic functioning of a computer, using the mouse and keyboard
General learning with reading and writing
Foreign languages
Algebra
Activities
Memory and Logic games
Science
Geography
The GCompris project is a part of the KDE community. It is interesting to note that GCompris is NOT free on Windows but only on GNU/Linux.
GeoGebra is specifically made for teaching concepts in mathematics in an easy and fun manner. It is also available as individual web apps. Some interesting new features are:
Graphing Calculator
Geometry
3D Graphing
Augmented Reality
GeoGebra is powered by a massive team!
Do you remember those early days, when we used to have a simple programming language called Logo in schools? KTurtle is loosely based on the same. By translating all commands, documentation and error messages into the native language of the young programmer, KTurtle simplifies the learning process and makes programming a whole lot easier to learn!
It also has many other additional features, some of which are:
Intuitive syntax highlighting
Integrated canvas for drawing
Integrated help function
Slow-motion or step execution
KTurtle follows the KDE release cycle.
Apart from all the above educational apps, it also has additional software for mathematics, chemistry, astronomy and other sciences.
Preconfigured User Account Ready-to-Use
Student Data Restoration and Deletion with Simple Commands
Best selection of Free Educational Software
Voluntarily used by more than 180,000 students and teachers in schools
Downloaded from 101 countries and also used by tens of thousands of other users
Conclusion
So this was a brief introduction to this beautiful Linux distro specifically tailored for schools. It has been loved by Spanish speaking people and we hope it is preferred more and more by educational institutions for cost-effectiveness and simplified learning.
Would you like to try it out sometime? Let us know your thoughts in the comments section below.