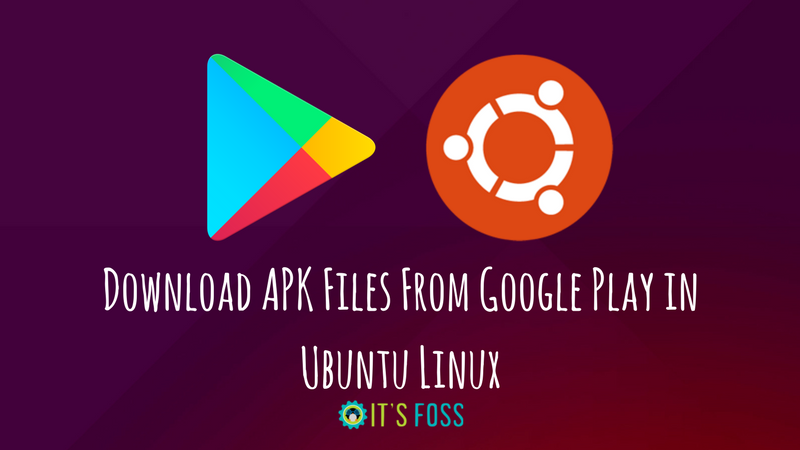 Brief: This tutorial shows you how you how to install APK files from Google Play in Ubuntu Linux.
If you do not have internet connection in your smartphone or tablet or if you do not want to waste your mobile data in downloading apps or if you just have access to a wired network, you might take a different route for downloading apps in your mobile device.
What you can do is to download the APK file (Android Application Package) in your computer and transfer it to your mobile device via USB cable or Bluetooth and install it.
This will also enable you to create a localized backup of apps which you could use on various Android devices. This is particularly helpful in countries where internet is still scarce.
The next question arises is, how do you download APK files from Google Play Store?
In today's tutorial, we are going to see how can we download APK files in Ubuntu Linux.
Downloading APK files from Google Play Store in Ubuntu Linux
We are going to use GooglePlayDownloader app for this purpose. Using this application is very easy. No setup, login or anything of that sort is required to download the APK. Using this program is indeed a matter of few clicks.
You can download the latest GooglePlayDownloader .deb file or source code from their download page. Just look for the most recent version of 'all.deb' file.
Once downloaded, you can install it using Ubuntu Software Center. However, I would advise you to use Gdebi. because it can install the dependency as well.
Once installed, look for it in Unity Dash and click on it to start the application.
You'll see an interface like the one below. You can search for your desired application by its name.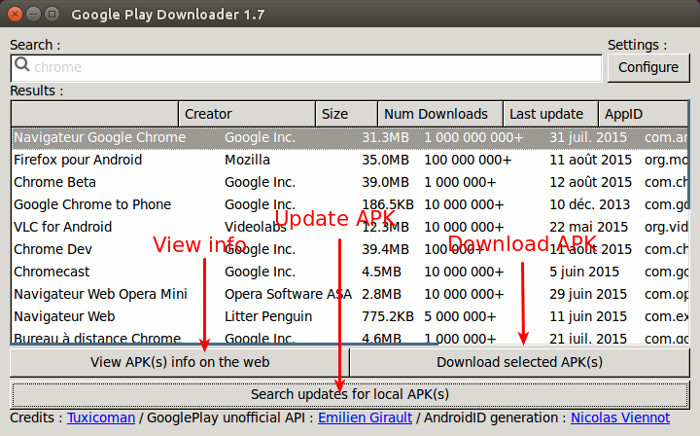 You won't be able to see the images or description of the app in the application itself. For that, you can use the "View APK Info on the web" option and it will open the website.
One more important feature is the update of existing APK files. Yes! You can do that as well. You just need to select the option and point it to the downloaded APK file. If there are any updates, the APK file will be updated.
You can read this article to learn how to use APK files to install the apps on mobile devices.
I hope this quick post helped you to download APK files in Ubuntu or other Ubuntu-based Linux distributions.