Brief: CryptPad is an amazing open-source online suite for creating documents, spreadsheets, presentations, boards, and more. The best part is that all the documents are encrypted. Take a look at CryptPad here.
Without a doubt, Google's suite of online office products including Google Docs, Google Sheets, and Google Slides is popular among Internet users. It is available for free, has plenty of features, and integrates with other Google services.
Not everyone trusts Google, especially not the people who care about the privacy of their data. For such privacy-aware people, I have found an excellent open-source online office suite called CryptPad.
As the name indicates, CryptPad focuses on encryption. All your data is stored in the cloud, encrypted with your key. Sounds good? Let's see more details on it.
CryptPad: A Browser-Based Encrypted Suite Of Real-Time Editors
Ranging from a text editor to whiteboards and kanban boards, CryptPad offers the best of the bunch.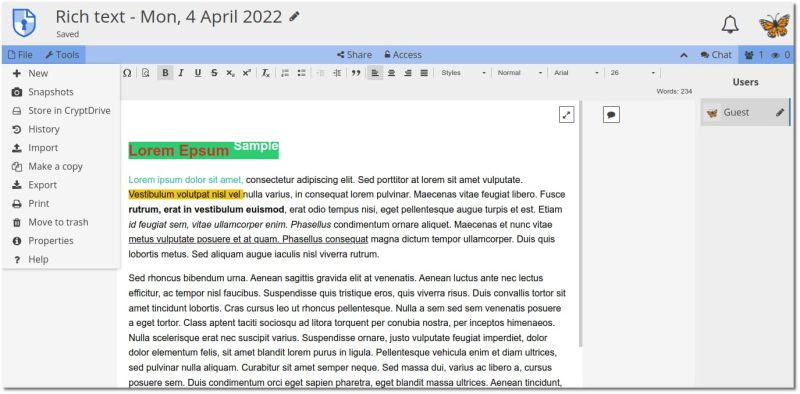 And all of this is encrypted on the client-side, so no information on your documents is known to the server.
When you sign up for the service using the official instance, it will give you 1 GB of storage(CryptDrive).
With the guest mode, the storage space hasn't been specified, but it will be deleted after 90 days of inactivity. And, if you want more storage, the premium plans should suit you better.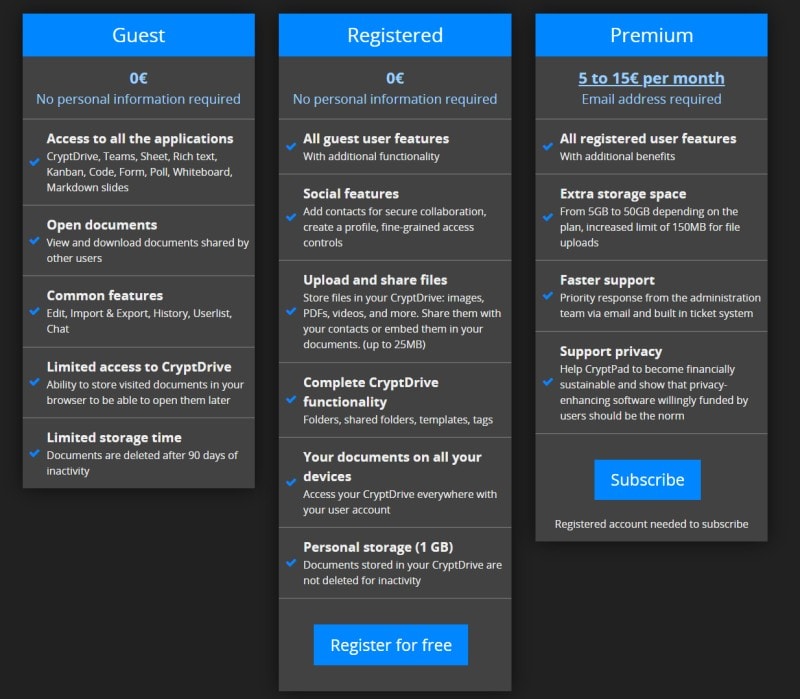 It is completely free to get started — but if you want more storage and the ability to create unlimited pads (documents), you need to upgrade the account to a paid plan.
In this article, we're focusing on its official instance (CryptPad.fr)— but you can choose to self-host by following the instructions on its GitHub page.
CryptPad is from XWiki developers, and the team is working on other open source privacy-focused products and services.
Features of CryptPad
Considering it as a suite of office tools and cloud services, it packs in a lot of features. Here they are:
Offers Rich Text editor for document creation/editing
Offers the ability to create and manage Spreadsheet
Provides a separate code editor with color scheme, markdown support and preview
Provides a separate Markdown Slides Editor (create presentation slides)
Easily create a private or public poll
Offers a Kanban board editor
Provides a whiteboard to take notes or anything you'd need
Password protection for your files/documents
Self-destruction functionality for your documents
Ability to make the document public using link sharing or keep it restricted
Control the permissions of your document before sharing it to someone
Easily embed the pad anywhere using iframe snippet
Collaboration options to chat/edit documents
Client-side encryption (Server does not know the contents of your documents)
Provides a guest mode (no login required) with limited features
My Thoughts on Using CryptPad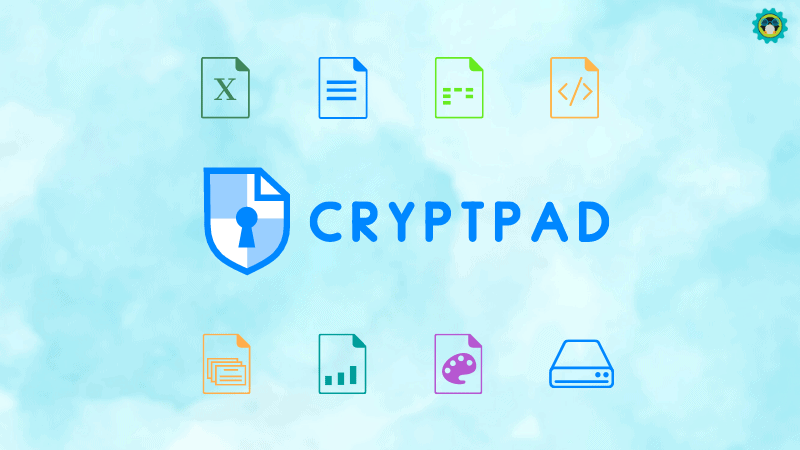 I've been using CryptPad (official instance) for a while now and as far as I'm aware of other open-source online office/cloud services, CryptPad seems to be one of the best open-source privacy-focused solutions there is.
I've also tried other options like ArcaneOffice — but they aren't usable or fast enough to get things done. So, in that sense, I'd say CryptPad is a viable alternative to Microsoft 365 or Google Docs.
With that being said, it is worth noting that Google Docs is potentially a better option if you've got poor connectivity because I've lost my progress (the auto-save failed) when using CryptPad. So, just a heads-up there!
If that's not something you should be concerned about, CryptPad comes with all the good features along with some bells and whistles.
Wrapping Up
I think it's safe to call it a secure and private alternative to any other online suite of collaborative editors like Google Docs.
Even if you're someone who can self-host an instance, CryptPad makes it easy for average users to get a privacy-first experience while working with documents, spreadsheets, boards, and presentations in their browsers easily.
For sensitive or important documents, CryptPad can be a good choice over Google or Microsoft services. Of course, it's not meant for everyone — but definitely worth a try for people who prefer using encrypted services!
If you don't like online editors, you may take a look at EncryptPad which is an encrypted text editor.
Were you aware of CryptPad? Have you tried it already? Feel free to share your thoughts in the comments down below.