The default app store for Ubuntu, GNOME Software Center is a nice yet slow and resource heavy application. I have never been a fan of the Software Center.
For sometimes now, I was feeling the need of a lighter version of Ubuntu Software Center. And it seems like I was not the only one to think like that.
App Grid is a lightweight alternative application for installing and removing software in Ubuntu based Linux distributions.
Despite of being lighter, it is a full fledged app store and has almost all the capabilities of Ubuntu Software Center. You can search for apps, sort them in category, install, update and remove the existing apps.
When you click on an app, you can see the screenshots (if it is available) and read description. It also has an option to log in with Ubuntu One account so that you could rate and review the apps. It won't work any more because reviews have been disabled.
Here is a screenshot of the App Grid interface: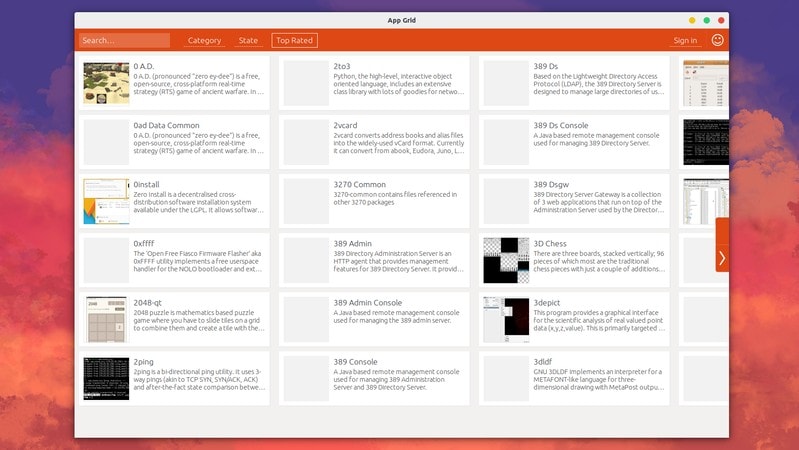 You might have noticed that some apps have green circles in the middle. It indicates that these apps are already installed on the system.
Features of App Grid
Here are some main features of App Grid:
Much lighter than default Ubuntu Software Center
Discover new apps, view screenshots, read description
Search, filter and sort for the apps
Install new apps
Update or remove existing apps
Easily see what programs have been installed on the system
No snap applications
Applications from third-party sources like PPAs
Even displays installed libraries
Install App Grid in Ubuntu
App Grid is available to install in Ubuntu via its official PPA. The PPA is available for Ubuntu 16.04, 18.04 and 19.04.
sudo add-apt-repository ppa:appgrid/stable
sudo apt-get update
sudo apt-get install appgrid
Is App Grid really an alternative to Ubuntu Software Center?
That depends. Ubuntu's Software Center has plenty of Snap applications. App Grid doesn't include Snap apps. That would mean it has slightly fewer applications.
But I also noticed that App Grid fetches applications from non-Ubuntu sources. For example, Android Studio in Ubuntu Software Center is a Snap application but in App grid, it's origin is a PPA from Pop!_OS.
However, App Grid is not entirely a smooth experience as well. There is a review tab but it displays no reviews (because of recent changes in GNOME Software, I believe). It also doesn't display thumbnails for many application because there is clearly no additional effort to fetch Thumbnail even for popular applications.
Using lighter applications like App Grid is one of the ways to speed up Ubuntu. In my opinion, you could give this a try. If you like it, use it. If you don't, just remove it.
If you try it, don't forget to share your opinion on App Grid in the comments below.