This is a regularly updated guide to show the steps for upgrading your current Ubuntu system to the next version which is currently under development. In other words, you learn how to upgrade to beta version of Ubuntu's next release.
At present, Ubuntu 22.04 LTS is under development. There are plenty of new features in Ubuntu 22.04 Jammy Jellyfish release and it is natural to get excited about it.
The stable release will be coming in April end, and the beta (testing) version drops a month before.
Can't wait that long? If you are using Ubuntu 20.04 LTS or 21.10, you can upgrade to Ubuntu 22.04 beta release right now.
All you have to do is to update your Ubuntu system and then run the following command:
update-manager -d
It should provide you the option to upgrade to the beta version.
Don't worry. I'll show you the steps in details along with necessary explanation.
How to upgrade to Ubuntu 22.04 beta from Ubuntu 21.10 or 20.04
The upgrading from your existing system is convenient because you don't lose your system settings and other files. Unlike a fresh install, you don't have to reinstall all the software from scratch here. Your Home directory, applications (most of them), files remain as it is when you switch to the new version.
Know this before you upgrade Ubuntu version
Before you see the steps, let me answer some of the common questions regarding upgrading to Ubuntu beta version.
The upgrade from one version to another is an easy process but you need to have a good internet connection that could download a couple of GBs of data at a good speed.
Upgrading to a newer version disables the third-party repositories (PPA you added on your own). Some of these PPAs might not be available for the new version yet. You can manually enable the PPAs after upgrading.
Having a backup of your important data on an external USB disk is always recommended. Just copy all your important files from Documents, Pictures, Music, Downloads and other places and put it on an external USB or hard disk.
If you want to be extra careful, keep a Ubuntu live USB with you (or have access to an additional computer to create one). If something doesn't go according to plan, you can reinstall Ubuntu and copy the backed up data.
Once you have upgraded to a newer version, you cannot go back to the older version you were using. Reinstalling the older version is the only option.
If you upgrade to the Ubuntu 22.04 beta version, you don't need to install it again when the final stable version is released. Just update your Ubuntu system regularly and you'll already be using the same 22.04 when it is released.
You cannot upgrade to Ubuntu 22.04 directly from Ubuntu 18.04, 21.04 or any version other than 21.10 and 20.04 LTS.
Alright! You know enough now. Let's see the steps to upgrade to Ubuntu 22.04 beta from Ubuntu 21.10.
Step 0. Check your current Ubuntu version
You can upgrade to Ubuntu 22.04 from 21.10 and 20.04 only. Please check the Ubuntu version you are running to ensure that you meet this condition.
In a terminal, run this command:
lsb_release -a
Its output will show the Ubuntu version number.
No LSB modules are available.
Distributor ID:	Ubuntu
Description:	Ubuntu 21.10
Release:	21.10
Codename:	impish
Step 1: Make sure the settings are right
Go to Software & Updates application:

In the Updates tab, check that Notify me of a new Ubuntu version is set to "For any new version":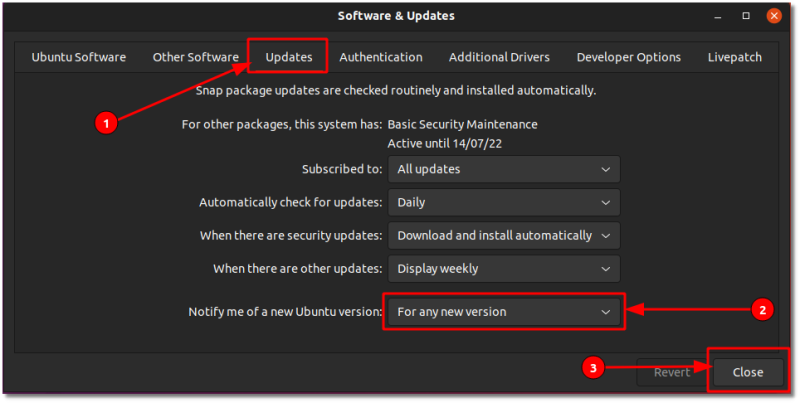 This may reload the Software repository cache.
Step 2: Update your system for any pending software updates
Once you have the correct settings in place, open a terminal (use Ctrl+Alt+T shortcut in Ubuntu) and use the following command to update your Ubuntu system:
sudo apt update && sudo apt full-upgrade
The apt full-upgrade or dist-upgrade function the same as 'apt upgrade' but it will remove currently installed packages if this is needed to upgrade the system as a whole (i.e. a version upgrade).
Your system may ask to restart after installing updates. That's fine. Restart and resume upgrading to beta release from step 3.
Step 3: Run update manager with development release upgrade option
Now that you have all the necessary updates installed, you can open the update manager but with -d option. The -d option tells it to look for development releases.
update-manager -d
It may take a couple of minutes before informing you that a new version of Ubuntu is available.

Hit the upgrade button when you see the above message.
Step 4: Start upgrading to Ubuntu 22.04 beta
The rest of the upgrade procedure is basically waiting for update downloads and clicking okay wherever requested.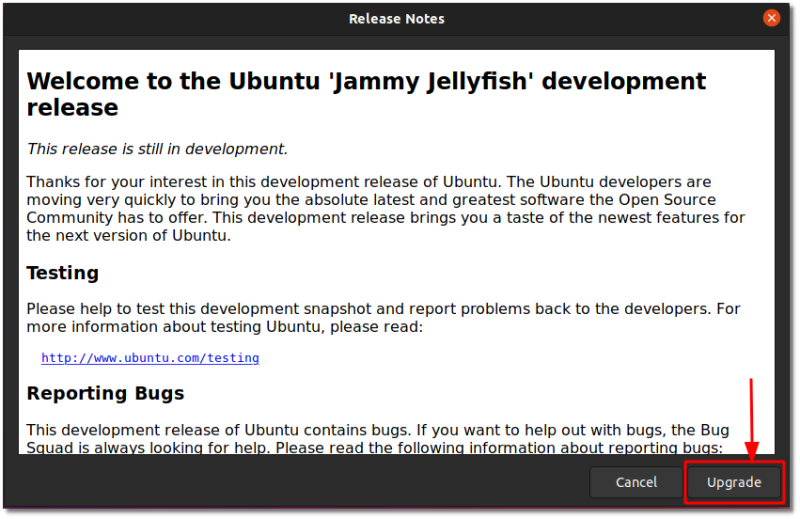 Hit the upgrade button and follow the on-screen instructions.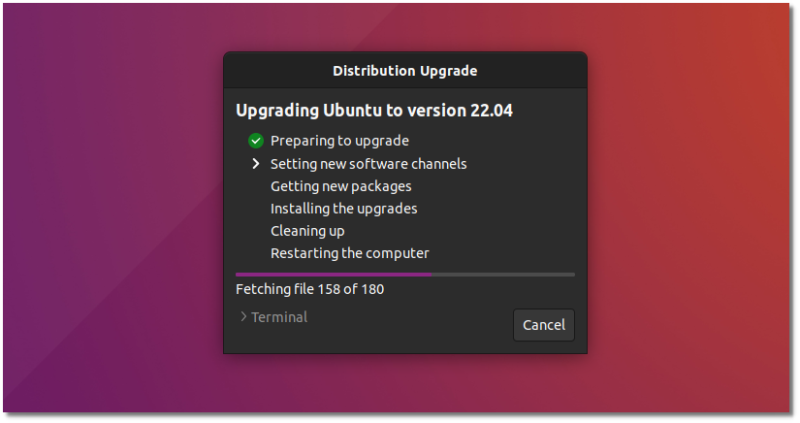 You might be notified that all the third party sources have been disabled. At some point, it will also inform you of the packages that will be upgraded, removed etc. It will also ask if you want to keep obsolete packages or not. I prefer to remove them.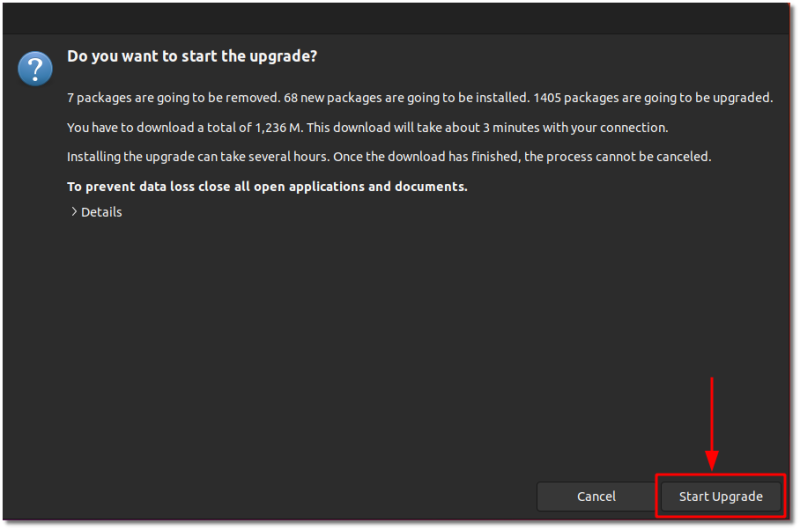 Depending on your internet speed, the upgrade may take a couple of hours. Once the upgrade process is complete, you'll be asked to restart your system.
See, it wasn't that difficult. Enjoy all the new features in Ubuntu 22.04.
Questions or suggestions? Feel free to leave a comment below.