Mini PCs. Mini PCs everywhere….
Mini PCs are the new 'in' thing of computing world. Compact, fan-less and attractive, (I presume) Mini PCs are bound to takeover the traditional desktop market. These tiny devices might not be suitable for hardcore gamers, but for normal computer user, these mini PCs are the ideal device.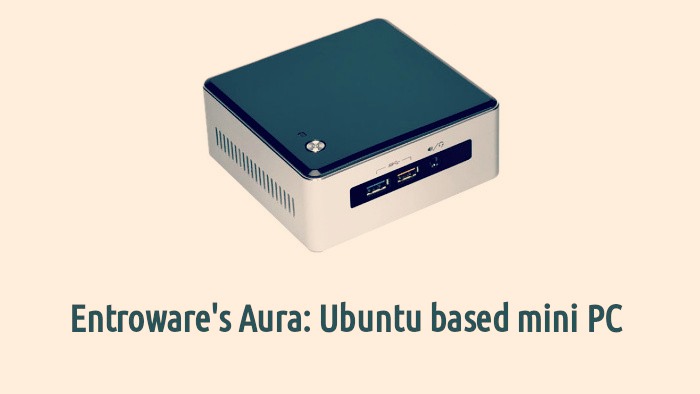 If you are an Ubuntu lover and looking for a mini PC, you have several options to choose among Linux based mini PCs. The latest to join this niche market is Linux based hardware start-up, Entroware. If you remember, Entroware had struck a deal with Ubuntu Mate last month for its Orion laptop series. Entroware now has a mini PC Aura that comes with the options of Ubuntu 15.04 or Ubuntu Mate 15.04 pre-installed on it.
Curious about Aura? Here are some quick specification:
Size: 115mm x 111mm x 48.7mm
Approx. base weight = 0.55KG (may vary)
Intel core i3/i5
Integrated graphics
4 x USB 3.0
1 x Gigabit LAN
1 x Headphone / Microphone
1 x Mini HDMI
1 x Mini DisplayPort
1 x Kensington lock
The price starts from £379.99 for the basic model with core i3 and 500GB SATA hard disk. In terms of looks, Aura looks almost identical to System76's Ubuntu based mini PC Meerkat. In my opinion, when it comes to looks, nothing beats Cirrus7 nimbini. But as they say, looks is not everything :)
Going by the trend, I expect more Linux based computers coming later this year. Stay tuned with me to get more news on it :)