Here's everything you need to know about the Ubuntu 13.04 Raring Ringtail release.
Ubuntu 13.04 Release Schedule
Take a look at the Ubuntu 13.04 release date and synchronize your calendar accordingly:
December 6th 2012 – Alpha 1
February 7th 2013 – Alpha 2
March 7th 2013 – Beta 1 Release
March 28th 2013 – Beta 2 Release
April 25th 2013 – Ubuntu 13.04
Ubuntu 13.04 Default Wallpapers
Take a look at the default set of wallpapers for Ubuntu 13.04 have been finalized. 13 wallpapers were selected out of over 300 entries.
Ubuntu 13.04 New Features
Take a look at the new features introduced in Ubuntu 13.04 Raring Ringtail.
New icons:
One of the first thing that you'll notice after installing Ubuntu 13.04 is the new set of icons. Most of the icons have been changed and changed for good. They look much cooler than their predecessors.

Nautilus file manager:
Nautilus does not exist any more. No it did not go anywhere. It is just renamed to Files. Apart from the name, it has been revamped to provide a better integrated look to Unity. The one thing you gonna notice is that 'backspace' doesn't work anymore. You will have to use 'alt+backspace' to go back in Files. Inconvenient, in my opinion.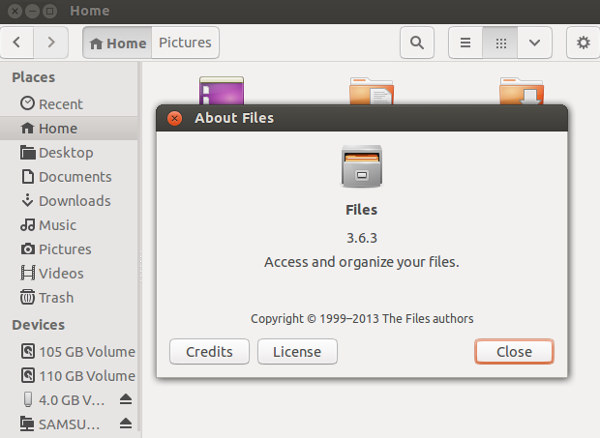 Turn off options:
The new turn off options in Ubuntu 13.04 are more polished and very well-integrated in the Unity environment. Choosing to turn off from menu provides two options, Shut Down and Restart: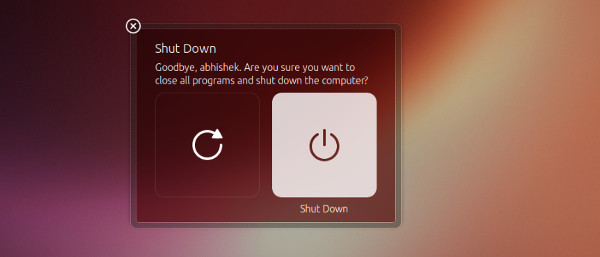 While pressing down the power button gives additional option of Lock, Hibernate and Suspend along with Shut Down and Restart:

Sync Menu:
The new sync menu is available by default in Ubuntu 13.04. It had been available in Ubuntu 12.10 as well but not as default. The sync menu took sometime in the development and currently supports only Ubuntu One. The aim of this sync menu is to provide one applet for all (or at least the popular ones) cloud applications such as Dropbox. At present, it can enable/disable Ubuntu One sync, display current and recent transfers or share files but more features can be expected in future version.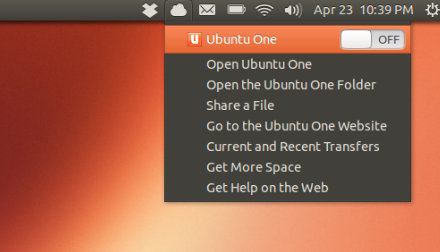 Bluetooth Menu:
A revamped Bluetooth menu that gives you quick access to turn it on and off and also change the visibility option. Picture taken from web as My laptop doesn't have Bluetooth.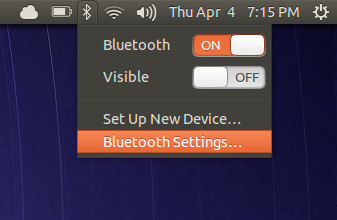 Window switching method:
This is one of the things I loved the most and I guess you will too. It is difficult to write in word rather than to show but I'll try nonetheless. When you have several windows open of the same application, lets say you have several file explorer open or several chrome windows open, hover the cursor over its icon in the launcher and by scrolling you can change between the opened windows of that application.
Also, all the applications have quicklists now, for easy switching between two instances of same application.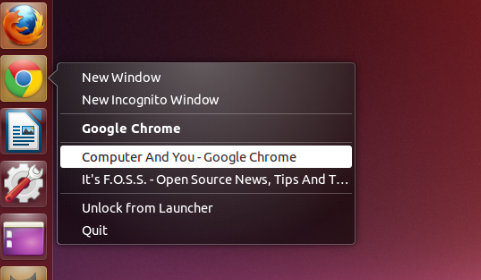 Online account toggle options:
Ubuntu Online Accounts is the center of your various online accounts such as Facebook, Gmail, Twitter, Picasa etc. If you have various desktop application that uses these accounts, you don't need to enter your credentials for each of them.
In Ubuntu 13.04, you have new toggle options. Now you can choose which desktop application can access which online account. For example, if I don't want Empathy for my Gmail messages, I can turn just that off. In previous versions, I had to remove the Google account altogether.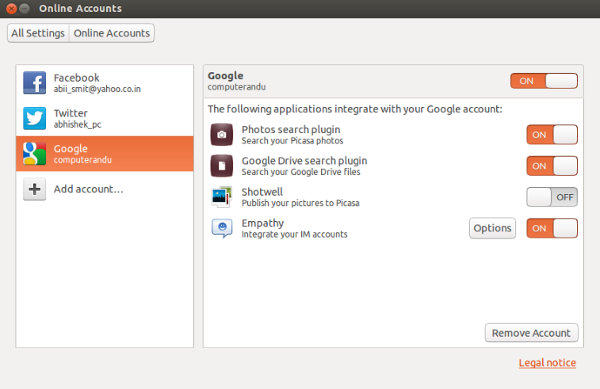 Lenses:
Ubuntu 13.04 has two new 'default lenses', namely, Photo lens and Social lens. You should enable your online accounts for a better experience of these lenses. With photo lens, you can search for a photo which are in your computer as well as those in your linked online accounts.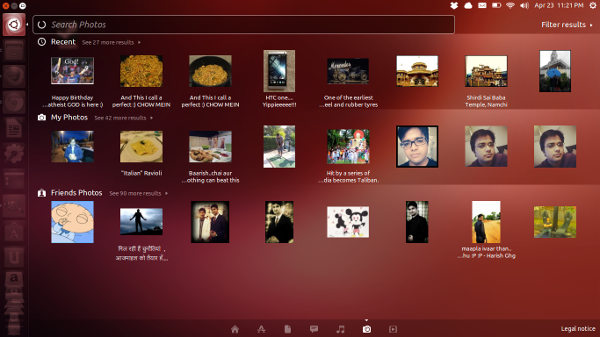 Similarly, Social lens allows you to access various status, tweets and messages from various online accounts that you have linked. You can always put filters as per your need.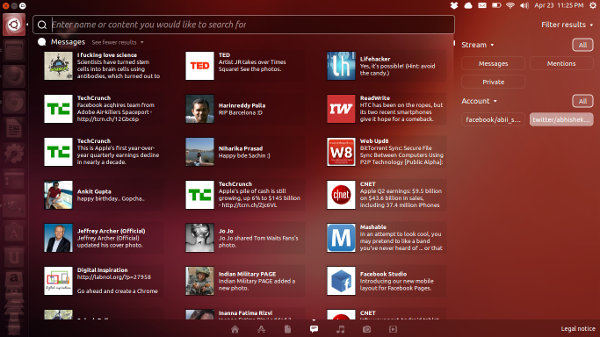 Better support for USB mounted devices:
I was not sure to put this point in this article. It may not be unique to Ubuntu 13.04. Ubuntu 13.04 very easily recognizes my Samusng Galaxy S2 and Amazon Kindle Fire. No need to use fancy stuff like gMTP to connect an Android device with Ubuntu anymore. Works flawless. Honestly, one of the biggest surprise of Ubuntu 13.04.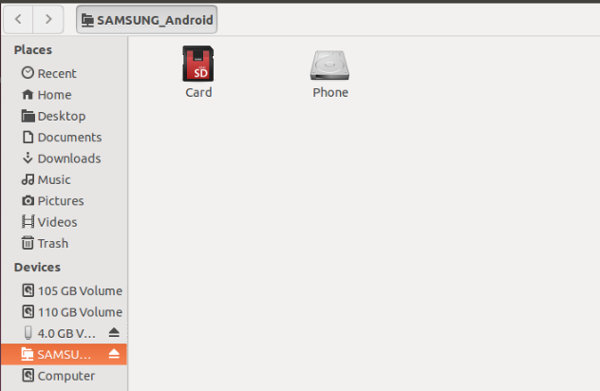 Don't be so happy. It still doesn't have an easy one click option to format a USB key.
Performance improvement:
Unity has never been as fast as in Ubuntu 13,04. You should be able to feel the difference when you open a file explorer or when you open a browser which was closed before. It opens up in fractions. I did not feel any difference in lens performance though. In any case best practices to improve Ubuntu performance always help in running your Ubuntu on top speed.
Other changes:
Apart from these, there are several other changes as well. Beginners' favorite Wubi, a tool for downloading and installing Ubuntu inside Windows, will not support Ubuntu 13.04. Software Sources has been renamed to Software $ Updates. Support period has been reduced to 9 months from 18 months for non-LTS release.
What features you like the most in Ubuntu 13.04? Do you miss anything in it? Let us know of your views.