Simplenote is a popular note taking app on iOS and Android. Simplenote has been also available for Mac OS X for sometimes and now it is also available for Linux and Windows. It is an Open Source application now.
Simplenote is developed by Automattic, the company behind WordPress. Automattic also has several other impressive products but we are not going to see that today as we focus on Simplenote.
Simplenote features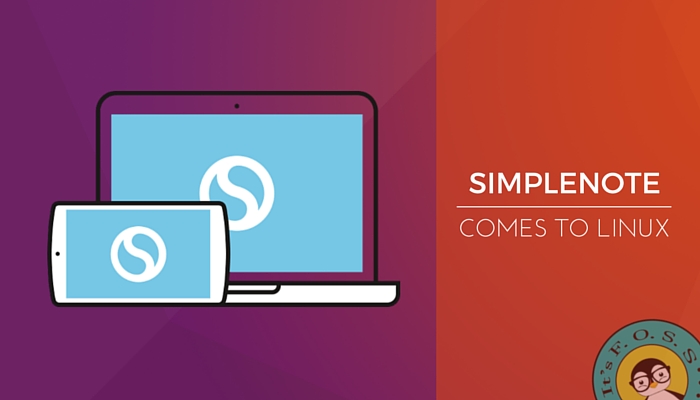 If you have never used Simplenote, I suggest to give it a try. It might not have as many features as Evernote, but it does have an impressive list of features.
Cross platform
Searchable notes
Notes can be tagged for even quick search and organize them
Notes can be sorted by modification date or alphabetically
Notes can be synced across devices
Individual notes can be shared with others via URL
Notes can be collaborated with other people (even if they don't have Simplenote account)
Version control so you keep history of all changes made in the past
Markdown support in desktop versions (needs to be enabled from the settings)
Light and dark theme in desktop version
Password protection on notes
Pin important notes
Free to use, even the backup and sync is free. No limit.
Can be used offline
In short, Simplenote might have simple in its name but it does a lot more than a simple note taking app like Notes.
The feature I like the most is seamless sync across devices. This is a feature I prefer to have in a note taking app especially when I use my smartphone all the times and write down quick thoughts on it and later read them on my desktop.
Install Simplenote in Linux
Simplenote has a .deb installation file for 64 bit systems that can be used in Ubuntu, Linux Mint, elementary OS and other Debian/Ubuntu based Linux distributions.
You can grab the file from the Simplenote download page:
Just double click on the downloaded file to install it. You can also check out the source code on Github.
How do you find Simplenote? Do you use some other note taking apps for Linux which you think is better than Simplenote? Do let us know.