GNOME is a beautiful, modern desktop environment focusing more on switching between applications.
But what if you want to minimize all the running windows and display just the desktop?
In Windows, you can do this by pressing Windows + D. You can also use the same keyboard shortcuts in Ubuntu as it uses a customized GNOME desktop.
But vanilla GNOME has disabled the shortcut key to show the desktop for some reason.
When you press Super+D or Ctrl+Super+D, nothing happens. If you want to see the desktop, you'll have to minimize all running windows one by one. It is not convenient especially if you have several application windows open.
If you prefer the minimize to desktop option, you can add a custom keyboard shortcut. It takes a tiny bit of effort but does the job.
In this quick tutorial, I am going to show you how to add a keyboard shortcut to show the desktop in GNOME.
Add a shortcut key to show the desktop in GNOME
I am using Arch Linux with GNOME 43 in this tutorial, but the steps are applicable to any Linux distribution using any latest versions of GNOME.
Also, the latest GNOME versions have improved UI designs. So, you might not see the same looks if you are a few releases behind.
But I believe the steps are straightforward and you can easily follow them.
FYI, the Super key in Linux terms is the Windows key.
Step 1
Go to System Settings. Press the Super key to access the activities overview and search and open settings.

Step 2
When you are in System Settings, scroll down a bit and look for the Keyboard section in settings.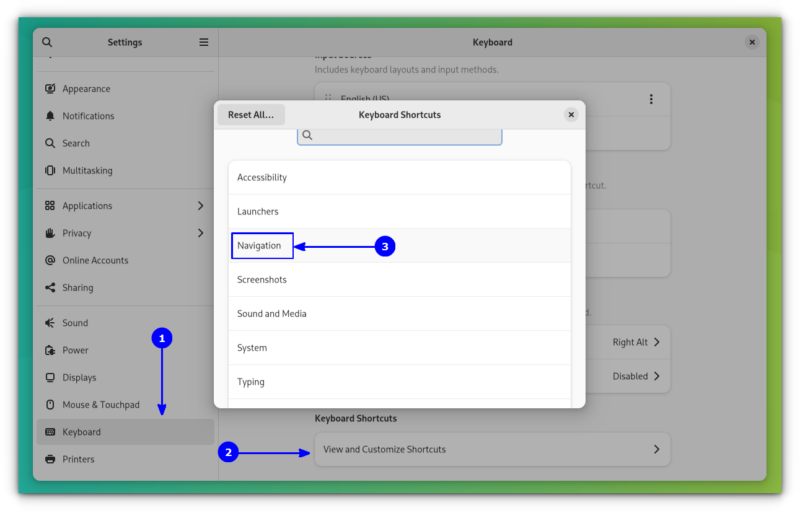 From the Keyboard section, select View and Customize Shortcuts. From the new window listing available categories for shortcuts, select Navigation as shown in the above screenshot.
Step 3
You can find all the actions available and their respective keyboard shortcuts here. From this list, you'll see that the Hide all Normal Windows action has been disabled.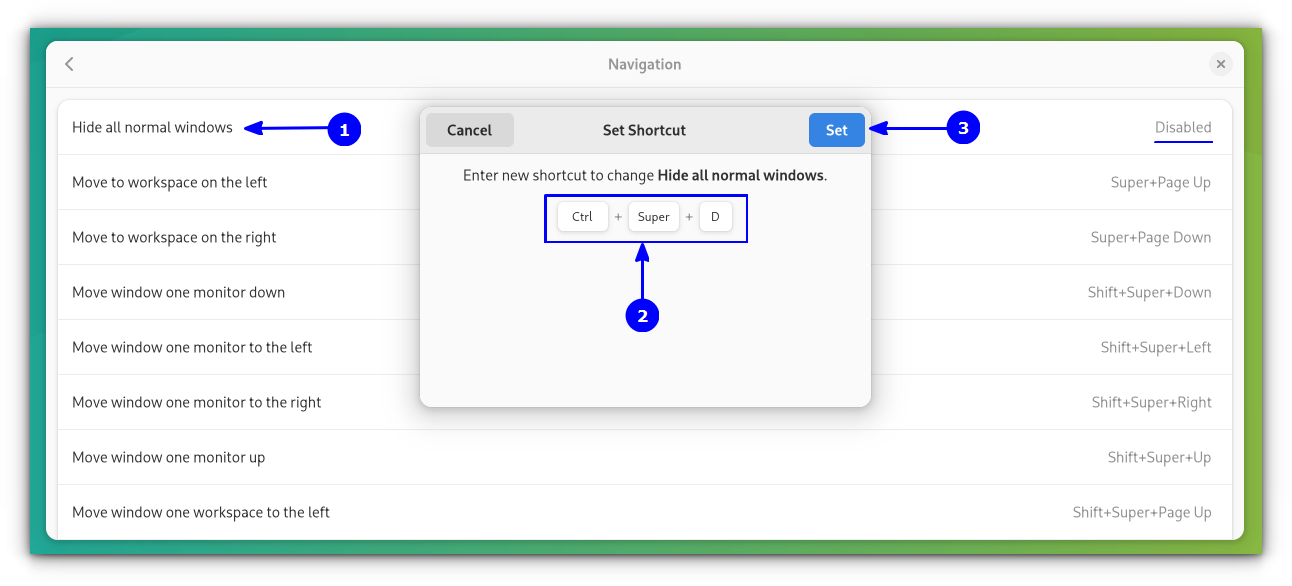 Clicking on this action will pop up a dialog box, where you can enter your required shortcut. In this case, I used Super + Ctrl + D. Once done, press Set to save your choice.
You can use any keyboard shortcut you want. If any combination you entered is already being used for another action, it will display a warning message.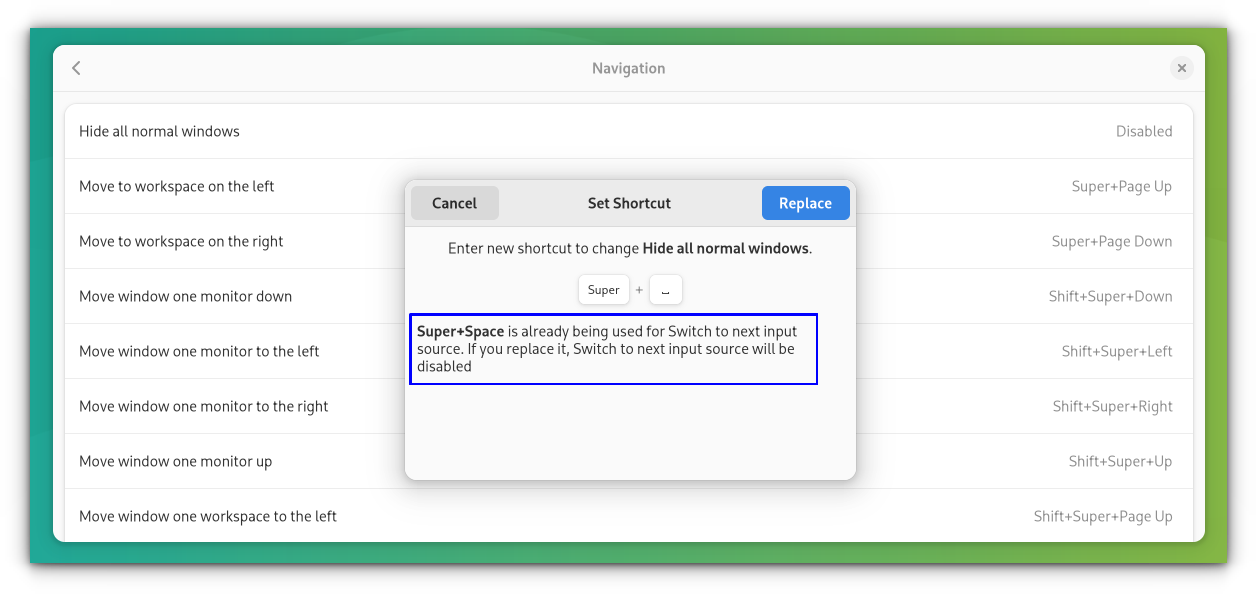 You can either replace the existing one for your purpose or use a new shortcut by pressing cancel and trying again.
Now, your new shortcut will be assigned for showing the desktop.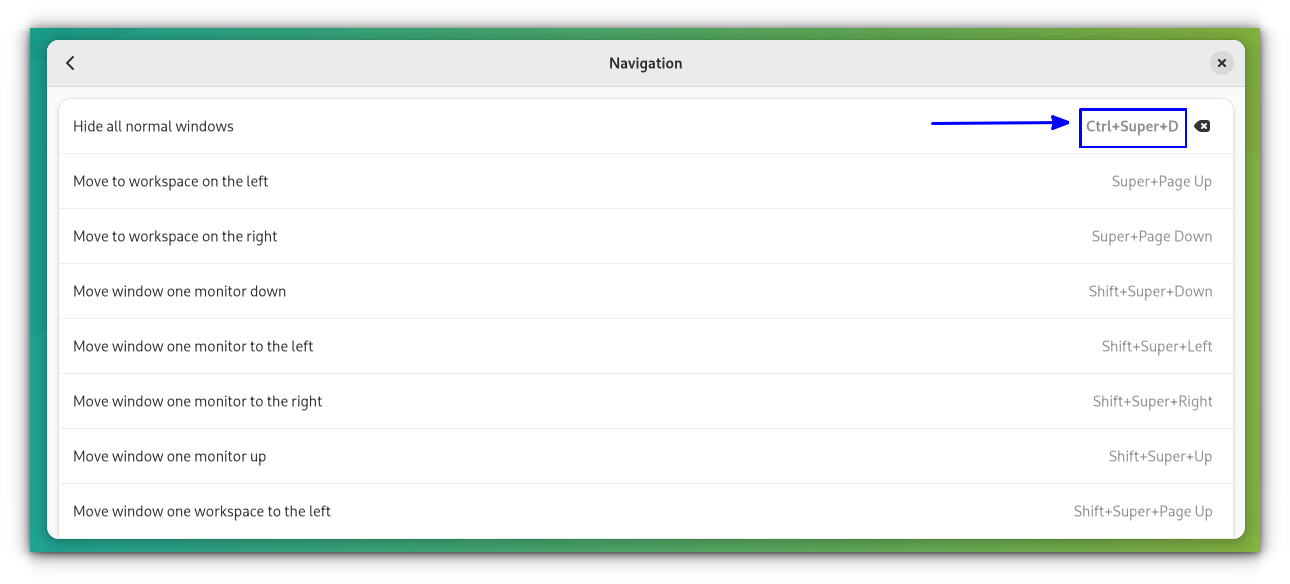 If you accidentally press the wrong key combination and set it, just click on it and press the backspace key and it will be disabled again. Also, you can click on the small button to the right of the shortcut to disable it.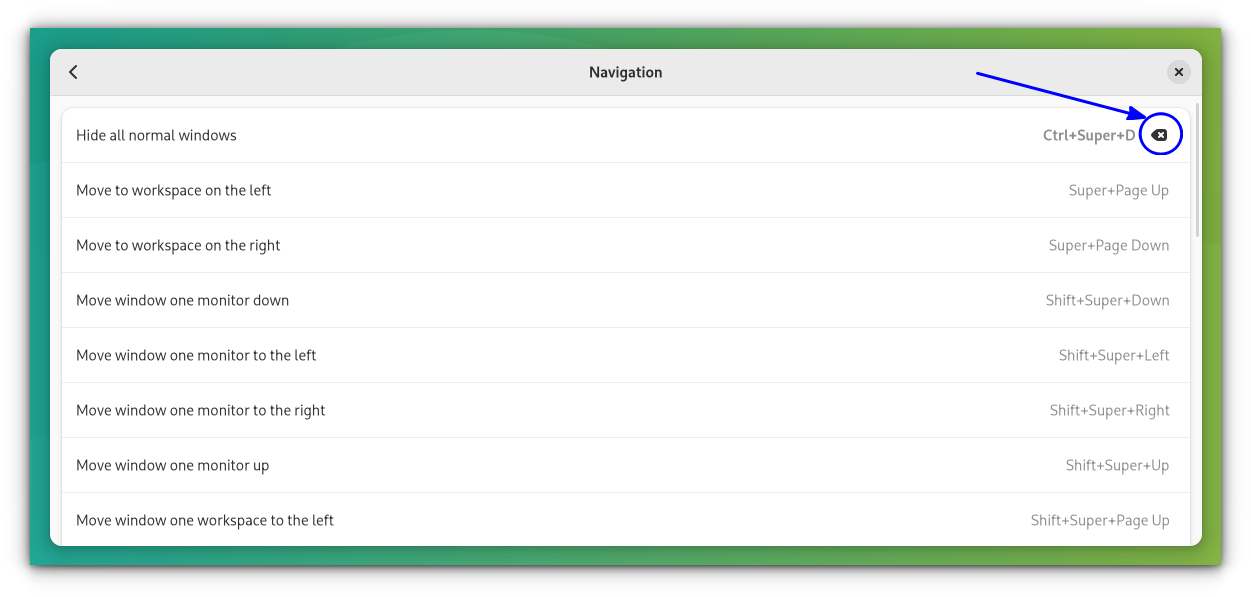 Now click on it again and use the desired key combination.
Once all set, you can press the combination to minimize all windows. Pressing one more time will make them reappear.
Alternative: Use third-party extensions to peek into desktop
In this method, you can use Dash to Panel extension, which is available and supported for the latest GNOME releases also.
First install Dash to Panel extension, either from the website or through the extensions manager app. I used the Extension-Manager app to do the same.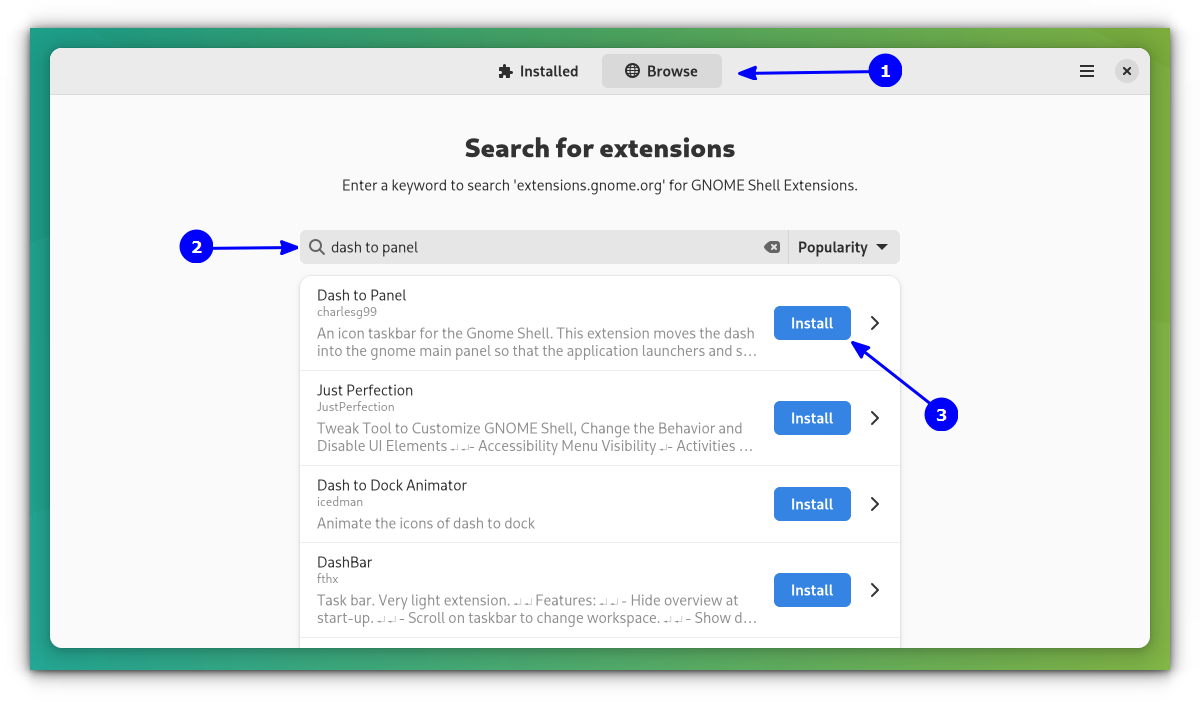 Once installed, you will notice that your top panel has been removed and a bottom panel like Windows appears.

In this, clicking the right-most button, as shown above, will minimize all the windows to show you the desktop. Another click will bring the minimized windows back to the old state. Also, you can customize this panel to your liking.
That's it. Enjoy the shortcut to show the desktop in GNOME. I hope you found this quick tutorial helpful. Any questions, suggestions, or a word of thanks are always welcomed :)