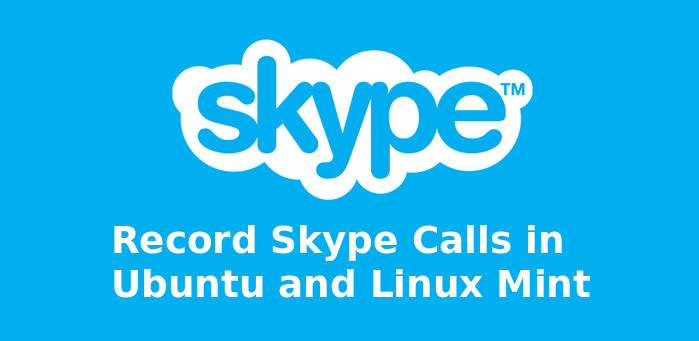 Want to record Skype calls in Ubuntu? Skype call recorder is a simple easy to use program that can record Skype call automatically and manually as well. The Skype Call Recorder for Linux uses the native Skype API to record calls to wav, mp3, or ogg format. It runs in the system tray and communicates directly with the Skype process. In fact, recording Skype call is very similar to recording streaming audio in Ubuntu.
Features
Skype Call Recorder is an open source tool that allows you to record your Skype calls on Linux. Current features include:
Record calls to MP3, Ogg Vorbis or WAV files
Automatic and manual recording
Configure automatic recording on per-caller basis
Split stereo recording
Completely free (free as in free beer)
Completely free (free as in freedom), released under the GNU GPL
How to use the Skype Call Recorder
Before you go on installing Skype Call recorder, I presume that you know how to install Skype in Ubuntu.
You can start from dash or menu in case you are using other distributions, such as Linux Mint, Elementary OS Freya etc. We're using Ubuntu in the tutorial.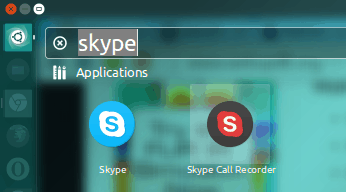 After you start it, a popup will display saying that the recorder does not have its main windows, so you can operate it from the system tray.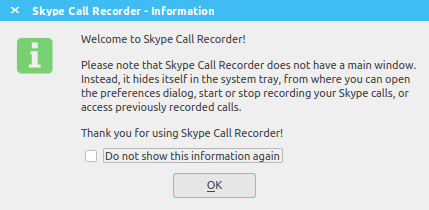 Now open Skype app and Recorder will display a popup asking permission for connection to Skype. Check "Remember this selection" option and click "Yes".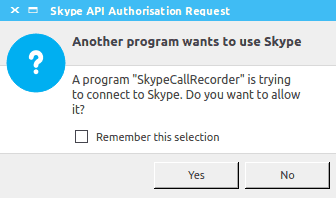 Skype Call Recorder by default is set to 'Ask for every call'. But you can set it to 'Automatically record all calls' or you can set it to per caller basis. Good features! Isn't it?.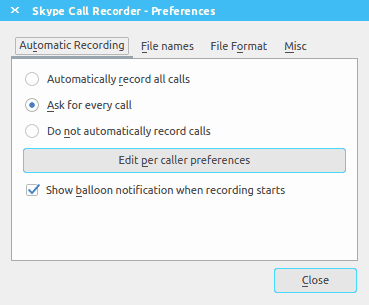 By the way all the recordings will be saved in ~/Skype Calls. By default recordings format is set to mp3 but you can change it from the 'File Format' tab.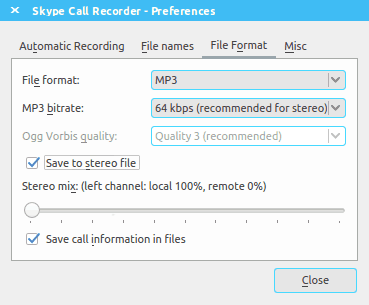 Download Skype Call Recorder
You can download Skype Call Recorder from the download page below:
There is deb files available for both 32-bit and 64-bit systems. I believe you know how to use deb files on Ubuntu and Linux Mint.
If you are not sure, here is how to find out whether your Linux system is 32 bit or 64 bit.
If you like to play with Skype, here a clever tip to let you use multiple Skype accounts at the same time in Linux. Also read how to transfer files between Linux and Android phones easily.