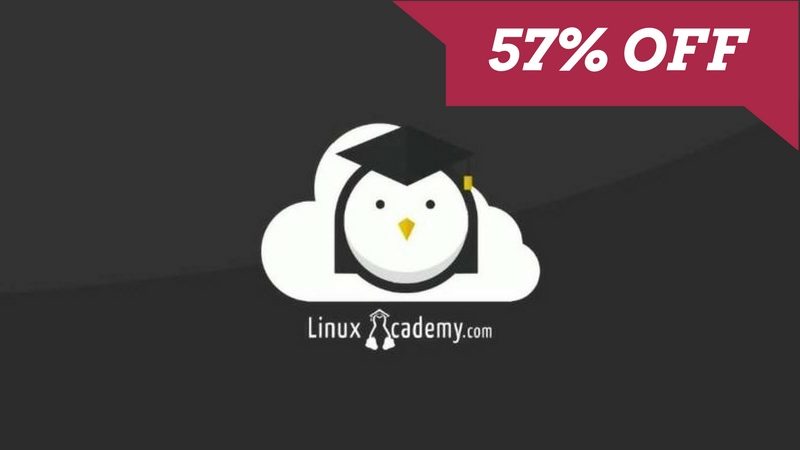 Brief: This Linux Academy deal offers 57% discount on the annual subscription.
You might have already heard of Linux Academy. In the last couple of years, it has become a prominent name in Linux training at an affordable cost.
They offer high-quality, self-paced cloud training courses on Amazon Web Services, OpenStack, Linux, Azure, Containers, DevOps, and more! They are official training partners of Linux Professional Institute (LPI), Chef, CompTIA Linux+ and AWS.
These training courses are scenario-based and include hands-on labs to practice common tasks in live servers. This way you gain the skills required to pass certification exams and excel at your job.
Linux Academy has a monthly subscription plan that costs $29 per month but in a limited time deal on It's FOSS Shop, you can get 12 months subscription for $149 instead of $348, saving you 57% on the purchase.
You'll:
Get unlimited access to over 1,200 hours of in-depth video content, labs, study groups, flashcards
Gain real-world skills through hands-on lab training
Utilize full-time instructors for advice & to answer your questions
Follow curated learning plans to keep yourself on track
Earn certificates as proof of your hard-earned skill and knowledge
Join the community to learn from other students
Learn from an Official Linux Professional Institute Training partner, Official Chef Training partner, Official Quality Content Approved CompTIA Linux+ provider, & an Official AWS Technology Partner
I don't always cover such deals but since this could help you build a career in Linux, I have dedicated an entire article for this.
If you think that $149 is a bit out of your pocket, I suggest that you pool a group of friends and take the yearly subscription. This way you and your friend(s) can follow various courses of your choice.
Get Linux Academy: 1 Year Subscription [57% Off]