Brief: The latest major release of LibreOffice brings better interoperability with Microsoft Office documents, ePub export, OpenPGP document signing, improved user interface and a number of other functional improvements.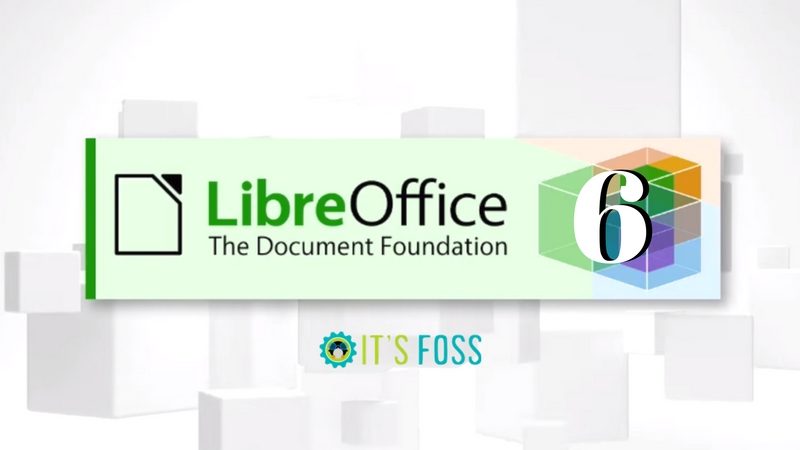 The best open source office suite has got even better. LibreOffice 6.0 has been released today, on the seventh anniversary of the first stable release of LibreOffice. The new release brings a number of improvements and new features. The Document Foundation calls it a "dramatical improvement" over its predecessors.
LibreOffice 6.0 is the first major release of LibreOffice with the last one being 5.4 in July last year.
[irp posts="26144″ name="6 LibreOffice Tips To Get More Out of It"]
LibreOffice 6.0 features
LibreOffice has released a video showcasing the top new features of 6.0 release in action.
Subscribe to It's FOSS YouTube Channel
If you prefer reading over watching videos, here are some of the major new features in LibreOffice 6.0:
Improved interoperability with Microsoft Office documents
Export to ePub format
Improved Notebookbar (i.e. Ribbon interface)
Form menu in Writer brings the ability to design forms, and create standards-compliant PDF forms
Lists for Recent and Favorite special characters
Easier to save embed images
Elementary icons and Noto fonts included by default
OpenPGP keys can now be used to sign ODF documents
Document classification has also been improved
Improved support for AbiWord, QuarkExpress and PageMaker files
10 new templates in Impress
Calc can now handle half a million rows
Old help wiki has been replaced by new online help
Improved spellcheck with custom dictionary
You can read about other changes in the release note.
Install LibreOffice 6.0 on Ubuntu and other Linux
LibreOffice 6.0 should be provided by your Linux distribution sooner or later. You can check which LibreOffice version you are using in the terminal using the command:
libreoffice --version
You can also check the version from the menu->help->About in LibreOffice.
I advise waiting for your distribution to provide LibreOffice 6.0. That's the best if you want to keep your system pristine and stable.
Install LibreOffice 6.0 on Ubuntu, Mint using official PPA
For those who are more of adventurous nature, you can either download the DEB file or use the official PPA to install LibreOffice 6.0.
You can use the official "LibreOffice Fresh" PPA to install the latest stable release of LibreOffice on Ubuntu based distributions. You don't even need to uninstall the previous version using this method.
sudo add-apt-repository ppa:libreoffice/ppa
sudo apt update
sudo apt install libreoffice
Install LibreOffice 6.0 on other Linux distributions
LibreOffice provides packages for most Linux distributions. If you don't like PPA, you can use the DEB file. There are RPM packages also available for Fedora-based distributions. Packages for Windows and macOS are also available.
If you are going to manually install LibreOffice 6.0, I advise that you first remove any existing version of LibreOffice installed on your system.