We've already discussed how amazing the Raspberry Pi 4 is with upgraded specs. You can easily utilize it as a desktop replacement for minimal tasks like browsing activities, managing media or similar stuff acting as a desktop replacement.
That's all good. But, we're talking about something more exciting – which you might have already figured out from the headline.
Offensive Security announced to officially support Kali Linux on Raspberry Pi 4. Yes! Kali Linux is now added to the list of Raspberry Pi 4 OS list.
Raspberry Pi 4 and Kali Linux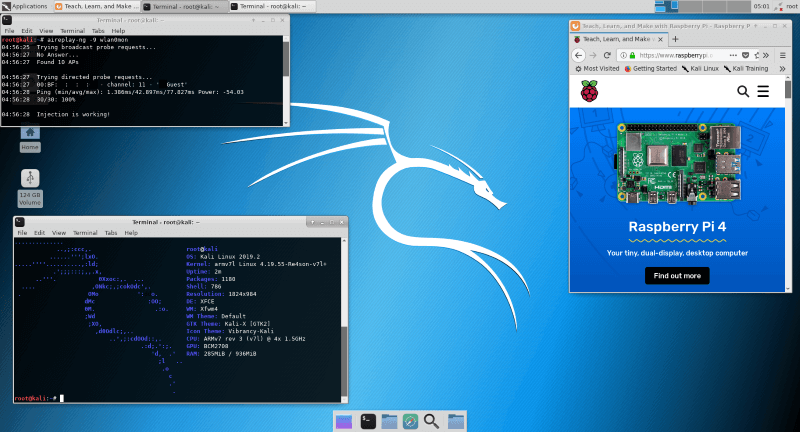 If you have read our Kali Linux review, you know that Kali Linux should not be used as a regular Linux desktop. It's a Linux distribution specifically crafted for cyber security professionals.
Fret not, you will still get the full-fledged Kali Linux that you have used on your desktop in some point of time. However, along with that, you also get an on-board WiFi monitor mode and frame injection support.
So, if you are an ethical hacker or learning to be one of the professionals, you can now just grab a Raspberry Pi 4 for $35 and install Kali Linux to get started.
You don't need a lot of investment to learn the essentials. There is this free eBook from Kali Linux developers. I would also recommend Linux Basics for Hackers book that teaches you the basics of Linux with focus on networking and the book is written around Kali Linux.
[lasso box="1593278551″ link_id="14715″ ref="linux-basics-for-hackers-getting-started-with-networking-scripting-and-security-in-kali" id="101765″]
Downloading & Installing Kali Linux on Raspberry Pi 4
For now, Kali Linux supports 32-bit – but we can expect 64-bit support in the near future (as they mentioned in their announcement post).
You can start downloading Kali Linux for Raspberry Pi 4 on Offensive Security's ARM image downloads page.
You just need to scroll down to find the Raspberry Foundation section and then download the image file via Torrent. For installation, you should refer the official documentation for Raspberry Pi.
In case you want to hold on to check the present issues (if any) or discuss your problems/thoughts on Kali Linux for Raspberry Pi 4, we would recommend you to visit the official forum.