Brief: Kali Linux and Debian join Ubuntu and SUSE Linux on Windows Subsystem for Linux (WSL). This means that now you can install these Linux distributions in command line mode inside Windows 10 like any other Windows application.
Until now, installing Kali Linux on VirtualBox was the easiest way to use this hacking distribution inside Windows. But that has changed with Kali Linux being available in Windows Store directly.
Last week Microsoft announced the availability of Debian and Debian based hacking distribution Kali Linux on Windows Subsystem for Linux. You can download these two distributions from Microsoft Store and install them like any other Windows 10 application. This way, you get the command line version of these Linux distributions.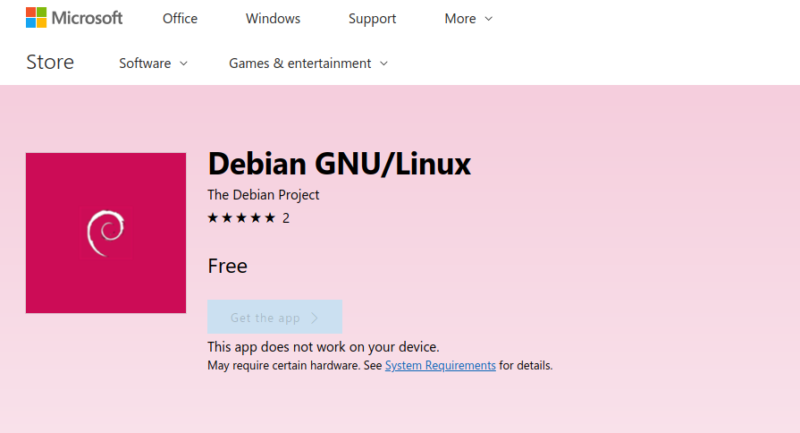 These announcements should not come as surprise because Kali had already announced on their site in January that they are "always on the prowl for novel environments to run Kali on, and with the introduction of the Windows Subsystem for Linux (WSL) in Windows 10, new and exciting possibilities have surfaced."
They also hinted at the inclusion of other Debian based distributions on WSL in the same announcement, "it shouldn't be too hard to incorporate another Debian-like distribution, right?"
This indicates that Microsoft has kept its promise at its Build 2017 conference to make available more Linux distributions in the Microsoft Store to be used on Windows 10 subsystem for Linux.
To download and install Linux app on Windows 10 subsystem using WSL, you need to, first of all, enable the Optional Windows feature. You should also check out our screenshot guide of installing Linux over WSL. The installation procedure is same for all Linux distributions available on Windows Store.
Kali Linux also has an official video showing quick installation process.
According to Kali Linux, they have also done a successful test run of XFCE on WSL even though it is not yet officially supported. You can check out this video on how to install xfce4 on Kali Linux over WSL, Windows 10.
Considering that so many wannabe hackers try to use Kali Linux, perhaps now they will have an easier way to install it. Though I am not sure whether using Kali Linux is a good idea altogether. Debian is a much better choice for all-purpose computing. What do you think?