A quick tutorial to show you how to install PyCharm in Ubuntu and other Linux Distributions.
PyCharm is an IDE for Python development and has been considered as one of the best Python IDE by the experts.
The IDE comes in professional and community edition. The community edition is free of cost, but professional edition has more features.
The full list of features can be found here. You can read this comparison between professional and community edition to decide which version is suitable for you.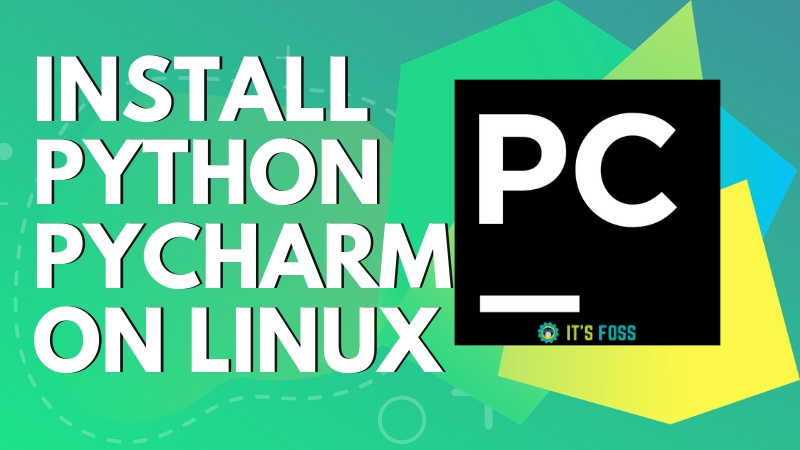 The installation steps are pretty much the same for all PyCharm editions.
PyCharm features

Let's have a look at the features of PyCharm IDE:

Syntax highlighting
Auto-Indentation and code formatting
Code completion
Line and block commenting
On-the-fly error highlighting
Code snippets
Code folding
Easy code navigation and search
Code analysis
Configurable language injections
Python refactoring
Documentation
Method 1: Install PyCharm in Ubuntu and other Linux using Snap [Easy]
Good news is that PyCharm is available in the Ubuntu Software Center as a Snap package. Which means that you can search for it in the software center and install it from there.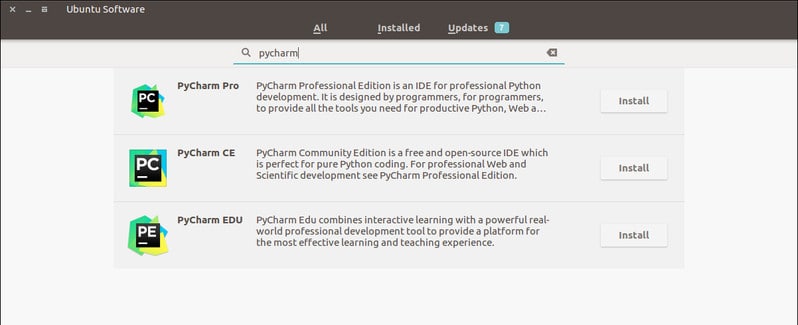 If you are using some other Linux distribution, enable snap support first and then use the snap command to install the PyCharm Community Edition:
sudo snap install pycharm-community --classic
To remove PyCharm, you may use this command:
sudo snap remove pycharm-community
Note: Students with an academic email can request access to PyCharm Professional Edition for free! This also applies to developers working on Open Source projects which are non-commercial. More information on other initiatives for free access and discounts can be found here.
Method 2: Install PyCharm in Linux using official Linux installer from JetBrains [Intermediate level]
If you do not like Snap packages, there are other ways to install PyCharm. PyCharm provides an installer for Linux and I am going to show you how to use it.
Go to PyCharms Download page and download the tar.gz files for either of the Professional or Community version. I am using Community version in the tutorial.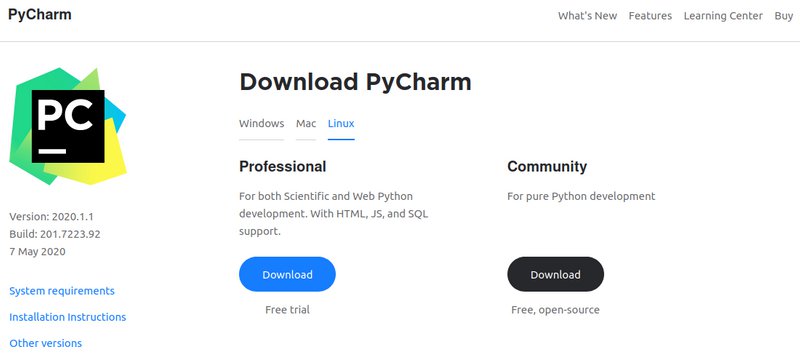 Follow these commands one by one but do keep in mind that you may have to replace "pycharm-community-2020.1.1.tar.gz" and "pycharm-community-2020.1.1" with the file and folder name of your download.
Go to Downloads where you have downloaded the PyCharm:
cd ~/Downloads
Now extract the tar gz file using the tar command in this way:
tar -xzf pycharm-community-2020.1.1.tar.gz
Now enter the extracted PyCharm folder:
cd pycharm-community-2020.1.1
Go to its bin folder:
cd bin
You'll find a shell script here. Make sure that you have execute permission:
chmod u+x pycharm.sh
Now run this shell script:
sh pycharm.sh

PyCharm starts running now. In the first run, it will ask you to accept privacy policy: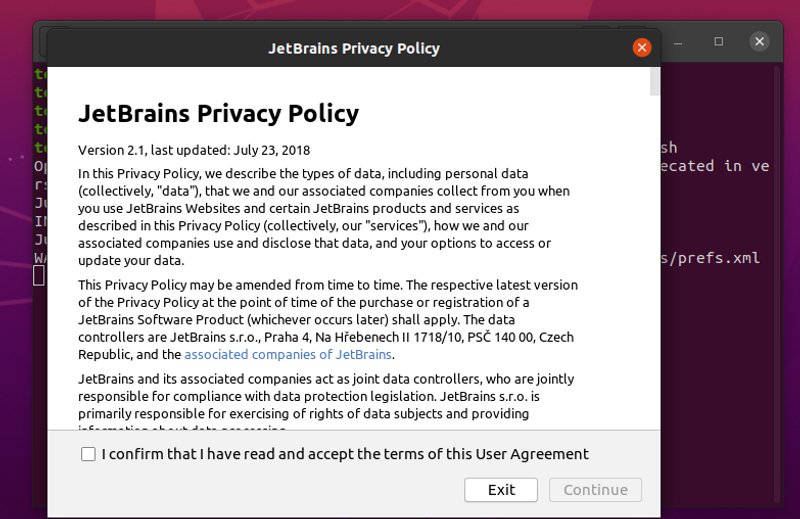 Then JetBrains will ask whether you would like to send data about features, plugins, and other data. If you wish to send the data, you can hit the "Send Anonymous Statistics" button, or you can click on the "Don't Send" button.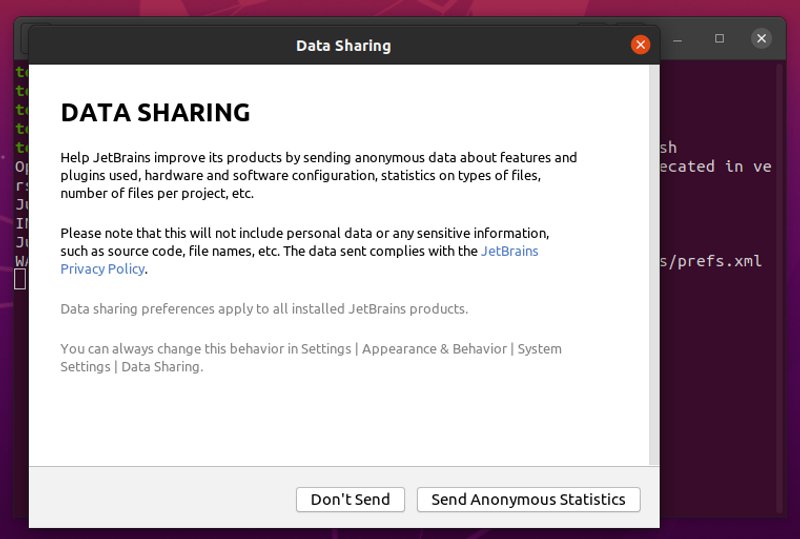 Now, PyCharm will ask you to set up the IDE. So simply start by choosing the UI theme, creating a launcher script, and adding plugins.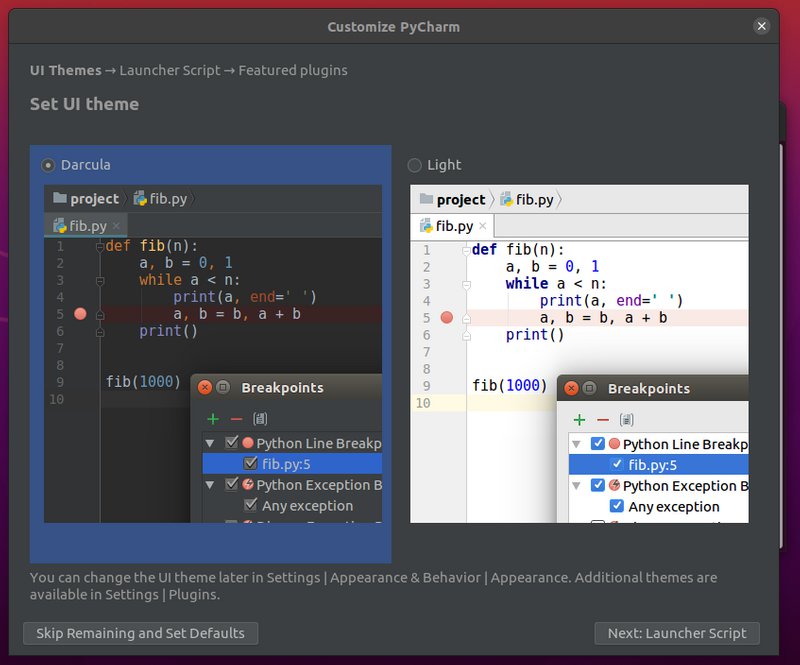 Once the installation is completed, you will get to see a screen like the one below: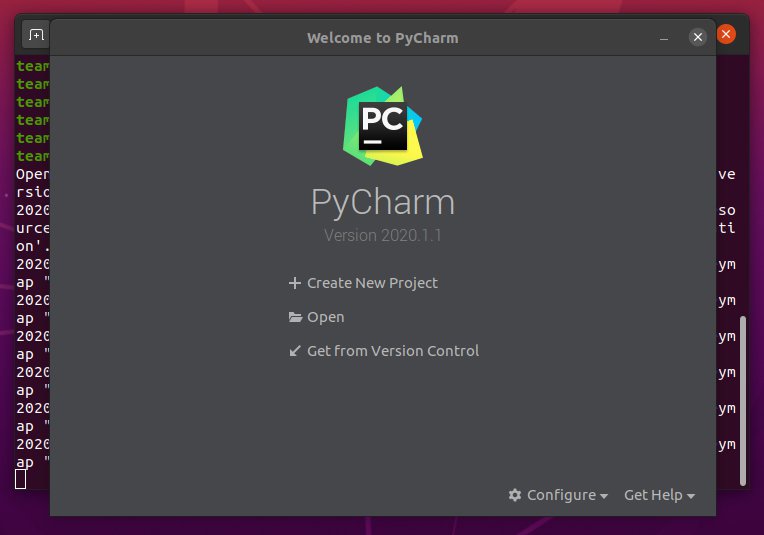 It will be a good idea to create desktop entry so that you can search for PyCharm in the system menu and start it from there.
Now click on the Configure option and click on "Create Desktop Entry".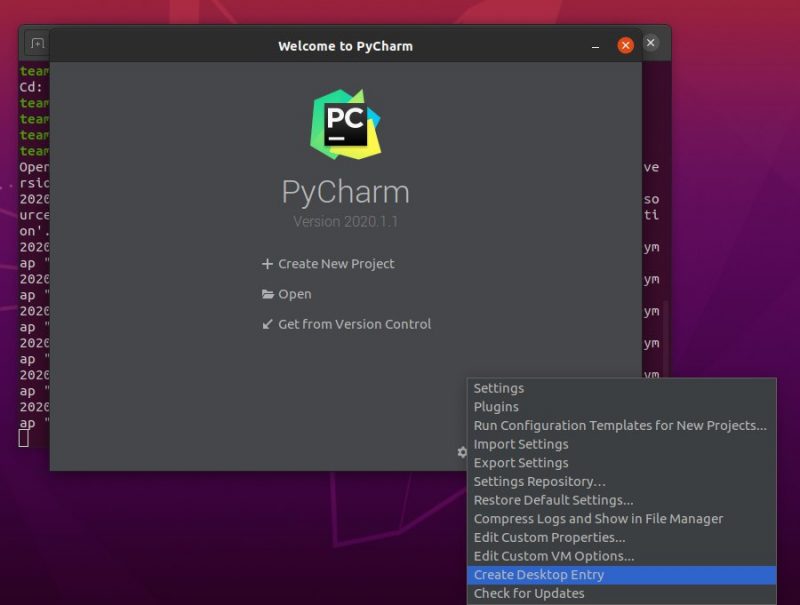 On the next screen, you will be asked if you wish to create the entry for all users or not. Set the settings according to your preference and click on the OK button.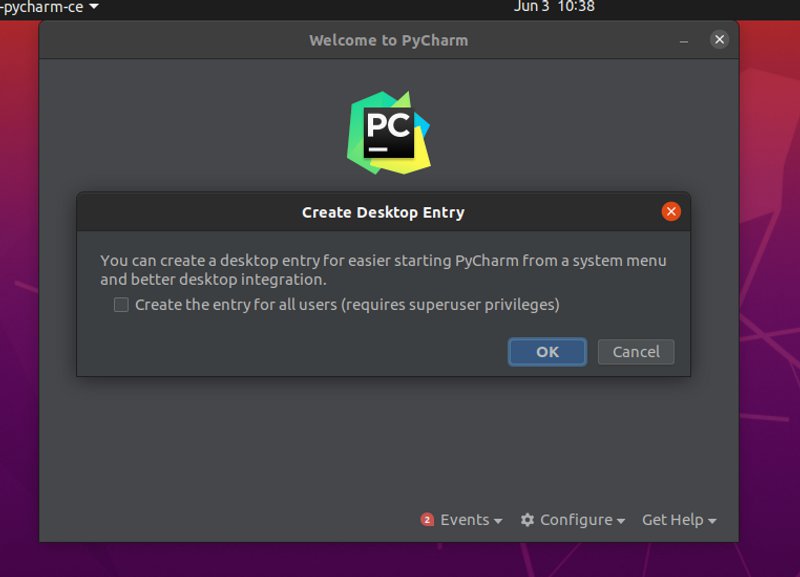 Now, you'll be able to search for PyCharm like any other Linux application.

Enjoy PyCharm in Linux.
Installing PyCharm in Ubuntu using umake (not recommended)

Ubuntu provide a wonderful command line tool, umake for developers. umake lets you easily install a number of development tools in Ubuntu such as Android Studio, Visual Studio Code, Ubuntu SDK, Eclipse, Arudino Software Distribution etc. PyCharm is also one of the development tools included in the umake.

To install PyCharm using umake, you need to have umake first. Normally, it should already be installed in your system, get the latest stable version of umake:

sudo apt-get install ubuntu-make

Once you have umake, use the command below to install PyCharm Community Edition in Ubuntu:

umake ide pycharm

To install PyCharm Professional Edition (you need license for this), you can use the command below:

umake ide pycharm-professional

To remove PyCharm installed via umake, use the command below:

umake -r ide pycharm
Deprecated Method: Install PyCharm using PPA [Do not use]

We'll be using an unofficial PPA to easily install PyCharm in Ubuntu. I am using Ubuntu 15.04 but this PPA is also available for Ubuntu 14.04. You can use the same method to install PyCharm in Linux Mint 17, elementary OS Freya and other Ubuntu based Linux distributions. PyCharm uses Java so make sure to install Java in Ubuntu beforehand.

Open a terminal and use the following commands:

sudo add-apt-repository ppa:mystic-mirage/pycharm
sudo apt-get update

To install the community edition of PyCharm, use the command below. It will download data of around 120 MB.

sudo apt-get install pycharm-community

To install the professional edition of PyCharm, use the command below. It will download data of around 160 MB.

sudo apt-get install pycharm

Once installed, go to Unity Dash and search for PyCharm and you should be able to see it running. This is what it looked like on my Ubuntu 15.04:
That's all you need to do. I hope this tutorial helped you to install PyCharm in Ubuntu and other Linux distributions. Any questions or suggestions are always welcomed.