Gambas is an object-oriented programming language derived from BASIC. In Gambas, you can create forms, buttons, boxes (mainly GUI design) and connect them with popular databases like MySQL, PostgreSQL etc.
You can even create games with it. In Spanish, Gambas means Prawn and this is where its logo has come from.
In this quick post, I shall show you how to install the latest Gambas in Ubuntu.
Installing Gambas in Ubuntu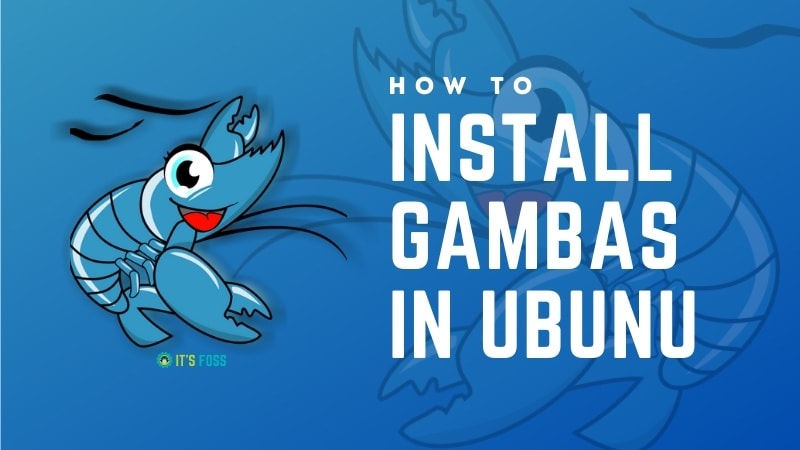 Gambas is available as gambas3 package in the universal repository in Ubuntu. Please make sure to enable universe repository before you try to install Gambas.
Open a terminal. You can use Ctrl+Alt+T keyboard shortcut in Ubuntu. Use this command to enable universe repository:
sudo add-apt-repository universe
The local package database should be automatically updated in modern version of Ubuntu. Still, no harm in doing it manually:
sudo apt update
Now, install Gambas using this command:
sudo apt install gambas3
Installing the latest version of Gambas in Ubuntu
You may notice that the Gambas version you have installed from Ubuntu repositories is not the latest.
If you want to install the latest Gambas version, you can use the official PPA provided by the Gambas team. If you have already installed gamabs3 package as mentioned in the previous section, it will be updated to the latest version if you use the intrcutions in this section.
If you don't know what PPA is, please read this complete guide on PPA.
Note: At the time of writing this article, this PPA is not available for Ubuntu 20.04 and higher version. This is probably because Ubuntu 20.04 already provides the latest Gambas 3.14. Do not use this PPA for Ubuntu 20.04.
In the terminal, enter the following commands one by one to install the latest Gambas version.
sudo add-apt-repository ppa:gambas-team/gambas3
sudo apt update
sudo apt-get install gambas3
That's it. Nothing else needs to be done. When you install Gambas this way, the integrated development environment (IDE) is also installed with it. This helps you in using the Gambas language in a better and proper way.
Gambas failed to start?
In Ubuntu 20.04, Gambas fails to start because of a missing component. You can install it using the following command:
sudo apt install gambas3-gb-form-print
Once you installed it, you should be able to start Gambas successfully.
How to remove Gambas
If you want to uninstall Gambas, you can use this command:
sudo apt remove gambas3
If you added the PPA, you should also delete the PPA:
sudo add-apt-repository -r ppa:gambas-team/gambas3
Conclusion
In this age of Java, C++, Perl etc, there are few people who use rather lesser known languages like Gambas. And it is not a bad thing looking at the capabilities of Gambas.
I hope this quick post helped you to install Gambas in Ubuntu and Linux Mint. Questions, suggestions are most welcomed. Ciao :)