If you ever used Windows, you may have used the cool yellow colored sticky note apps which allows you to create small notes, that "sticks" on the desktop and helps you remember stuffs just like a real sticky note.
Linux has plenty of note taking applications but sometimes, all you need is a sticky note for your temporary to-do list.
If you are looking for Sticky notes for Ubuntu, here's a tiny applet indicator that allows you to use quick sticky notes on Ubuntu-based distributions.
Indicator Stickynotes: A simple sticky note app for Ubuntu Linux
Indicator Stickynotes is a simple lightweight indicator applet for Ubuntu (and other Ubuntu based distributions) that can be used for scribbling some small tasks etc and can be "pasted" on the desktop to be reminded about it.
Some of the main features of Indicator Stickynotes are:
Create quick sticky notes, as many as you like
Group sticky notes into categories
Color code the categories
Lock sticky notes for accidental editing
Resize the notes as per your preference
Hide or show all sticky notes at once from global settings
Import and export your notes
Supports keyboard shortcut
Free and open source software licensed under GPL v3
Installing Sticky Notes on Ubuntu Based Distributions
Indicator Stickynotes can be installed by using its official PPA. Use the following commands in terminal (Ctrl+Alt+T):
sudo add-apt-repository ppa:umang/indicator-stickynotes
sudo apt update
sudo apt install indicator-stickynotes
Once installed you can start using it straight away. No need for a restart or anything like that. Simply search for Stickynotes in the application menu and start it.
Using Indicator Stickynotes is very simple and self-explanatory. This picture will help you use most of its feature at one glance: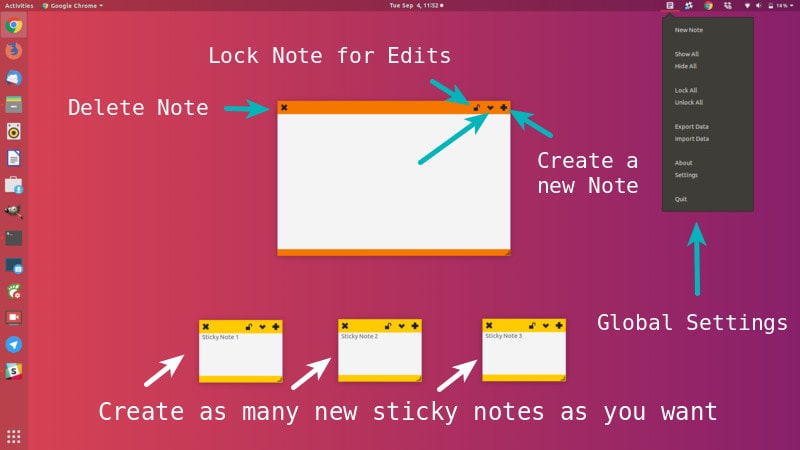 You can pin these sticky notes to the desktop or hide all of them using the option from the top panel.
If you are keyboard shortcut fan, you can also use the following keyboard shortcuts for handling sticky notes:
Ctrl + W : Delete note
Ctrl + L : Lock note
Ctrl + N : New note
I hope you enjoy the sticky notes in Ubuntu. If you don't like Indicator Stickynotes, you can also try the good old Tomboy application.
How do you use sticky notes on Linux? Share your favorite application.