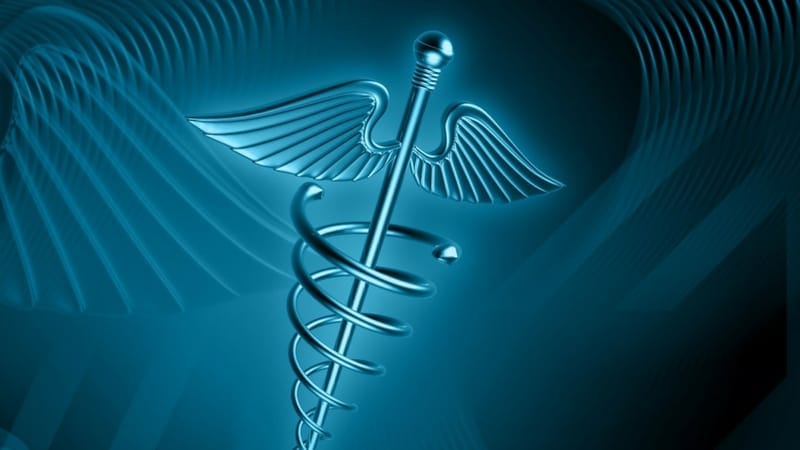 Brief: These health related applications for Linux help you in staying healthy and track your fitness.
In our busy work schedule as Linux professionals or home-users, it becomes essential to keep track of our health as studies have shown that continued usage of sitting in front of a PC is absolutely not recommended for long hours. It hampers the productivity. While we already covered productivity tips and tools for Linux earlier, today we are going to look for some Linux tools that will help you to stay healthy while working on Linux.
There are plenty of mobile apps to help keep us stay fit and healthy by getting us used to ergonomic habits. You can always use them, but you can always benefit from some native Linux apps. In this article, we have compiled a list of the best health Linux apps we could find.
This is one of the oldest health apps (first released on Sept. 21, 2002) one can find and is easily the best tool one could have in order to maintain a healthy work schedule. With regular short and long breaks, it never fails to remind you when you stay hooked to the screen for too long, thus preventing excessive strain. It even facilitates the user with nice visuals of mild exercises to do with the help of simple animations.
With Workrave, you can customize micro-breaks, rest-breaks and your daily limit for computer use. The tool is specially designed to prevent Repetitive Strain Injury which can occur due to working with a mouse and keyboard for an extended period of time.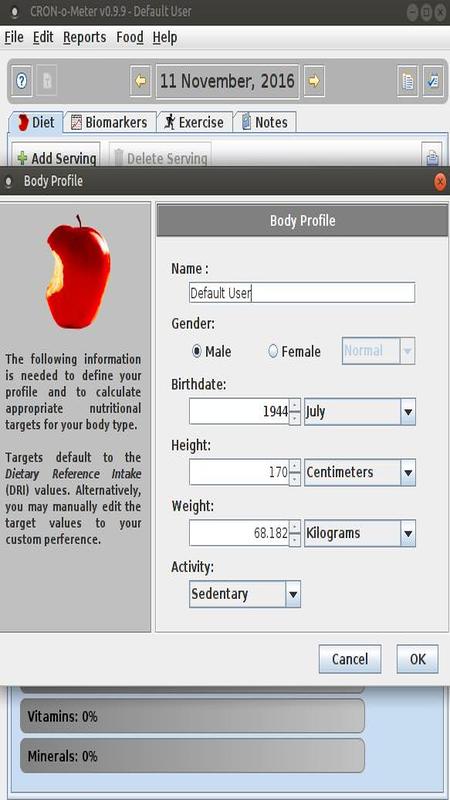 Cron-O-meter is a free java based program that assists the user to track diets and keep a watch on calorie intake. Cron is an acronym for Caloric Restriction and should not be confused with cron jobs in Linux. Those who are very particular about following a specific diet plan should most definitely not miss this. This is a must have for calorie conscious folks.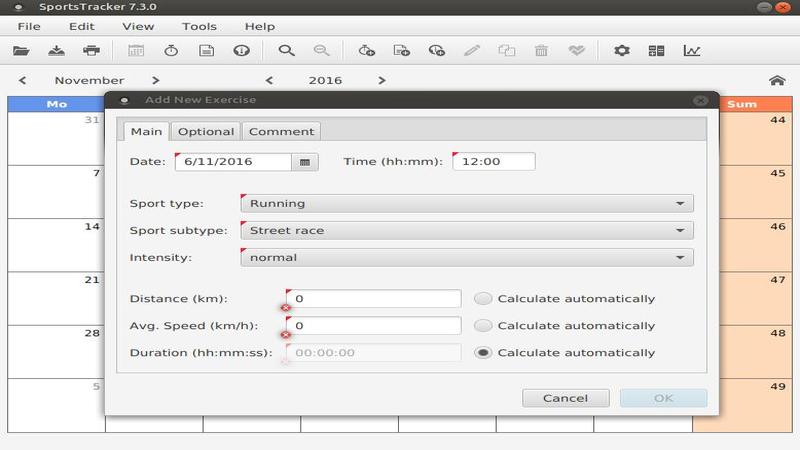 This app is primarily focused on any kind of sports activity which may be cycling or running. It helps you with exercise overviews and related statistical information. Those who are used to do cardiovascular based exercises can efficiently use this tool to organize his activity info with help of its related data.
Kipinä is an easy-to-use free training log software like SportsTracker for athletes to log their physical activities with a lot of features to analyze training data. Kipinä was built with C using GTK+ and released under the GNU General Public License (GPL).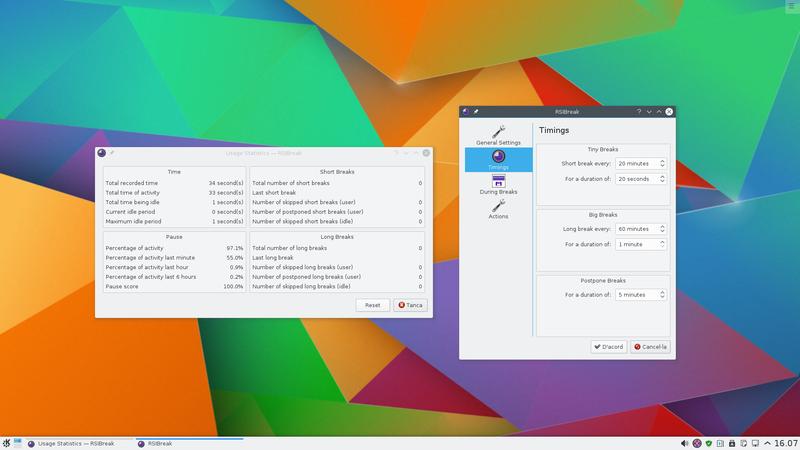 Very similar to Workrave, RSIBreak is another tool which is a must have for KDE 4 fans!
Key features:
Automatic start after OS boot (can be disabled)
Big and tiny breaks(like Workrave's rest and micro breaks)
Option to postpone breaks
Customization of break duration
Effect configuration during breaks
Customizable notifications for actions
Resettable Statistics about complete usage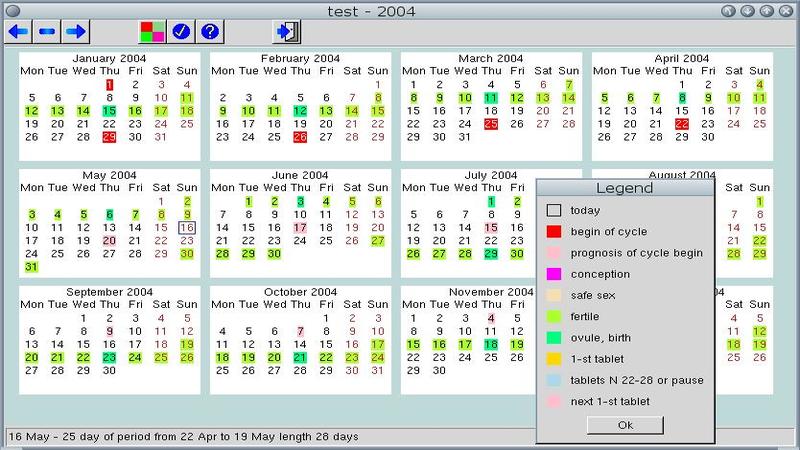 This is a unique calendar health tool focused on women. It is particularly very helpful for family planning and couples who wish to have a child. It is based on statistical analysis of a female's fertile period data. It also facilitates note writing and guides the user about the consumption of contraceptives.
Cycle was developed with Python and wxPython and distributed under the GNU General Public License.
We have already covered f.lux and redshift in previous articles. However, Calise(acronym for "camera light sensor") is a webcam-based eye relaxation tool that calculates ambient brightness and sets screen's correct backlight using a camera thereby being distinctly precise for every user. Since it is purely based on a camera, it does not have to depend exclusively on the internet for calibrating the screen's backlight based on location data.
Calise was developed with Python.
This is a Linux Exclusive(The way the developer shows no interest to port it for Windows is quite amusing)! QuitCount comes to the aid of Linux users who are trying to quit smoking. This is a remarkable idea and a very motivative concept.
It uses a simple counter that shows what you saved since you quit smoking. Analysis is based on the following input:
The date you quit
How much you smoked
How much it cost
The end results reveal the following information:
How many cigarettes you didn't smoke;
How much it makes in terms of money, tar, and life expectancy.
QuitCount is released under the GPL terms, version 3 or later.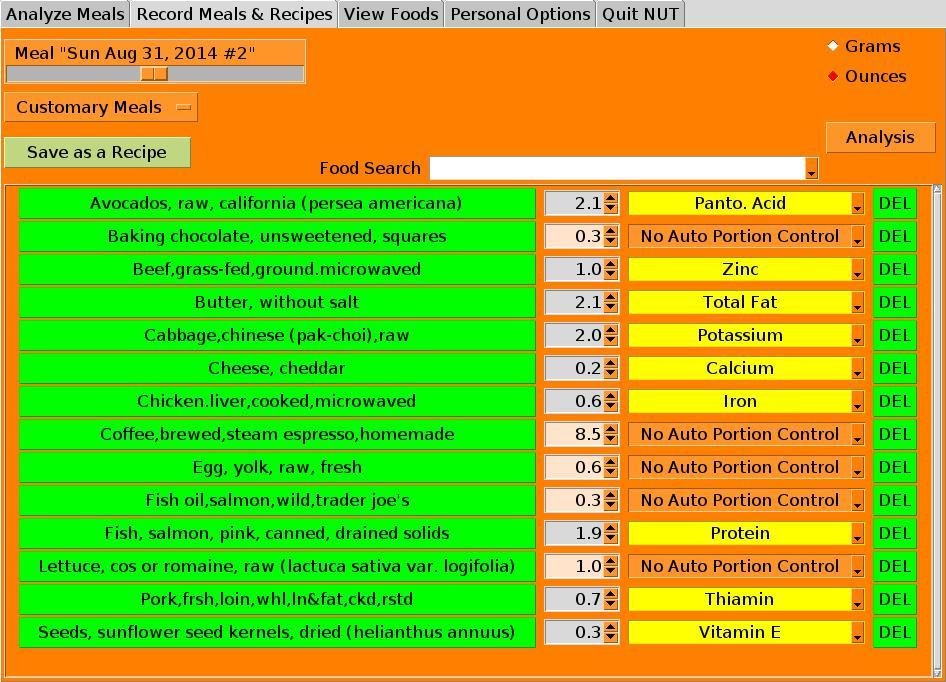 This software guides you into deciding in how to make the most out of the food that is available at hand. NUT allows you to find the optimal level of various nutrients present in your food.
To calculate the nutrient levels, this app uses the free food composition database from the USDA.
NUT's noteworthy features are:
A portable SQLite database that stores the complete USDA database, your personal data, and the program code.
Easy to find foods to add to your daily meals
Configurable 1-19 meals per day and any dietary plan–including ketogenic, low carb, zone, low fat
Comprehensive analysis of consecutive meals up to any number.
Easy-to-read percentage summaries and in-depth nutrient analysis, including Omega-3 and Omega-6 essential fatty acids
Foods' weight measurement in grams or ounces
Novel meal planning feature: you choose the food, NUT adjusts the quantities to your plan
Calorie Auto-Set feature that uses linear regression on daily scale measurements of weight and body fat percentage to find the optimal calorie level for improved body composition
Recording of recipes and customary meals for fast data entry
Food sorting of the richest ones in each of the 150 nutrients
A feature that reveals which foods contribute most to your nutrition
NUT has been developed by Jim Jozwiak.
Developed with the simple Euphoria programming language, DMAK allows you to plan your diets according to your own requirements. It can sort foods and nutrients. It can also filter foods. Based on specified minimums and maximums, DMAK comes to conclusive calculations. Like NUT, the data is downloaded from the USDA.
Know some more Linux apps for fitness and health that you use and think could be useful for others? Please share with us in the comments.