Grub Customizer is a handy tool for customizing the grub configuration and changing its appearance.
While you can do all this in the command line by modifying the grub config file, Grub Customizer gives you the comfort of a GUI tool.
In this article, I will walk you through the steps of installing and using the mighty tool GRUB Customizer in Fedora Linux.
Install Grub Customizer on Fedora
Installation is as easy as pie. Fire up the terminal and run:
sudo dnf install grub-customizer
That's how simple it is. Note that the customizer is spelled with a 'Z' :)
Using Grub Customizer
When you open Grub Customizer for the first time, it takes a bit to retrieve the list of operating systems shown in the GRUB menu.
List configuration
This tab deals with the configuration of each item in the grub menu.
Here, you can rearrange the order of the listing, rename/modify the existing menu entries, or even create a new entry according to your preference and with your own set of configurations.
Right clicking and selecting Edit allows us to view and edit the configuration of that item. For example, take a look at the below image.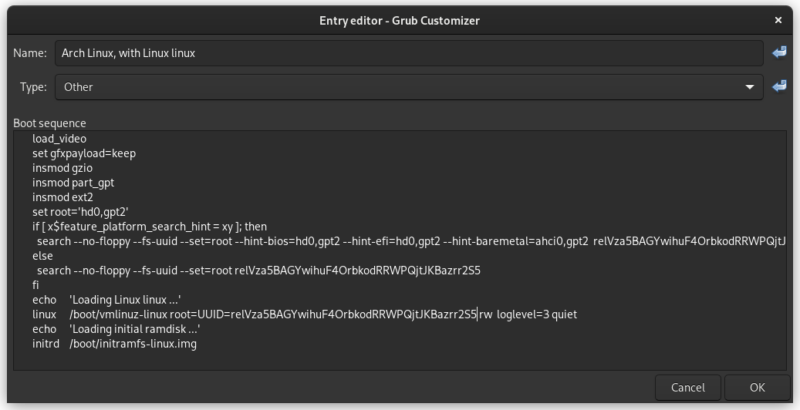 General Settings
Here, customizing the behavior of the grub menu is done.
You can set which entry to be highlighted on startup which is the first entry by default (1), or increase the display duration (in seconds) of the menu (2). Here's an image representing the tab:
Appearance settings
This section alters the appearance of the grub menu. It has a few options for modifying the existing appearance. You can add a background (2), modify the text color, etc with this tab.
If you have installed a GRUB theme like me, you get the chance to view all the theme files and edit their configuration.
You also can check out the advanced settings, which just list the configuration listed in the /etc/default/grub file. This is a great feature as it makes the editing of these configurations far simpler with separate text fields and checkboxes.
When you are done with the changes you wish to make, you can update the configuration by clicking on the Save button below the menu bar. That would save and update your config within a couple of seconds.
That is all about this simple tutorial. Enjoy grub.