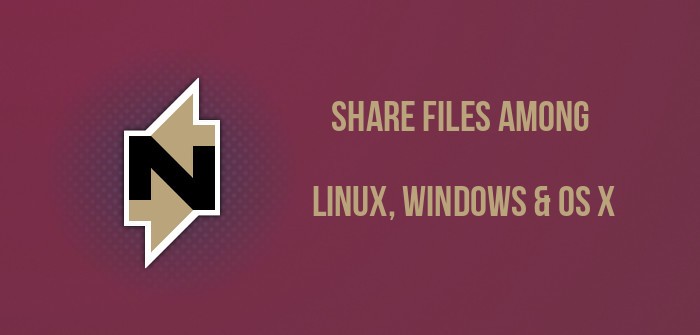 If you have got yourself several computers running various operating systems, you might be wondering about how to share files between Linux and Windows and Mac? Using USB disks just to transfer files between computers that are connected to same local network is outright stupid (pardon me for being offensive). If the computers are on the same local network, why not share the files directly via network itself.
We have previously seen how to transfer files between Ubuntu and Windows on local network. Today we are going to see an even easier way to transfer files among Linux, Windows and Mac OS X on local network. For this purpose, we'll be using an Open Source application NitroShare.
NitroShare features
cross platform, available for Linux, Windows and OS X
no configuration required, transfer is a matter of few clicks
can transfer individual files as well as folders
no limit on the file size (from version 0.3.0)
desktop notifications when a device with NitroShare is discovered or leaves the local network and when transfer completes
can view history of transfers
easy to use interface
Install NitroShare
As I mentioned earlier, NitroShare is available for multiple platforms. You can get the .deb installation file for Debian based distributions, Exe files for Windows and DMG file for Mac OS X. You'll need Windows XP, 7, 8, 8.1, Ubuntu 14.04+ and OS X 10.7+. Get the appropriate installation file from the link below:
Download NitroShare for your system
If you are using an Ubuntu based Linux distribution such as Mint and elementary OS, you can install latest NitroShare using the following PPA:
sudo add-apt-repository ppa:george-edison55/nitroshare
sudo apt-get update
sudo apt-get install nitroshare
Using NitroShare to transfer files between Linux and Windows/OS X
Once installed, open NitroShare in both (or more) the devices. You'll be greeted with a welcome screen like this: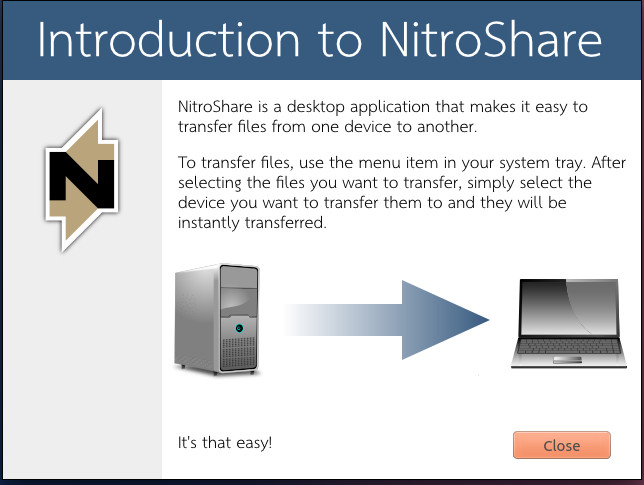 In Linux, you'll find NitroShare in the system tray. In Ubuntu, you can see it in the top panel. Clicking on the indicator applet will give you some options related to file transfer. You'll see option to transfer files, folders, viewing transfer history and configuration here. Click on Send Files and select the files to transfer: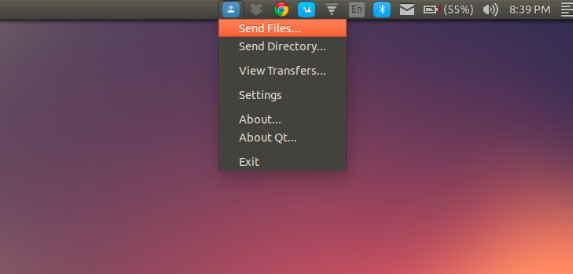 Once you select the files, you'll be provided an option to select a device (among the available devices on local network) to send the files to.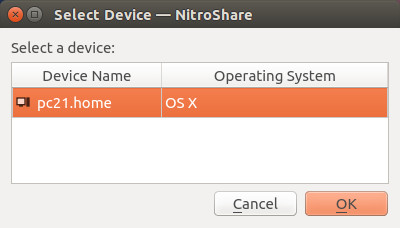 Once you do that, depending upon file size it may take some time. It (claims to) utilizes the maximum capability of network performance and I did find it very quick. Note that the other device has no option to decline the transfer. The files will be just transferred to the other device. This is what I found spooky with NitroShare. Once the transfer is completed, you'll get a desktop notification in both devices.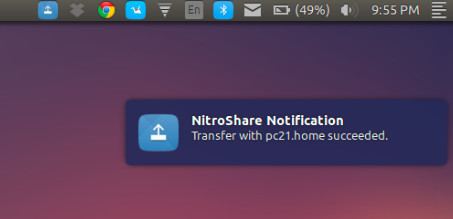 You can view the history of transfers in View Transfers option: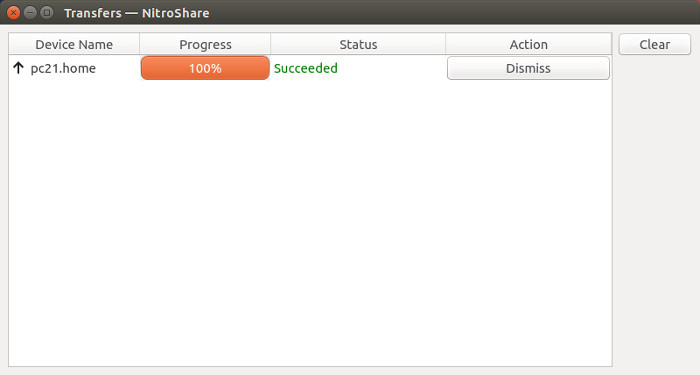 Easy to use, isn't it? You'll also receive desktop notification whenever a device with NitroShare running on it appears or disconnects from the local network.
That's pretty much all that you need to do with NitroShare to share files between Linux and Mac OS X or Windows. After see this if you think that NitroShare should be available for mobile devices as well, you are not alone. Unfortunately, NitroShare is not available for mobile devices. But as an alternate, you can use Pushbullet to wireless transfer files between Ubuntu and Android or iOS.
I am using Square icon theme in Ubuntu 14.04 in this tutorial, in case you are amused with different looking icons.
Did you try using NitroShare? How do you find it? Do you use any other way to transfer files between Linux and Windows? Do share your experience with rest of us.