Often we need to record our desktop screen for various purposes, like showcasing gaming clips on video platforms, making video tutorials, sending it to someone etc.
Regardless of your use-case, let us learn about the best screen recording applications for Linux available right now.
In this list, you will find options to:
Record the screen as a video.
Recording the screen as a GIF.
All the software mentioned here is free and open-source (FOSS). In fact, you could also call it a list of free screen recorders for Linux.
📋
The list below is in no particular order of ranking.
1. Kazam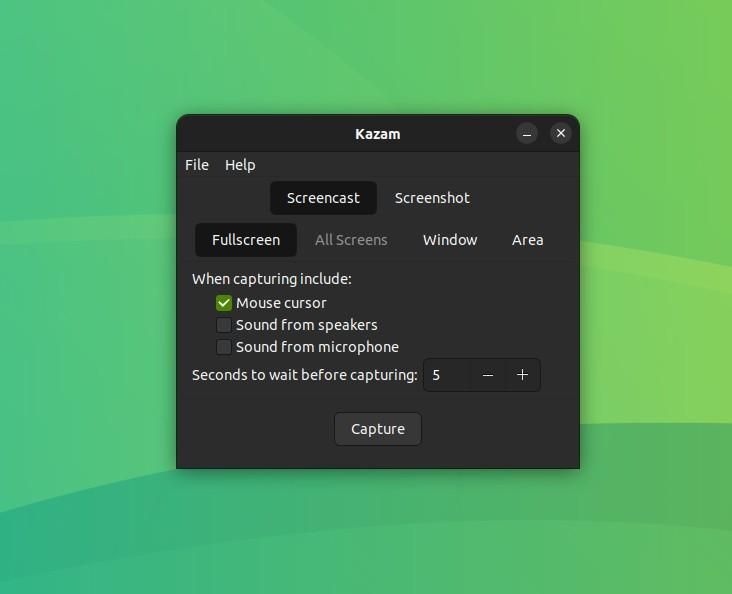 Kazam is a minimal and nifty tool for screencasting. It includes screenshot support too. It is suitable for beginners and for getting the task done quickly without getting too caught up in different options.
Key Features:
Simple and compact user interface.
Supports multiple video output formats.
Support for recording a single window or selected screen area.
Pros
Simple and minimal.
Easy to use.
Low storage footprint.
Cons
Doesn't support Wayland.
Hardly any options for tweaking configuration settings.
Lack of webcam recording support.
How to install?
Open a terminal window and enter the following command:
sudo apt install kazam
2. GNOME's Screen Recorder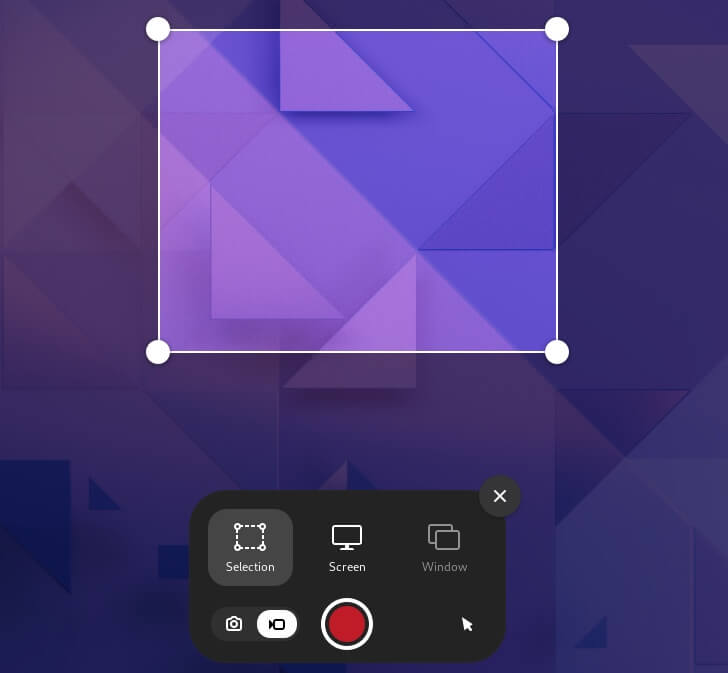 Starting with GNOME 42, the built-in screenshot tool now includes the feature to record your screen.
So, if you are using a Linux distribution with GNOME 42, you can enable the screen recording with a toggle without needing to install a third-party tool.
You can only select an area or a screen to record without any configuration options for sound/cursor/frame rate, etc. The recording may be limited to a specific duration on Ubuntu. I did not have a limit with Fedora Linux 36 on GNOME 42.4.
You can follow our GNOME screen recorder guide to remove/change the limit if that's the case.
Key Features:
Native GNOME support.
Intuitive user interface.
Lets you select a specific area for screen capture.
Pros:
Minimal user interface.
Low storage footprint.
Cons:
Not available as a standalone app.
Suggested Read 📖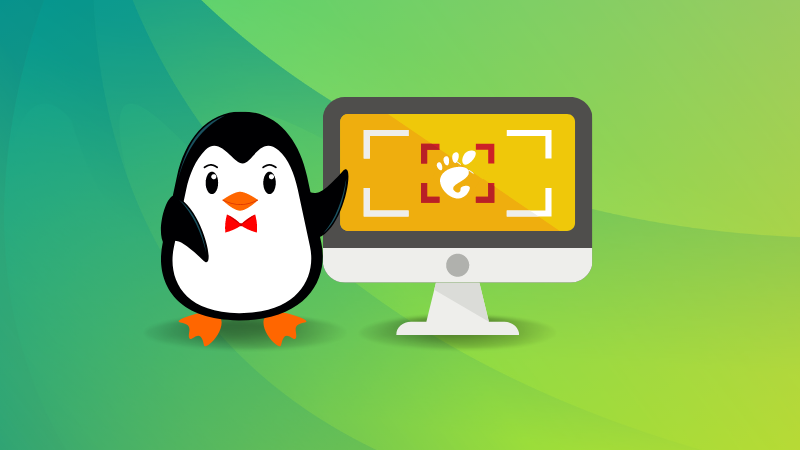 3. Kooha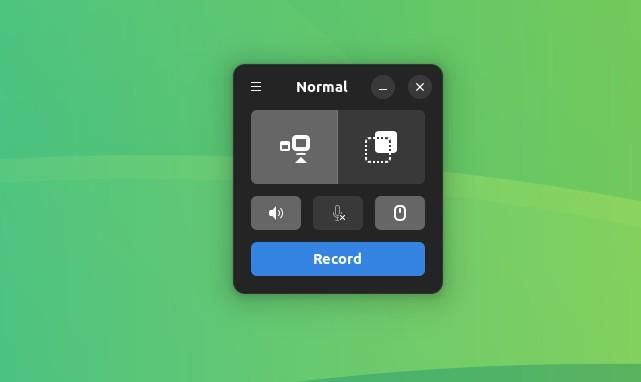 Kooha is one of the first screen recording software that added support for Wayland. It is an easy-to-use tool with almost zero setup hassle. You can start recording the screen in a few clicks.
Key Features:
Minimal and user-friendly UI.
Hardware acceleration.
Keyboard shortcuts for better productivity.
Pros:
Wayland support.
Hardware acceleration.
Option to delay your recording.
Cons:
You might encounter issues such as a green screen in recorded videos (that was the case for me).
No webcam support.
How to install?
Kooha is only available as a Flatpak. You can follow our detailed guide on using Flatpak. Once your system is configured, you can use the given command to install Kooha:
flatpak install flathub io.github.seadve.Kooha
You can also grab it from the Flathub store.
4. Open Broadcaster Software Studio (OBS Studio)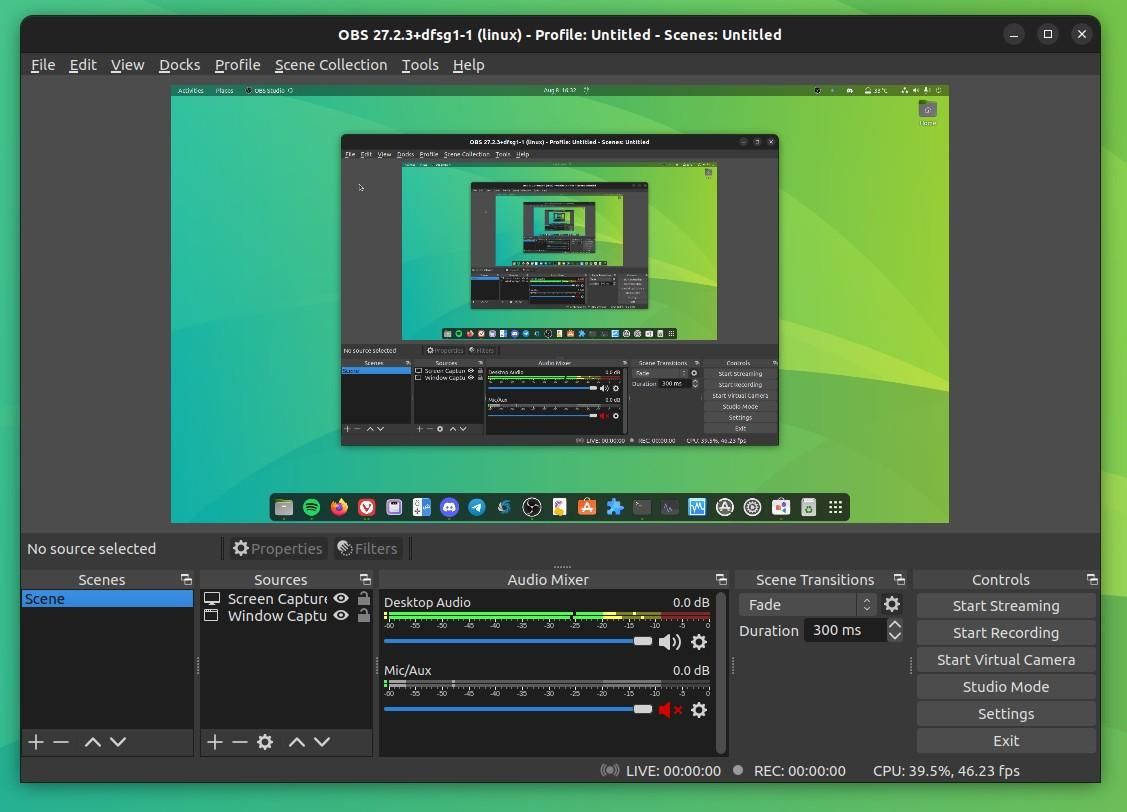 OBS Studio is, undoubtedly, the most feature-rich and advanced screencasting cross-platform application available for Linux.
Key Features:
Multiple scenes to switch between seamlessly via custom transitions.
Filters for video sources.
Audio mixer with filters.
Pros:
Flexible for various use cases.
Wayland is also supported.
Webcam support.
Cons:
Slightly hard to grasp if you are a beginner.
How to install?
OBS Studio is available for Ubuntu via its PPA. You can enter the following commands in the terminal to install it:
sudo add-apt-repository ppa:obsproject/obs-studio
sudo apt update
sudo apt install ffmpeg obs-studio
You can also utilize the snap store or the Flatpak package to get the latest OBS studio version.
5. SimpleScreenRecorder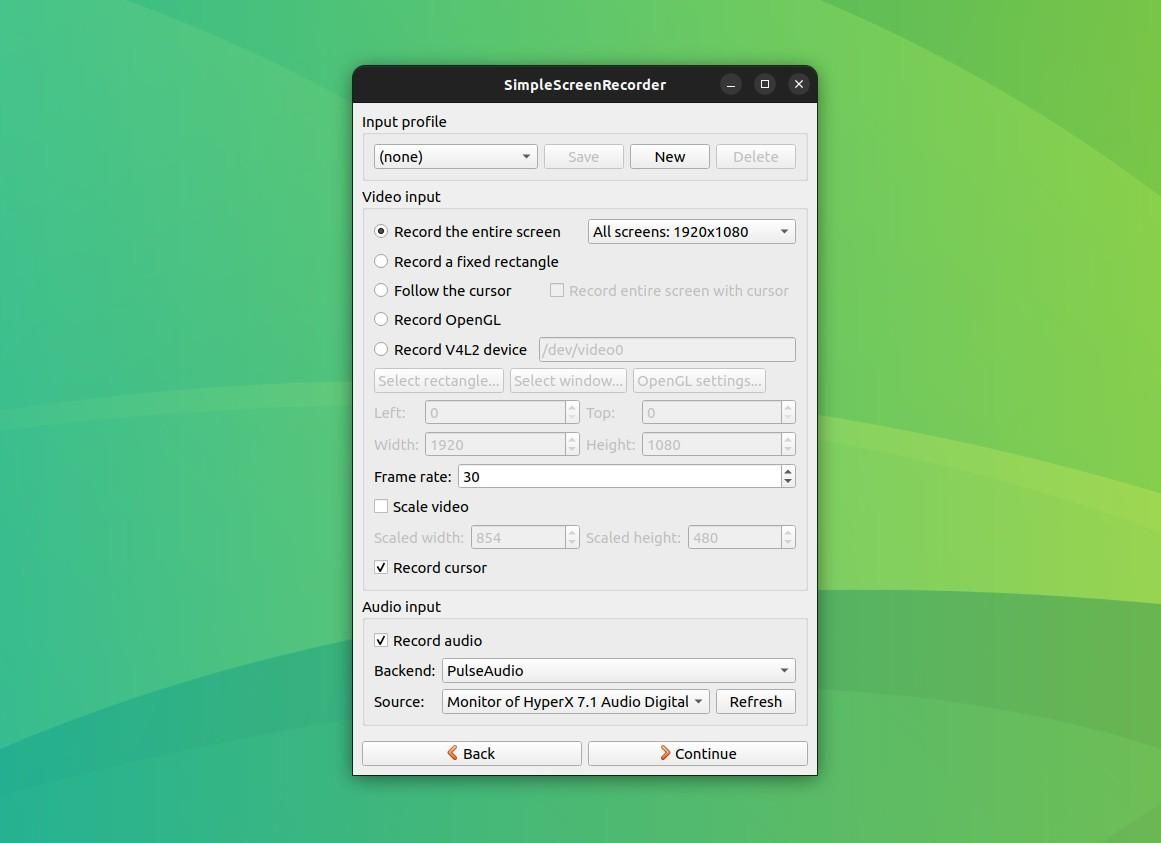 SimpleScreenRecorder – as the name implies – is a simple application for screen recording on Linux. You get all the essential options to change the frame rate, choose your desired format, mute/enable audio, and more.
This can be the perfect option for those who love to tweak the defaults, but are overwhelmed with OBS Studio.
You can read this tutorial to find out how to use SimpleScreenRecorder on Ubuntu.
Key Features:
Supports multiple video output formats.
Audio recording from a suitable source.
Support for recording a selected screen area.
Pros:
Sufficient tweaking options to fine-tune the output video.
Cons:
Wayland is not supported.
The user interface is not very appealing.
No built-in support for webcam recording.
How to Install?
SimpleScreenRecorder is available for Ubuntu. Run the following commands in a terminal:
sudo apt install simplescreenrecorder
For other distros, I suggest you head over to the official website.
Suggested Read 📖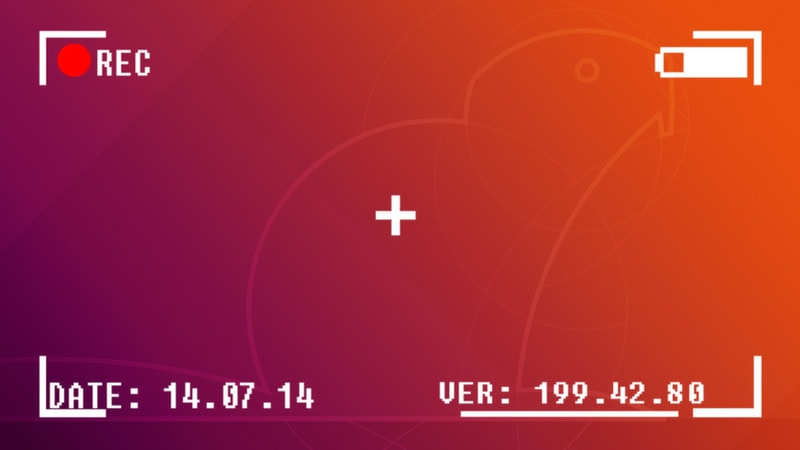 6. recordMyDesktop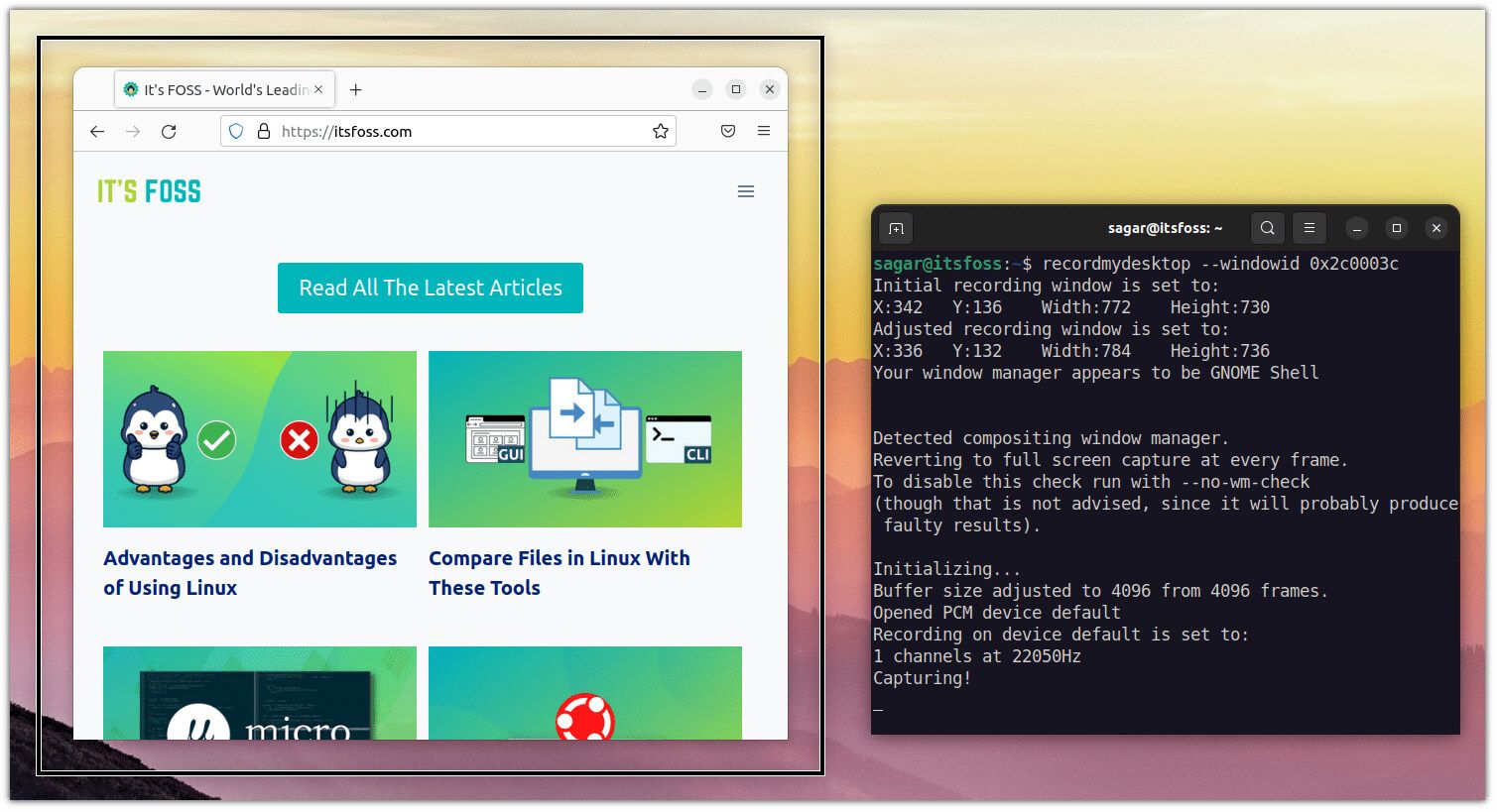 "A paradise for terminal geeks", that was my initial impression when I used recordMyDesktop for the first time.
In the past, it used to have a GTK front-end, but it is no longer maintained. But after having a resource-friendly experience with minimal dependencies, it can be a good choice for terminal-focused users.
Key Features:
Only uses open formats for files.
Ability to record audio over ALSA, OSS, or the JACK audio server.
Essential options to suit any range of users.
Pros:
Light on system resources.
Easy to navigate commands.
Can be used through the terminal.
Cons:
No support for Wayland.
The "Capture window" only adjusts the recording area to the window size and is often overlapped by other windows.
No GUI front-end for GTK4.
How to install?
recordMyDesktop is available for installation from the official Ubuntu repository.
Just run the following command to get it installed:
sudo apt install recordmydesktop
7. vokoscreenNG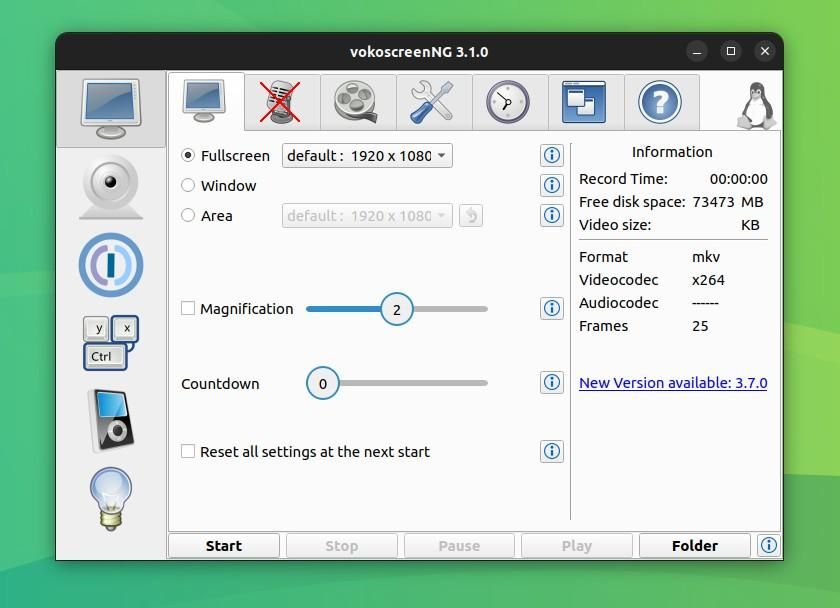 With a modern Qt-based user interface and a set of essential features, it is a nice option.
vokoscreenNG also includes experimental Wayland support. So, you can test it out if you're curious.
Key Features:
Record the entire desktop.
Record a portion of the screen.
Add a delay timer for recording.
Pros:
Offers plenty of useful features.
Easy to use with advanced features on board.
Cons:
Wayland is still in the experimental phase and lacks some of its main features given with X11.
How to install?
You can easily install it from the official repositories. Just use the following command in the terminal:
sudo apt install vokoscreen-ng
8. Blue Recorder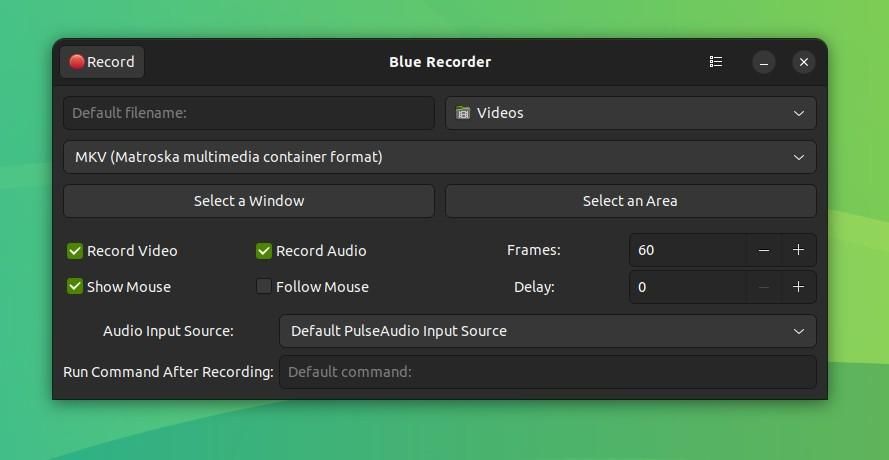 The Blue Recorder is based on the discontinued Green recorder app, and it has out-of-the-box support for Wayland on GNOME.
As you can notice in the screenshot above, it's quite straightforward to use.
Key Features:
Support for MKV, AVI, mp4, wmv, GIF and nut formats.
Recording can be stopped through the system tray.
The audio interface can easily be changed.
Pros:
Minimal UI.
Support for Wayland.
Cons:
While selecting the window or making a selection to record the screen may get you crash or glitches.
How to install?
Blue Recorder is available as a Snap, and also on the Flathub store.
You can also use this command to get it installed:
sudo snap install blue-recorder
9. Gifine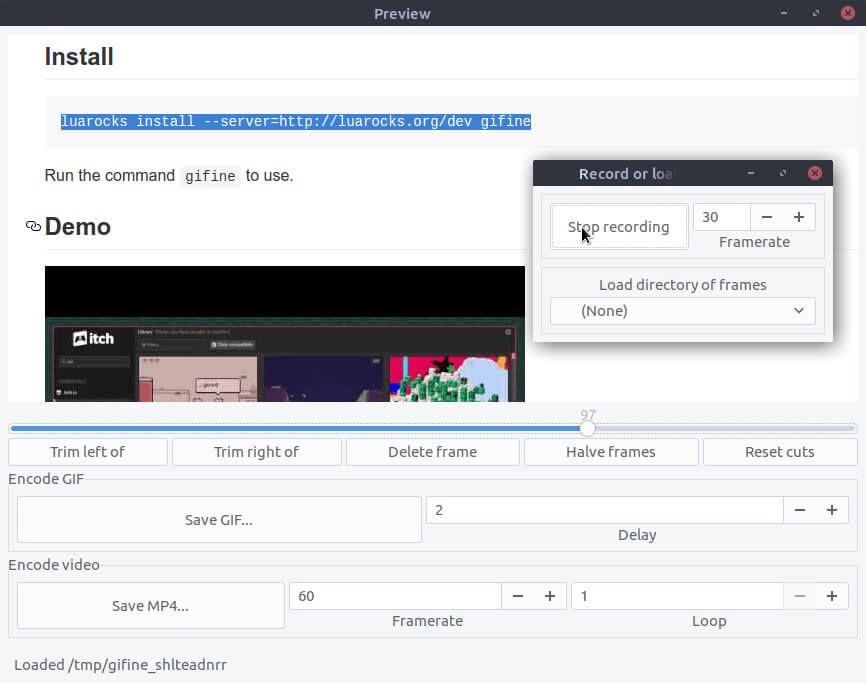 Gifine is a GIF recording tool for Linux. You can use it for recording and stitching together short GIFs or videos.
Key Features:
Supports both GIF and MP4 video output.
Supports editing and trimming the output before saving.
Pros:
Cons:
The interface is not that intuitive.
How to install?
Installing Gifine is a bit of a lengthy process. Open a terminal window and carefully enter the following commands for installing Gifine on Ubuntu:
git clone --depth 1 https://github.com/lolilolicon/xrectsel.git
cd xrectsel
./bootstrap && ./configure
sudo make install
sudo apt install gifsicle luarocks libgirepository1.0-dev

And you're done. For running Gifine, enter the following command:
gifine
10. Peek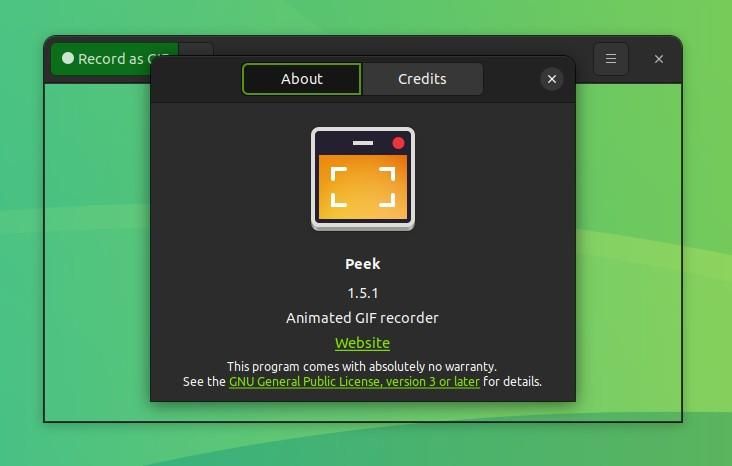 Peek is a simple tool for recording animated GIFs from your desktop screen. I use it occasionally for recording quick short videos of my desktop.
Key Features:
Frame rate setting.
Delay timer support.
Pros:
A modern and sleek interface.
Integrates well with most distros.
Cons:
How to install?
For installation, .deb packages are available on its GitHub repo's release page. You can also install it from its official PPA with the following commands:
sudo add-apt-repository ppa:peek-developers/stable
sudo apt update
sudo apt install peek
Other than that, here are a few others that, I thought, were worth mentioning:
These have been discontinued, but it can still get the job done at times. So, you can try.
As a bonus suggestion, you could take a look at asciinema if you want to record your terminal screen: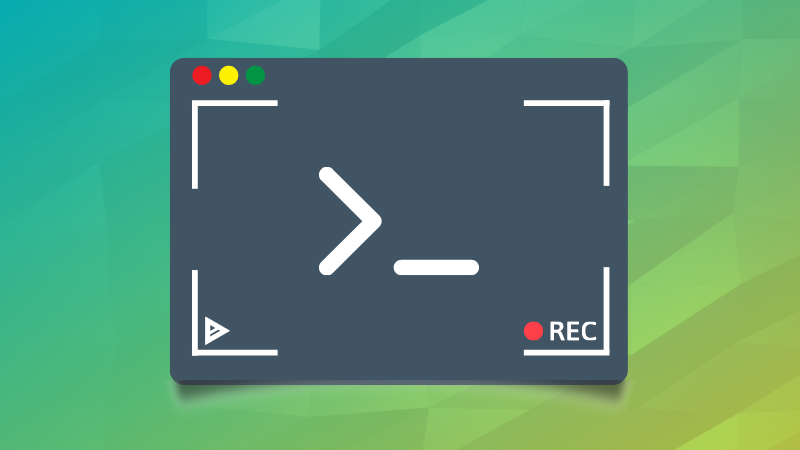 Did I miss listing your favorite Linux screen recorder app? Which desktop recorder do you use on Linux?
Do share your suggestions and thoughts in the comments below. 📝