As a kid, I was a massive fan of comic books. You might have grown up reading Batman, Superman, X-Men, etc, but I spent my childhood and teenage years on regular doses of Dhruva, Nagraj and Doga (Indian comic superheroes).
While I no longer read comic books, I do stumble upon some old comics here and there and, at times, indulge in reading them. These comics are usually created in specific file formats and sometimes cannot be viewed in the default document viewer. This is why we need dedicated applications to read comics on Linux.
In this article, I'll list some of the options available for reading comic books on Linux.
Best comic book viewers for Linux
📋
I would like to mention that I am deliberately not including one of the popular options Comix in this list.
Comix is probably available in almost all the major Linux distribution repositories; however, this application has not been updated for more than a decade.
Let's see what applications you can use in Linux to view comic books.
1. MComix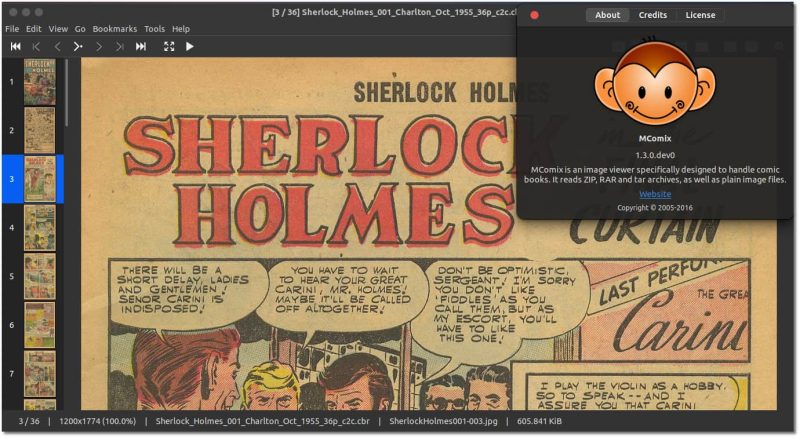 MComix is a user-friendly and customizable image viewer. Though it is specifically designed to handle comic books (both Western comics and Manga) and supports a variety of file formats such as CBR, CBZ, CB7, CBT, LHA and PDF.
MComix is actually a fork of the Comix project with the aim to provide bug fixes and stability improvements on top of Comix. Some of the main features are:
Along with most common image formats used for comic books it also reads PDF, ZIP, RAR, 7Z and LHA archives directly.
Multiple viewing modes: full-screen mode, double-page mode, fit image to window width, height or both.
Smart scrolling for easier reading (just hit the space bar a few times and see how it works)
Manga mode for right-to-left comic books
Bookmark pages and add books to the library
In Ubuntu, Linux Mint, and other Ubuntu-based Linux distributions, you can use the command below to install it:
sudo apt install mcomix
You can head to its SourceForge page to get more details on it. Here you can download the tar file for the latest version and installation instructions are given inside the Read Me file of the extracted tar file.
2. Peruse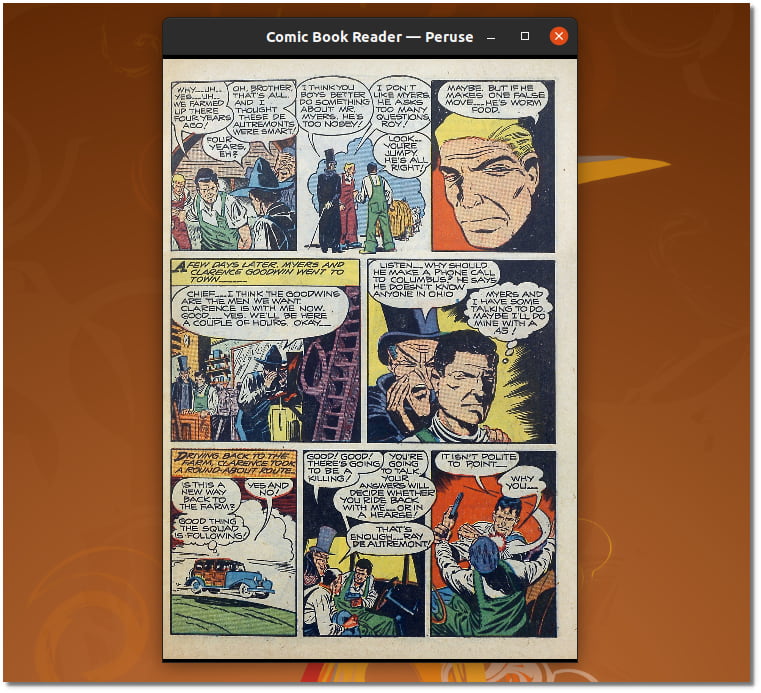 Peruse is a comic book reader from KDE. It was created to make reading comics on the desktop as easy and pleasant as possible. Similar to MComix, Peruse has seen limited updates since 2016, but it works well enough.
There was a beta release in 2021, but the older version still works.
Peruse attempts to provide a modern user interface and succeeds to an extent. Apart from the UI, some other main features of Peruse are:
Supports a wide variety of file formats: cbz, cbr, cb7, cbt, cba, pdf, epub, dvi, djvu and chm
Provides a library that can be sorted by author, series or recentness
Welcome screen gives quick access to recently used files
Sidebar view for quick access
Available for both Linux and Windows
You can find an AppImage file to get started on Linux. In case you don't know, you can refer to our article on how to use AppImage to get started.
3. YACReader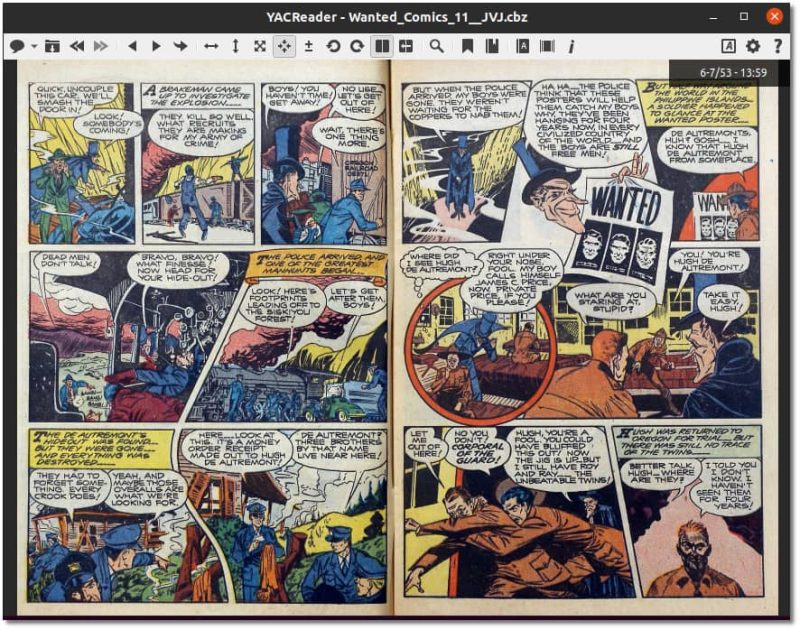 YACReader is a cross-platform open-source application for reading digital comic books. It is available for Linux, Windows, macOS, and iOS. Some of its main features are:
Supports a wide variety of comic files and image types. rar, zip, cbr, cbz, tar, pdf, 7z and cb7, jpeg, gif, png, tiff and bmp.
Plenty of configuration options: image rotation, double page mode, full-size view, fullscreen mode, customizable background color, custom page fitting mode, bookmarks, resume reading etc
Image adjustments available in the reading mode. You can use the brightness, contrast and gamma sliders to enjoy the new vibrant colors.
Library to organize comics
Keeps track of your reading progress
Download comics' information such as title, number, volume, authors etc from Comic Vine.
Built in search engine to find comics from your library
You can find deb, rpm, and AUR packages available on its official download page. At the time of updating the article, the packages were only available up to Ubuntu 21.10.
In case of a dependency error when installing it through the terminal, you can use the following command to resolve it:
sudo apt --fix-broken install
4. Foliate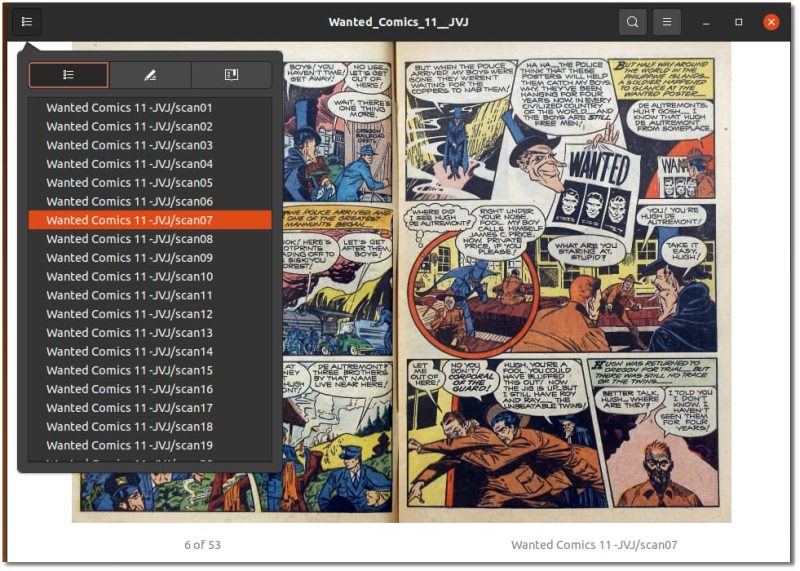 Foliate is a modern and straightforward eBook viewer for Linux desktops. It supports a wide range of file formats, including Epub, MobiPocket, Kindle, FictionBook, and Comic book archive formats.
It also features a single column, two-column and continuous scrolling layouts. So you can easily personalize the comic book reader according to your preference.
Moreover, it also allows you to adjust fonts, line spacing, and margins, and you can customize colors and brightness.
The comic book reader supports EPUB, Mobipocket, Kindle, FictionBook, and comic book archive formats.
Table of contents menu for easy navigation.
Reading time estimates.
Ability to zoom in on and rotate images.
You can look up for words in Wiktionary, Wiipid, or other dictionaries.
Even though you can get the software from Ubuntu Software Center, I'd recommend you to check out our separate coverage on Foliate to get more details on it along with the installation instructions.
5. Calibre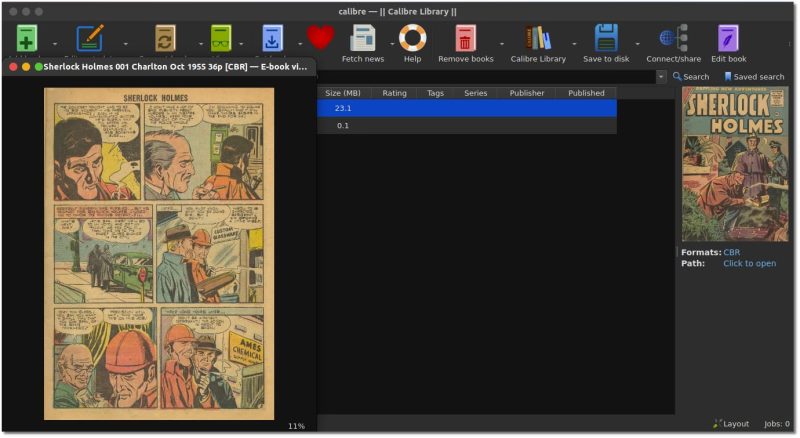 Calibre is a powerful and easy to use ebook manager application for Linux. With this one, you can easily read ebooks and comics. Plus, it is backed by quite a lot of advanced features. Like you will be able to share and backup your library easily.
The software is also completely free and open-source and available for both casual users and computer experts.
Ability to download news/magazines from teh web.
It will help you to save time on managing your eBook collection.
You can edit the books in your collection.
Easily share and backup your library easily.
To install Calibre, you can run the below command in your Linux Terminal:
sudo apt install calibre
Unfortunately, you get older versions in the repositories. So, to get the latest version, you can head to its official website for instructions to use its online installer script to get it installed.
6. ACBF Viewer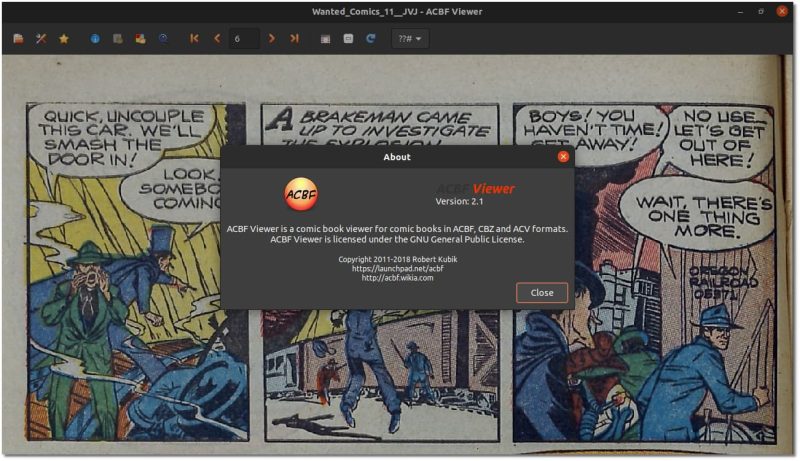 ACBF viewer is also one of the easy-to-use eBook reader applications for Linux. It is capable of reading file formats like ACBF, CBZ/CBR, and ACV comic book file formats.
It offers you 3 viewing modes, which are the one page, zoom to page width, and zoom on a certain frame. Plus, you will get features like the table of contents for easy navigation.
It supports ACBF, CBZ/CBR, and ACV comic book file formats.
Offers you 3 viewing modes.
Tables of contents for easy navigation.
Your comics book library can be filtered using metadata.
You can install ACBF Viewer by adding its PPA. For this, you have to run the following commands one by one:
sudo add-apt-repository ppa:acbf-development-team/acbf
sudo apt-get update
sudo apt-get install acbf-viewer
At the time of updating this article, it supports up to Ubuntu 20.04 LTS, considering it hasn't seen any development activity for a few years now.
Bonus: Websites to legally download old comic books
Apart from listing the best comic book readers for Linux, I would like to mention a few websites where you can download vintage comic books. And it is completely legal to download them.
While these may not include popular comic books like Batman and Spider-Man (obviously), but you should find many interesting titles. Even if not, it is fun to read the literature and watch movies of the bygone era. Being a black and white film-noir fan, I certainly enjoy them.
Did I miss any of your favorite Comic Book readers? Let me know your thoughts in the comments below.