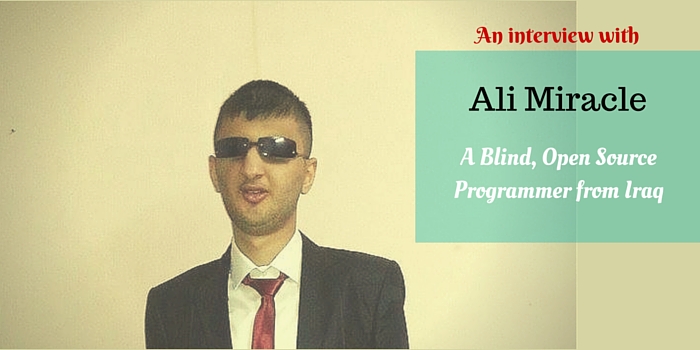 Continuing the MyStory series on It's FOSS, today I am sharing with you the story of a blind computer programmer from Iraq who goes on the internet by the name of Ali Miracle. By the time you finish reading this article about Ali and his works, I am sure you would agree with his nickname 'miracle'.
I came to know about Ali when he contacted me to contribute to It's FOSS. This was also the time when I come to know about his inability to see. I was amazed to know that despite being blind, Ali contributed to a number of open source projects.
Ali was not surprised at my surprising reaction. He had this experience in the past as well where people react in shock on how a blind person could be using computer, leave alone programming. This is why Ali and I agreed to share his story and show to the world that all you need is determination and vision in life to make thing happen.
I conducted this interview via email and this is the first interview I have ever done. So, it may look a bit amateur.
Me: Tell me about yourself and your background 
Ali: My name is Ali Abdul Ghani. People call me 'alimiracle' and I am known by this name on the internet. I live in Iraq. I graduated from college at the end of 2015 from the Department of English Literature, and not computer science (if you were thinking that).
I was not allowed to get a certificate of Computer Science in Iraq. The law here does not allow the blinds to obtain a certificate of Computer Science or any scientific stream such as Mathematics or Physics.
Me: When and how did you lose your eyesight?
Ali: My father told me, "you become blind after a year of your birth".
Doctors say it is pollution due to wars.
I don't know what caused the blindness. I don't even remember if I saw anything ever, with my eyes.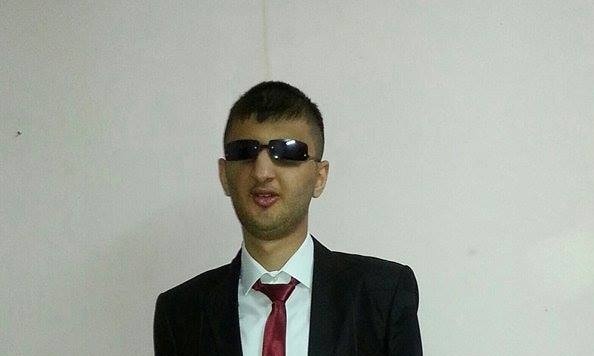 Me: When and how did you start using Linux? How did you learn about Open Source?
Ali: I started my life using Solaris. One day I used gcc and I discovered that I can modify it according to my need. Then I started thinking about why I can not modify Solaris. I said this in an online forum.
I asked this question in an online forum. A person responded to my query. She was a Free Software enthusiast. She told me about Free Software and GNU. She suggested me to read a book Free Software Free Society: Selected Essays of Richard M. Stallman.
This book changed my thinking. Gradually I become interested in freedom for programs and moved to GNU/Linux.
Richard Stallman remains my hero till date for giving us the concept of Fre Software.
Me: Which Linux do you use and how do you use it as a blind user?
Ali: I use Trisquel. I use Orca screen reader program to control and navigate in my Computer. I also use Emacs. It's made my computing life so simpler.
Me: Which Linux/Open Source project you contribute to?
Ali: I have designed several projects of my own. Some of them are:
In addition to that I have also contributed to many projects. For example, LibertyBSD and Trisquel Linux.
I also promote and try to convince people to use the Free and Open Source Software and GNU/Linux. Many people refuse to do so but some do give it a try. So far, I have been able to bring around 80 people to the world of Open Source.
In fact, most of words that I use to bring people to Free Software are adopted from RMS (Richard M Stallman) articles. I show them live examples. I modify some Free Software to fit needs, making them think of modifying the programs they use. While the programs that they use are closed programs so they are not able to modify it. Then they understand the ´freedom of software´.
Now those people are using Trisquel GNU/Linux on my recommendation. I do face problems in the transition to Linux though for example in using Libreboot. People here don´t have good computers and they don´t have enough money to buy new advanced devices. But we survive through the odds.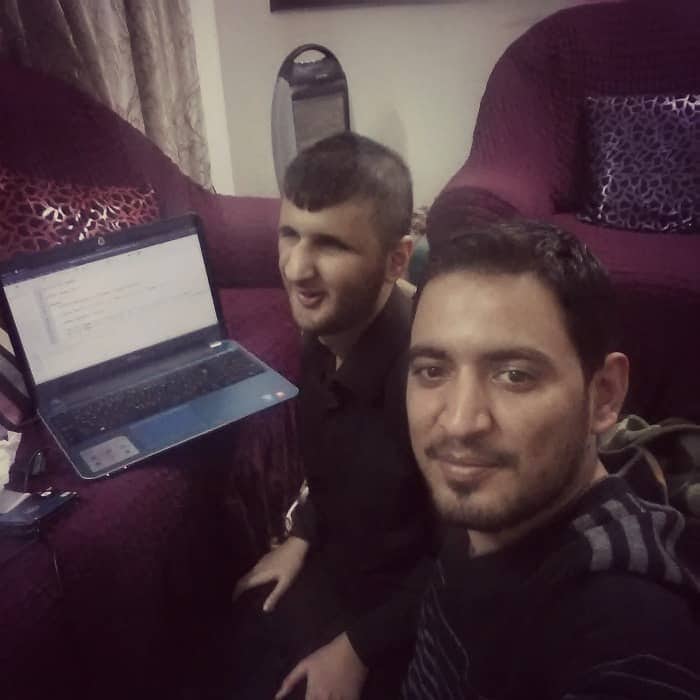 Me: How did Linux/Open source make a difference in your life?
Ali: It gives me the freedom to run, copy, distribute, study, change and improve the software. And it took me into the Open Source world. Best of all, it has made me love helping others.
Me: What are your future plans regarding Linux and Open Source?
Ali: I am thinking about the development of new programs and I will continue to contribution to Free and Open Source, until the last minute and my life My goal is to make everyone live freely. I will continue to disseminate my thoughts.
Me: Anything you would like to say to It's FOSS readers to motivate them?
Ali: I am saying this quote to the readers:
"You must be the change you wish to see in the world." — Mahatma Gandhi
I wish all the best to Ali for his future endeavors and hope that he achieves his dreams.
If you find Ali´s tryst with Open Source and GNU/Linux inspiring, do share it with others.