It's FOSS turns six today. What started as a simple personal blog six years ago, has turned into a prominent open source and Linux community on the internet.
In last six years, It's FOSS has won several awards, judged to be among the best Linux websites, has worked as the official media partner of open source events worldwide.
It's FOSS website has been visited over 36 million times out of which over 15 million visits came in last 12 months.
Over the time, It's FOSS has formed a 300,000+ strong Linux community across various social media platform. And we plan to have our presence on all major social media platforms. We recently created our own subreddit and this week we also made our debut on LinkedIn. I strongly recommend following us on LinkedIn as we'll have more focused content there.
Above all, it has earned the respect of our dear readers, the passionate Linux users from almost all countries on the earth.
I, on the behalf of the team It's FOSS, would like to thank all of our loyal readers here.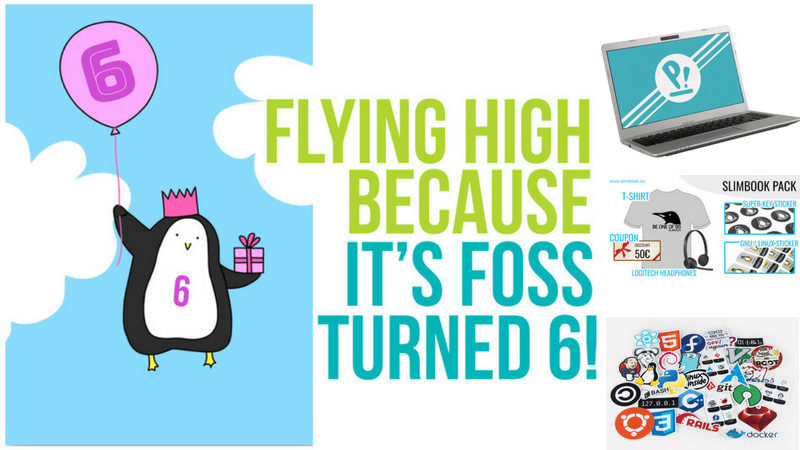 I know you visit It's FOSS for free knowledge, not free gifts but it won't hurt to win something cool. We have had giveaways on It's FOSS on a regular basis but since it's a special occasion, this giveaway is special as well. In fact, it is not a single giveaway. We have two separate giveaways.
Giveaway 1:
Enter System76 Galago Pro Giveaway
Giveaway 2:
1 gift pack consisting of a headphone, a t-shirt, a pack of stickers and a discount coupon from Slimbook
5 packs of Linux and programming stickers from Unixstickers
5 copies of Mastering Linux Shell Scripting book worth $29 from PackPub. Valid for residents of all countries
Enter Slimbook Gift Pack Giveaway
P.S. As the SkillUp survey suggests, Linux and Cloud technologies have become more important. To help, PackPub is offering every book and video courses for just $10 for a limited time. You can check it out while the giveaway is running.
Gifts for open source projects ($500)
It won't be fair if to ignore FOSS projects in this celebration. We already support the open source movement by providing regular coverage to various projects along with regular donations.
Since it's a special occasion for It's FOSS, we have a special donation package of $500 to be divided among five or ten open source projects.
The problem is that we cannot make up our mind about these projects. So please suggest a few of your favorite open source projects that might need some financial contribution and we'll consider them in our list.
Thank you once again.