When you spend long hours staring at computer screen, it is normal to get computer eye strain. In this article, I'll show you a nifty tool which will help you to reduce computer eye strain on Linux. But first, let's see what's computer eye strain.
Computer Eye Strain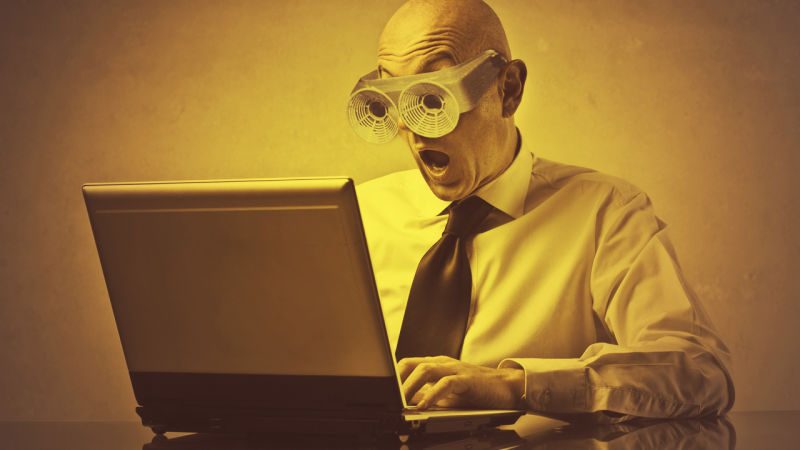 Computer Eye strain or Digital Eye Strain is the generic term used for any eyes related issue caused by spending long hours at a computer screen. Some of the main symptoms are:
Burning sensation in eyes
Tired or red eyes
Dry eyes
Watery eyes
Blurred vision
Headaches
As per this study, 68% of millennials complained of computer eye strain. The things is that most people just don't care about it because working on computers has become an inseparable part of our lives.
While working on computers cannot be avoided (especially if you earn your livelihood with it), there are several ways you can reduce the strain on your eyes while still working on the computer screen.
[irp posts = "9919"]
Tips to avoid computer eye strain
Here are a few ways doctors suggest to reduce digital eye strain:
Have your eyes tested
Use spectacles with anti-glare screen
Use adequate lighting
Avoid looking at the screen for a long time
Blink periodically
Do some eyes exercises such as rotating eyes, closing them with hands etc at regular intervals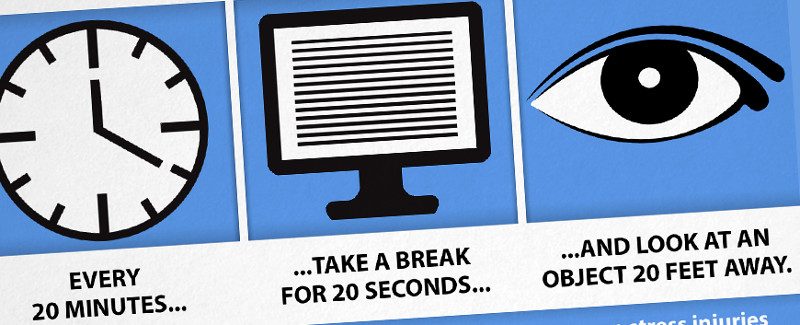 Reduce computer eye strain with SafeEyes tool in Linux
Since I already wear anti-glare screen spectacles, my doctor suggested doing those tiny eyes exercises at regular intervals. The problem with her suggestion was that when I am indulged in work, I keep forgetting to take the break and do the exercise.
I know I am not the only one who faces this situation. This is when I came to know about this nifty tool, SafeEyes.
SafeEyes is a tiny indicator applet that prompts you to take breaks at regular intervals and suggest you the eyes exercises. That's it.
This way, you get notified at the appropriate times and if you follow the instructions, it would surely help you reduce eye strain. Th functionality is similar to Windows tool EyeLeo so perhaps we can even call it EyeLeo for Linux.
[irp posts = "12746"]
SafeEyes features
Short breaks with eye exercises that you can do while sitting on your desk
Long breaks that requires changing physical position and to warm up
Strict break (keyboard lockout) for those who are addicted to computer
Customizable as per need so you can change the duration of breaks and the time interval between the breaks
Notifications before every break
Smart pause and resume based on system idle time
Multi-monitor support
Clean interface
Multi-language support
Install SafeEyes on Ubuntu and Linux Mint
For Ubuntu 16.04, 14.04, Linux Mint 18, there is an official PPA available to install SafeEyes. Just use the commands below to install it:
sudo add-apt-repository ppa:slgobinath/safeeyes
sudo apt update
sudo apt install safeeyes
If you don't like to use PPAs, you can use the .deb binaries. Go to this link and download the latest version.
To remove SafeEyes, use the command below:
sudo apt remove safeeyes
If you also added PPA, remove the PPA using the command below:
sudo add-apt-repository --remove ppa:slgobinath/safeeyes
Install SafeEyes on other Linux distributions
Arch Linux users can install SafeEyes from AUR. There are no .rpm binaries available for Fedora or SUSE Linux distributions. But you can always get the source code from the GitHub repository:
[irp posts = "7545"]
Using SafeEyes to reduce eye-strain in Linux
Using SafeEyes is very easy. I am using Ubuntu 16.04 in this tutorial but the instructions to use SafeEyes are pretty much the same.
Once installed, run SafeEyes. It will be automatically added to your startup applications. You can access it in the panel and see when will be the next break and access its settings.

By default, SafeEyes will notify you of a break 10 seconds in advance. You can change this setting of course.

When it's break time, the screen goes dark and you'll see instructions for the eyes exercise. You can choose to skip it (unless you have enabled Strict break option in the settings).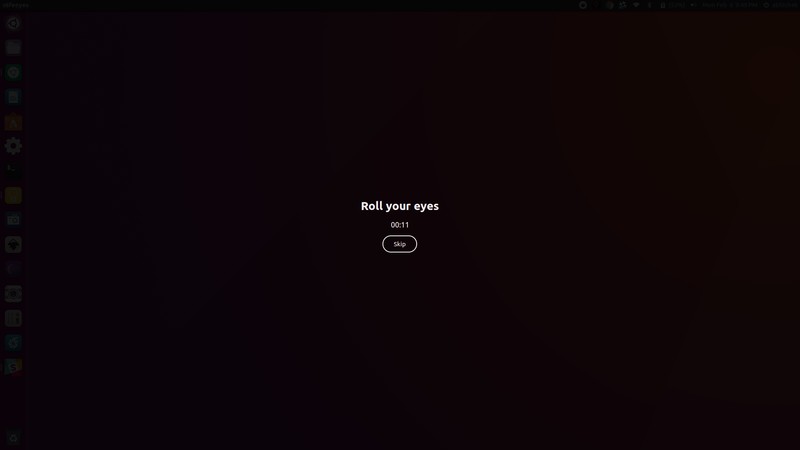 Typical exercises include closing eyes, rotating them in clockwise or counter clockwise, rolling the eyes. Long break exercise suggests you to take a walk for 30 seconds.
All of these parameters can be changed in the settings: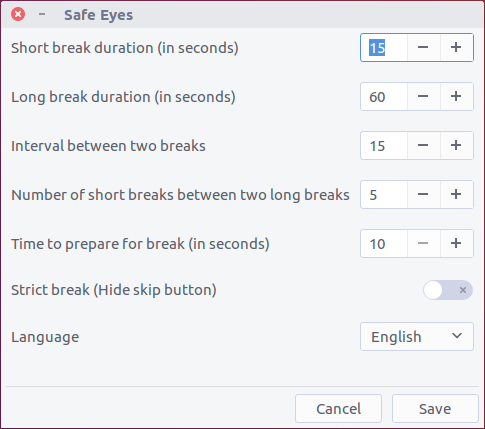 Pretty sweet, isn't it?
How do you keep your eyes safe?
Since we are talking about keeping our eyes safe, I strongly recommend you to use Nightshift feature in Linux. This further helps reducing eye strain by filtering out the blue light.
Do you already use SafeEyes or some other similar tool? If not, will you be giving SafeEyes a try? Do share your views.