Winds is an open source application with an intuitive UI that allows you to follow your favorite websites through feeds and listen to your favorite podcasts.
Billboard top 50 playlist is great for commuting. But I'm a nerd so I mostly prefer podcasts. Day after day, listening to podcasts on my phone has turned into a habit for the better and now, I crave my favorite podcasts even when I'm home, sitting in front of my computer. Thus began, my hunt for the perfect podcast app for Linux.
Desktop Linux doesn't have a huge selection of dedicated podcast applications. Of course, you can use Rhythmbox music player or VLC Media player to download podcasts (is there anything VLC can't do?). There are even some great command line tools to download podcasts if you want to go down that road.
But I needed something that is built for podcasts. Something that has a clean, easy to use interface and gets the work done. Conveniently, Abhishek suggested that I check out the Winds app. After a week, it's hard not to love Winds.
[irp posts = 9745]
Winds: An Awesome Podcast App for Linux
Winds is an open-source RSS feed and podcast application. It is built using the Stream API and is available on Linux, MacOS, and Windows. The application is available as a website too. You need to create a free account to start using Winds.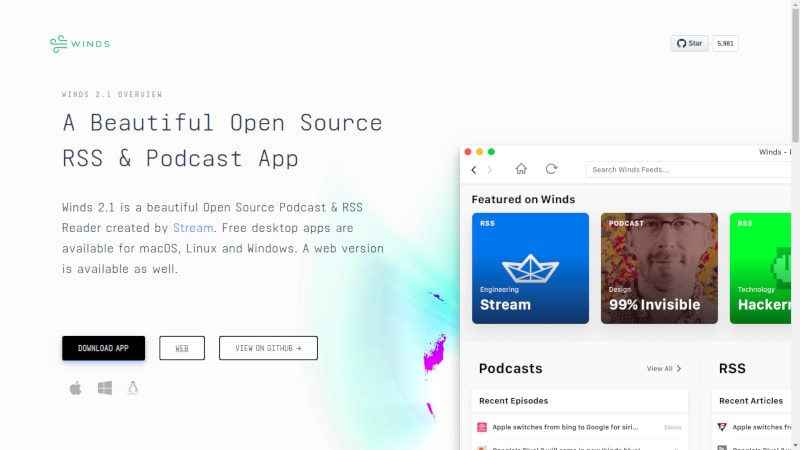 A set of categories is displayed at the first setup to get you started. Winds is both a podcast application as well as a RSS feed application so both of these are displayed on your default homescreen.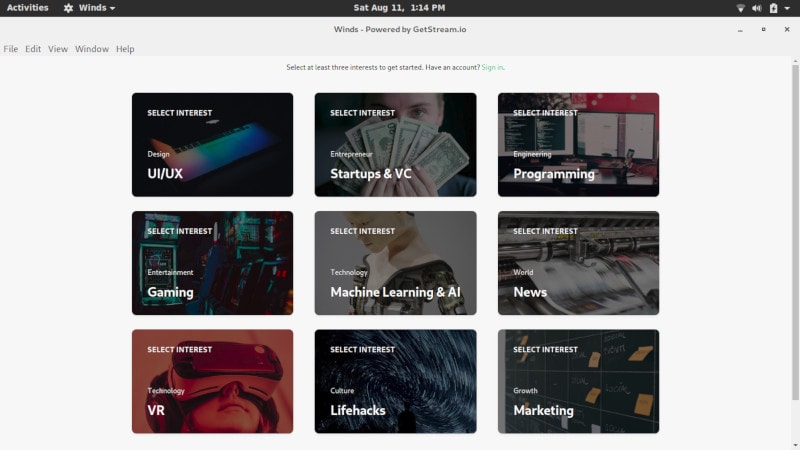 If you're new to podcasts, the default discoveries based on your interests themselves are pretty engaging. Winds has a list of great podcasts for every interest entry.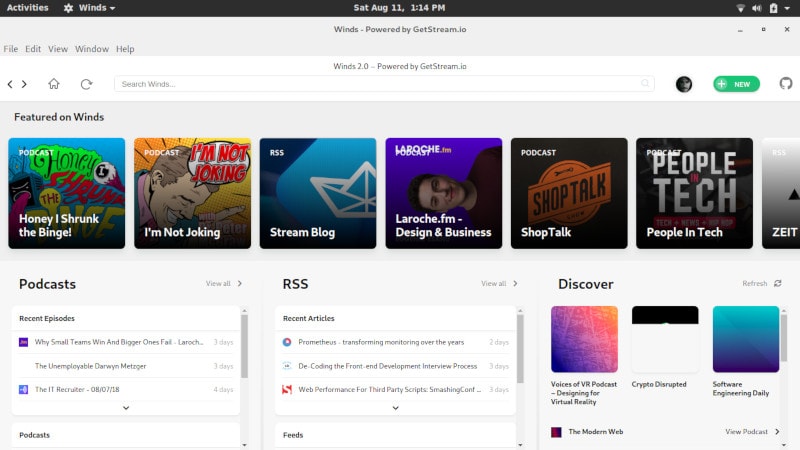 The Winds app homescreen is very minimal and clean. Featured items, Podcasts, and RSS feeds are presented in a clutter free interface. The app also provides a brief description and content idea of podcasts upon click. You can add your favorite podcast to Winds by URL too.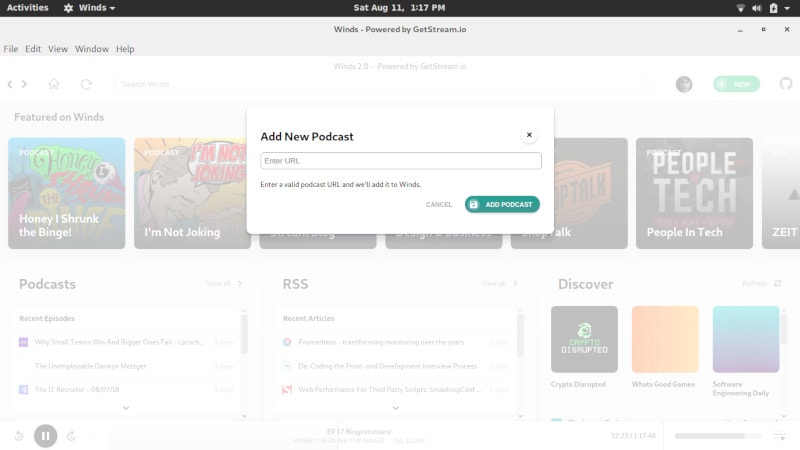 The audio player is smooth and accessible with controls located on the bottom of the screen. The overall listening experience is great.
Installation
Winds can be installed on Linux system thanks to Snap packages. Just make sure that you have Snap support enabled on your distribution and then simply use the below command to install Winds.
sudo snap install winds
You can also install Winds using AppImage if you don't want to use Snap. Download the Winds 2.1 AppImage from its website. Change the file permission to executable and double-click on it to run AppImage.
When prompted to integrate with the system, click yes, so that a menu entry is created. That's it. You can now launch Winds from the dash or the menu. 
Wrapping up
Winds is cross-platform, available on Windows, MacOS and Linux. It would have been great if Winds would have a client for smartphones too. The Winds website version is just as functional as the desktop application.
Personally, Winds will be my recommendation to anybody looking to get a podcast app for desktop Linux. It's nicely designed and easy to use. Winds is a really good podcast experience for desktops. Do give it a try. Share your thoughts and your favorite podcast in the comments section below. Don't forget to share this article with your friends. Cheers.