Brief: Linux Kernel 4.15 release has been delayed because Intel has not yet provided a proper fix for the nasty CPU bugs. And that has made Linus Torvalds go into swearing mode, again.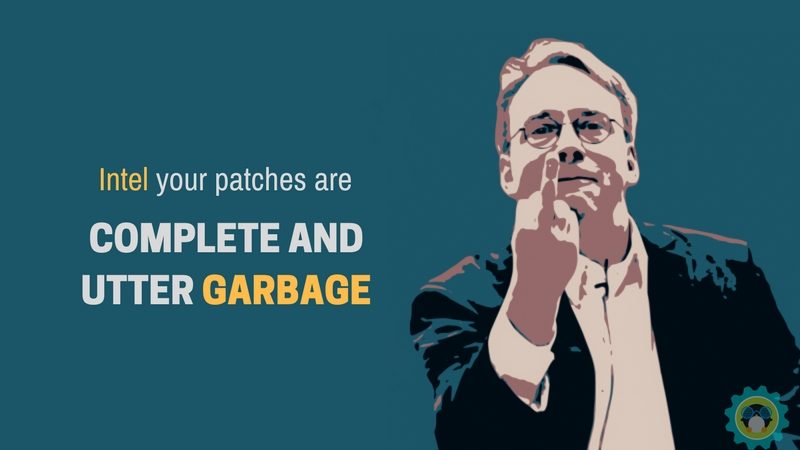 Linux creator Linus Torvalds is furious. He is frustrated. He is using lots of cuss words as well.
The year 2018 started on a bad note as the computing world has been rocked by Meltdown and Spectre bugs. These kernel memory bugs open the possibilities of malicious scripts stealing secret data such as passwords. It's not only Linux that has been impacted. Windows, macOS, BSD etc have been equally impacted.
Google found these vulnerabilities in Intel, AMD and ARM processor mid-last year. Intel was notified along with AMD, several Linux distributions, Microsoft, Apple and many other big players.
While the operating system vendors are providing the software updates for the vulnerability, it is Intel who is responsible for fixing the issue at the firmware level. And apparently, Intel is not doing its job properly.
[irp posts="8713″ name="Amazing Facts About Linux You Should Know"]
Kernel 4.15 gets delayed because people were busy with Meltdown and Spectre
Linux Kernel 4.15 was supposed to be released today i.e. 22 January 2018. But that didn't happen because Torvalds is not feeling comfortable with its development.
As most people were busy dealing with Meltdown and Spectre, the development of 4.15 got impacted. There are still pending fixes in the upcoming release.
Torvalds mentions in Linux Kernel mailing list:
I really really wanted to just release 4.15 today, but things haven't calmed down enough for me to feel comfy about it, and Davem tells me he still has some networking fixes pending. Laura Abbott found and fixed a very subtle boot bug introduced this development cycle only yesterday, and it just didn't feel right to say that we're done.
Kernel 4.15 becomes the slowest release since 2011
Because of the pending fixes, Torvalds announced Release Candidate (RC) version 9 instead of the final Kernel 4.15.
So I'm doing an rc9 instead. I don't particularly like to, but I like it even less releasing something that doesn't seem baked enough.
The last Kernel release to have RC 9 was version 3.1 back in 2011.
[irp posts="26764″ name="City of Barcelona Kicks Out Microsoft in Favor of Linux and Open Source"]
the patches are COMPLETE AND UTTER GARBAGE
Linus Torvalds hasn't been happy about how Intel tried to downplay the Spectre vulnerability. He is clearly not happy how Intel is dealing with the fixes.
While the Kernel 4.15 release got delayed, Torvalds had some nasty words for the Intel development team over the Spectre bug fixes. You can read his unhappiness in the Kernel mailing list.
Some of the highlights are:
So somebody isn't telling the truth here. Somebody is pushing complete garbage for unclear reasons. Sorry for having to point that out.
And then he goes on to call the fixes from Intel "COMPLETE AND UTTER GARBAGE". Yes, that was in caps.
The F word was also mentioned in the mailing list. However, it seems that Torvalds has a new year resolution of swearing less and hence he used asterisks instead of using the expletives uncensored.
WHAT THE F*CK IS GOING ON?

And that's actually ignoring the much _worse_ issue, namely that the
whole hardware interface is literally mis-designed by morons.
Lots of caps lock, lots of swearing. That's classic Torvalds. Considering that Intel hasn't been able to fix the issue even after six months, it is only natural that Torvalds get frustrated as he likes to keep the Kernel secure and vulnerability-free.
What do you think of the entire episode?